Shakeel Ahmad Beig is one of the most senior officers in Jammu and Kashmir's police, responsible for maintaining law and order in a state ravaged by decades of insurgency and more recently, a devastating flood.
It is a position of power that apparently brings with it many material comforts. Beig hasn't had to tie his shoelaces in the last 15 years because his underlings do that job for him, according to a series of posts on the Instagram account of his son, Tony Beig.
The deputy inspector general of Jammu,who won the President's Medal for Distinguished Service earlier this year, also takes along armed caddies while playing golf.
Many of the Instagram images have been deleted since news reports picked them up early on Oct 29.
Here are some screenshots of the posts taken from Instagram, Twitter and Facebook.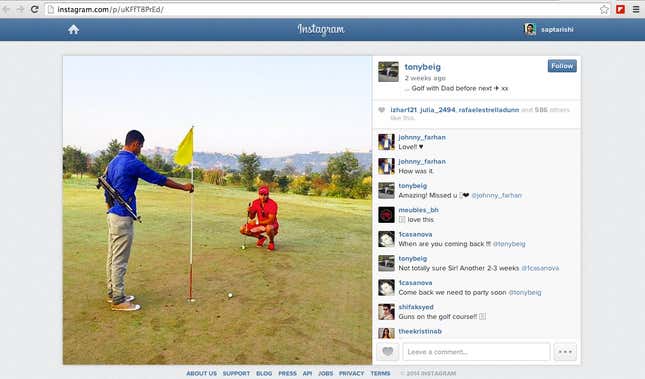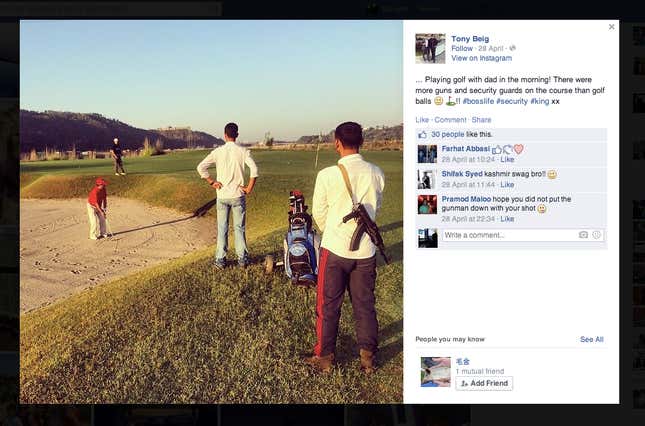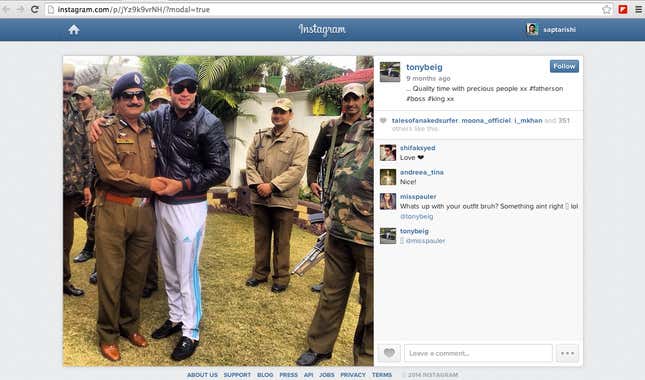 Tony lives in Beverly Hills, California and is the managing director of The Dioz Group, a company that has interests in manufacturing, apparel and accessories, according to his LinkedIn profile. He holds an MBA from Australia's Victoria University. Dioz is described as a "family controlled organization."
Expectedly, the photographs have elicited some sharp reactions.
Shameful just shameful: DIG's son posts photos of 'Dad & I' enjoying perks of power http://t.co/RSRTvmfrwh via @sharethis

— Nirmalya Bagchi (@bagchinirmalya) October 29, 2014
But Tony Beig had this to say on Instagram: "I Spend 3-4 days visiting family every year and this is what media turn that into. No wonder I don't belong there anymore as people are not use to self made individuals. However #kinglife continues 365 days a year not just 3-4!!"