On Nov. 2, 1834, three dozen Indians labourers arrived in Mauritius, after a 48-days-long voyage onboard the Atlas from Kolkata. Bound by contracts for five years, they were to be paid Rs5 every month, while food and clothing would be provided by their employer, Hunter, Arbuthnot and Company.
But the biggest lure for these Indians to travel across the Indian Ocean to work was straightforward—six months' pay in advance.
These 36 were the earliest of the Girmityas, the slave-like indentured Indian labourers numbering over a million who were taken to work across the colonies of the British Empire.
Although their names was derived from a corruption of the word "agreement"—the British turned to indentured labour after the slave trade was officially abolished in 1807—they were treated with little dignity. Forced to seek work after famines ravaged large parts of the subcontinent, they were often exploited and overworked, received little medical care and suffered from high mortality rates.
These Indians are today forgotten in the land of their origin. Even as Indian politicians turned Oct. 31 into a contest between celebrating the legacies of Indira Gandhi and Vallabhbhai Patel, few on the subcontinent remember the significance of Nov. 2.
Instead, Indian foreign minister Sushma Swaraj travelled to Mauritius for the 180th Apravasi Diwas—the day the first of the Girmityas arrived on a faraway island and began a wave of indentured emigration that lasted over eight decades.
Far and wide
It wasn't just Mauritius. Indian labourers travelled across the British Empire to work—and many stayed back, building new families and communities in lands far removed from those they had left in search of employment.
"Up to 1870, 112,178 or 21% had returned, while in the decade after 1910, one emigrant returned for every two who embarked for the colonies," writes historian Brij V. Lal in the footnotes of his 2012 work, Chalo Jahaji : on a journey through indenture in Fiji (PDF).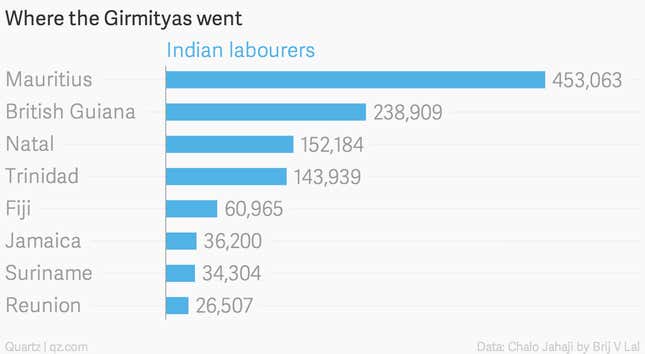 The labourers who arrived in Fiji, Lal notes, were a diverse group encompassing a wide range of home districts, family structures and castes. Some came from as far away as Kabul, Ladakh and Tibet, but the large majority were from the erstwhile United Provinces, today's Uttar Pradesh and Uttarakhand.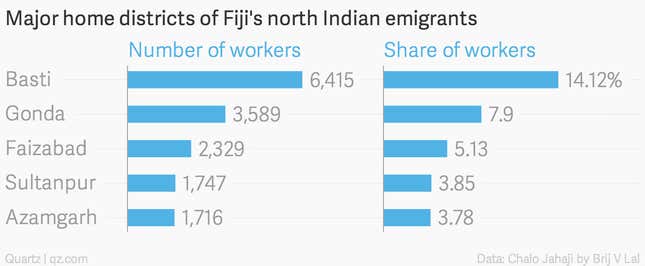 The girmityas of Fiji cut across 265 castes and sub-castes, but almost all were connected with agriculture, Lal explains. The higher castes were proprietors and sub proprietors, the middle castes worked as privileged tenants and the lowest castes were employed as tenants-at-will, landless labourers and artisans. "Except for the higher castes, whom caste convention prevented them from handling the plough, the others were excellent cultivators," he adds.
And even here, the lower castes typically suffered the brunt of evictions and increases in taxes and rent, while the higher castes paid lower rents and were often able to resist outside interventions by banding together.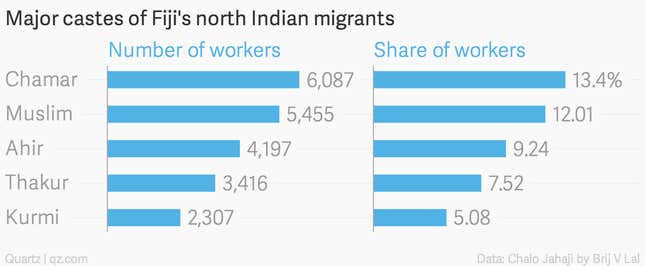 Amidst the 31,456 men and 13,696 women who migrated to Fiji from North India, there were a small number of families, too. Most of these were married couples, including some men who were accompanied by more than one wife. Many of the women who came to the island were brought from cities and towns in India, and were thought to have already been separated from their families. And in Fiji's plantation, where men far outnumbered women, they were often a source of social conflict (PDF).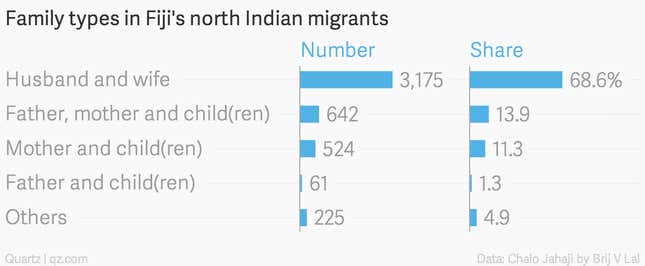 On his way back from Australia, when prime minister Narendra Modi visits Fiji later this month, he will meet members of an Indian community that dates back to 1879. But in the country of their origin, the memory of the girmityas has faded with time.