There has been much outrage on social media all of Tuesday because of a story published by the DNA newspaper—headlined "Forceful sex on menopausal woman not rape, says Delhi High Court." It suggests that a woman's advanced age was the reason for the acquittal of a 49-year-old man accused of raping and killing her.
"If a woman has attained menopause, she cannot be termed a victim of rape, this judgement seems to point out," the paper said. But now it appears that the judgement didn't quite say that.
Amid the controversy, what has been missed out is that sexual crimes against women who are above the age of 50 (when most women reach menopause) have increased drastically in the last few years.
In 2009, 95 rape victims were over the age of 50, according to data from the National Crime Records Bureau (NCRB). In 2013, 256 victims were in that age group.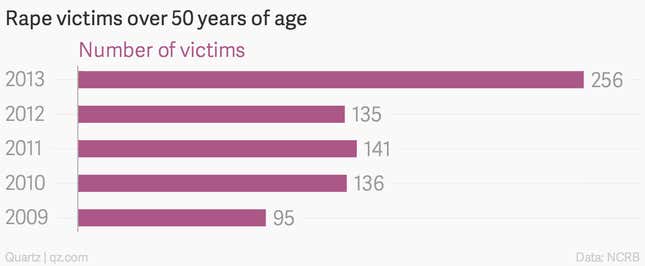 The increase in the number of rape cases is partly due to the fact that more victims are speaking up now. There were 21,397 reported rape cases in the country in 2009. In 2013, the number of cases stood at 33,707.
The overwhelming number of these rape victims are aged between 18 to 30 years, which perhaps explains why there is a lack of discussion on sexual crimes against older women in India. But it's not as if these assaults don't happen at all.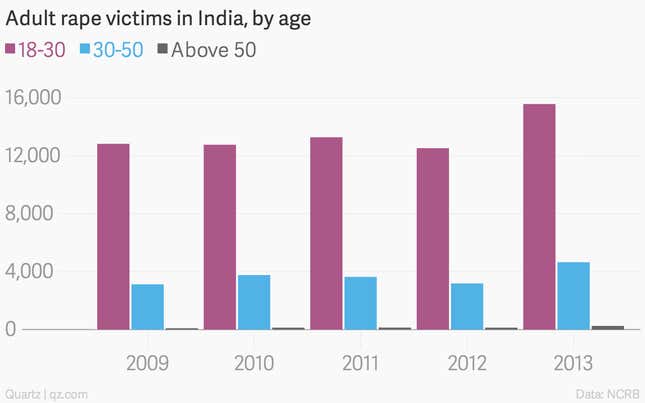 The back story
The accused, 49-year-old Achey Lal, was charged with raping and killing a 65-year-old woman in Delhi in 2010. The woman apparently died from choking on her own vomit, following the forceful sexual encounter. He was acquitted by a Delhi court last week because, according to the judges, there wasn't enough evidence to prove that the sexual intercourse was forced.
The judgement reads (PDF): "As regards the offence punishable under Section 376 IPC, the deceased was aged around 65-70 years, thus the age of menopause. We find force in the contention of the learned counsel for the appellant that even if the sexual intercourse was forceful it was not forcible."