Cardiovascular diseases are the deadliest in the world, killing 9.4 million people every year, according to the World Health Organization (WHO). In 2012, they were the cause of death of three in every 10 people worldwide.
India is no exception. According to the WHO, cardiovascular diseases, which affect the  heart and the blood vessels, resulting in heart attacks or strokes in extreme cases, account for 26% of the deaths in India (PDF) or 2.5 million.
The consequences of such a deadly disease are just as deadly for India's economy, a new study (PDF) by the World Economic Forum and Harvard School of Public Health says.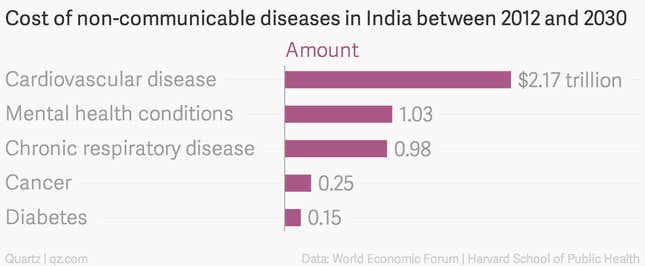 The study estimates the total economic loss due to non-communicable and mental health diseases in India between 2012 and 2030 to be $4.58 trillion—about two and a half times India's GDP—with cardiovascular diseases accounting for almost half of the losses.
The losses are calculated by taking into account the money spent on treatment—that ends up hurting personal savings—and the reduction in the availability of labor due to deaths.
Heart diseases are the leading cause of deaths among Indians, who account for 60% of all the heart patients worldwide, a study by Registrar General of India and Indian Council of Medical Research found. Stress, tobacco consumption and obesity are some of the main reasons behind the large number of heart patients in India.
Understandably, India's business community is concerned about the economic costs of the heart diseases and non-communicable diseases in general.
More people, especially youngsters, suffering from heart diseases would result in the decline of the productivity of workers, hurting the profitability of businesses. Furthermore, a higher occurrence of cardiovascular disease would significantly reduce the purchasing power of customers who would have to spend much of their savings on the treatment.
A 2010 study (PDF, page 43) found staying in a private hospital in 2004 would have cost anywhere between Rs20,000 and Rs23,000 for people suffering from cancer or heart diseases. For government hospitals, it would range between Rs10,000 and Rs13,000—a staggering amount when compared to India's annual per capita income, Rs25, 320 at the time.