The United States has a mobile app addiction. Seven out of every eight minutes that U.S. media consumers spend on their smartphones and tablets involves using mobile apps—and 57% of device users say they can't go longer than a day without them.
While the U.S. continues to see the largest download of apps anywhere in the world, the fastest growing mobile app markets last quarter (July 1 to Sept. 30) were mostly in Asia, according to a new report by InMobi, a mobile advertising platform that reaches over 800 million users in more than 200 countries.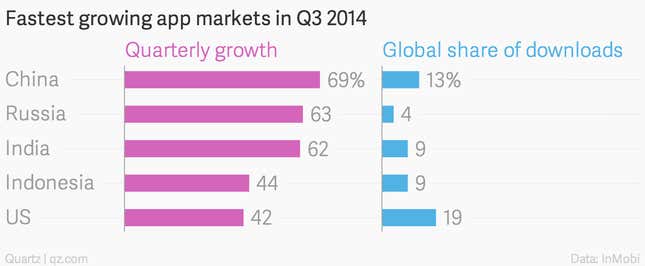 The report also shows how a clutch of Asian countries—led by Indonesia, Malaysia, and the Philippines—have the highest per capita app downloads (number of app downloads per 100 users) in the world.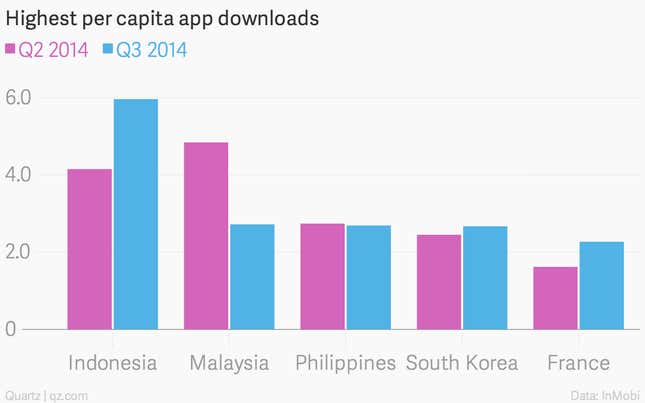 That's partly because some of these countries have the lowest cost per install (CPI) among the 10 biggest mobile app download destinations—and it seems to be getting even cheaper. CPI represents the cost a company incurs to get an app installed by a user; InMobi's CPI index for any given country is calculated with against the global CPI average.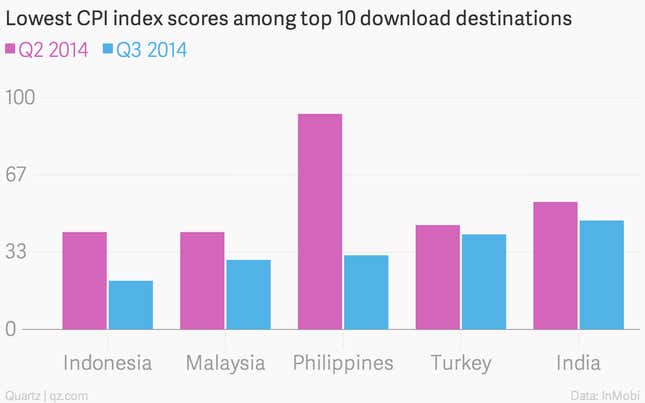 Games are the most popular mobile app downloads (68%) worldwide, followed by communication (11%) and arts and entertainment (7%).