A mustasched metallurgical engineer with a penchant for straight talk and untucked shirts has just been made responsible for about Rs240,000 crore ($40 billion) of defence purchases that India's armed forces urgently need.
As India's new defence minister, Manohar Parrikar, 58, will have to fast-track some of the biggest defence deals that India, the world's largest arms importer, has ever undertaken. The job will also include ensuring that these transactions go down smoothly, without controversy or delay.
Not that the Indian Institute of Technology-Bombay alumnus and long-time Bharatiya Janata Party (BJP) member hasn't been handed difficult assignments before.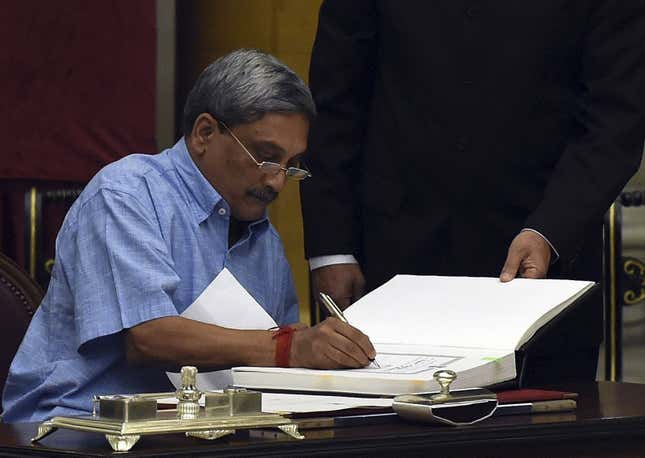 After he became Goa's chief minister for the third time in 2012, Parrikar took on the state's powerful iron-ore mining lobby, where illegal mining was rife. But after the Supreme Court came down hard on the industry, banning mining altogether in 2012, the chief minister was left to contend with the sudden absence of Rs1,400 crore ($227 million) from mining revenues every month.
For all his administrative abilities, Parrikar remains prone to controversy.
In August, his government tabled a reply in Goa's assembly where it described an African national as an "unknown African Nigro." Compelled to apologise, the chief minister's counter was: "But 'Negro' is also a river in the Amazon region in Brazil." Last year, Parrikar had come under criticism after suggesting that Goa's minority Catholic population was "culturally Hindu."
And in 2009, the Goan politician famously compared the BJP's senior leader and former deputy prime minister, L.K. Advani, to pickle that had gone "rancid."
But, as he moves into his new office in New Delhi's South Block, Parrikar will have to curb his propensity for such loose talk, and instead focus on military acquisitions worth billions. These include:
Beyond the sheer size of these purchases lies the fact that India's armed forces have a dire need for this hardware.
The Indian Army—one of the largest in the world—hasn't had a new piece of artillery since 1986 and its soldiers are often equipped with outdated gear. About 60% of the army's budget is spent on payroll, leaving merely a third for new equipment. The Indian Air Force is currently operating with only 34 combat squadrons of 16 aircrafts each, against a sanctioned strength of 44 squadrons. And the Indian Navy has been hit by delays in acquisition and upgrades and a series of accidents.
And if that weren't enough for Parrikar, the defence minister will also have to deal with the seemingly endless series of skirmishes with Pakistan on the Jammu and Kashmir border, and an increasingly assertive China.