At midnight on Nov. 11, Chinese e-commerce behemoth Alibaba opened its "Singles Day" sale, the world's largest online shopping extravaganza—and in just one hour, sold goods worth $1.8 billion.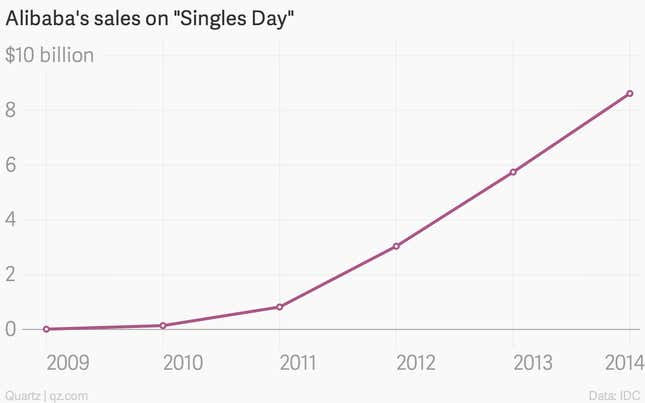 Customers and sellers from at least 170 countries participated in the sale that research firm IDC reckons is "very likely" to go past its 2014 target of $8.20 billion.
Starting with their first sale in 2009, Alibaba has transformed "Singles Day"—essentially China's anti-Valentine's Day festival—into the biggest night of online shopping anywhere in the world.
For India's fledgeling e-commerce market, it's also sign of how far it still has to travel.
When Flipkart, one of India's largest e-commerce firms, tried its own version of the "Singles Day" sale with the "Big Billion Day" sale on Oct 6., it sold about $100 million worth of goods in 10 hours.
Snapdeal, another big Indian e-commerce company, ran its own sale parallel to Flipkart's and sold products worth $100 million.
Both these companies have been at the forefront of an unprecedented year for Indian e-commerce. In July, Flipkart raised $1 billion from a clutch of investors, and in October, Japan's Softbank decided to invest $627 million into Snapdeal.
It's deals like this that will propel India's e-commerce industry to grow into a $32 billion sector by 2020, according to Technopak, a consulting firm. China's e-commerce industry, in comparison, is already sized at $460 billion.

Yet, Flipkart's biggest worry on its maiden "Big Billion Day" sale wasn't that its numbers looked minuscule compared to the likes of Alibaba. Instead, the sale turned out to be a bit of a public relations nightmare for Flipkart as customers frustrated with a buggy website began pointing out numerous technical glitches on social media.
Later in an email, Flipkart founders Sachin Bansal and Binny Bansal (not related) admitted that the online retailer didn't have the necessary technical wherewithal to handle large traffic on their website.
It's perhaps time they looked at Alibaba—their avowed role model—a little more closely.