Parenting is typically a woman's job—just like most of the household chores—in India, where the gender chore gap, or the difference between the amount of housework done by women and men, is the widest worldwide.
But what happens when the old order of things is disrupted—and roles of a man and a woman, or a wife and a husband, or a father and a mother, are reversed?
The Nov. 8 episode of Satyamev Jayate, the talk show hosted by Bollywood actor Aamir Khan, scrutinized the subject—and called on an unusual couple from Pune for a blink-and-miss chat.
Atul Agnihotri, 49, and his wife Arundhati, 46, live in Pune, with their 20-year-old daughter Mrunmayee, a student of psychology. Theirs is a one-income household—like most families in India. Except, Arundhati, who works with the Life Insurance Corporation of India, is the family's sole breadwinner, while the husband runs the house.
Stay-at-home dads now account for more than 16% of at-home caretakers in the US, a number that has more than doubled over the past decade. But they are still very unusual in India, making them a subject of inquisitiveness, and sometimes disdain.
Following is an edited excerpt from what Atul Agnihotri told Quartz about his life as a stay-at-home father: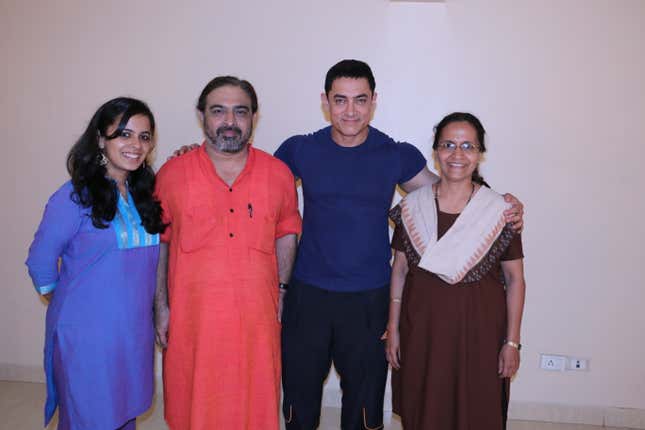 In August last year, the Satyamev Jayate team came over to our home, and shot a clip. A year passed, and we forgot all about it.
Then, they called me two months ago, and they told me that my family's lifestyle matched the theme they wanted to discuss on the talk show. Within a few days, we were at the Yash Raj Studios in Mumbai to shoot the episode on masculinity.
As it turned out, the team could not find any stay-at-home fathers like me—at least no one who has been taking care of the household for over 15 years. I am at least sure there is none in my city, Pune.
I finished my bachelor's dgree in production engineering from Pune University in 1988. Soon after, I started work and continued for five years. In 1993, I was married to Arundhati, my wife, who hails from Ahmednagar, a small town 60 miles from Pune. The following year, we had our daughter, Mrunmayee.
At the time, my father was bedridden. All of us lived in a small house, and being the eldest son, I started feeling very pressured. Nobody had forced me, but I knew I needed to arrange the money for his treatment, give my wife a better life by moving to a bigger house, and so forth.
I was all of 23.
My father's health deteriorated. Matters went from bad to worse, and I started feeling helpless but found hope in alcohol. I started drinking sometimes. As my obligations increased over the next two years, I started drinking round-the-clock. I was out of control.
One of the darkest periods of my life was the day my father died. It was in 1996, and I wasn't in my senses to perform the last rites. Somebody held my hand, somebody else supported me to stand on my feet, so that I could light the pyre. That day should have never come. I have no memory of seeing him for the last time.
My wife, though, was not easy to defeat. She—and she alone—took the step of taking her addicted husband to Muktangan, a residential rehabilitation center in Pune. I had troubled her deeply, but she stood by me.
As the procedure is, I was admitted for 35 days to break the cycle of alcohol and overcome addiction. The recovery rate of alcoholism is very low. Out of 100, only five people manage to stay away from alcohol. The remaining 95% go back.
My wife was familiar with the recovery program. She wanted to be careful that there was no chances of a relapse. So, she offered me a solution: I could look after the house, while she supported the family with her income.
I readily accepted her offer and today, I haven't touched alcohol in 17 years. This inspired me to become an active social worker at the rehabilitation center. In fact, it was through Muktangan, and a few media publications where I have been interviewed earlier, that Satyamev Jayate came across my name.
At the time, my daughter was very young. I gave her all my time. I would cook for her; drop her to school, the playground, tuitions, everything. And I think the upbringing has had a very positive impact on her. Today, she wants to be a social worker, and I am very happy with her decision.
Growing up, I had seen my mother toiling hard. I used to help her a lot—with cooking and cleaning—but I also knew her contribution to our family wasn't ever acknowledged. Every day, she would make a rangoli at the doorstep of our small house. Nobody would ever see it or appreciate it. But her kindness, her selflessness, deeply impacted me.
In India, we correlate how much we work with the income the person earns. So if I don't bring a paycheck home, then I am not doing anything.
People will say I am lazy, or that my wife dominates me.
Yes, I am dependent on her for money. Till date, I haven't been able to buy her a gift in the materialistic sense of the word, though our biggest gift to each other is our contented life together. She manages the finances of our home, and she saves for the family.
But neither my wife nor my daughter pay any heed to what people say or think. We are not doing anything wrong. We have small expectations in life. We don't want too much. And we get joy from little things in life.