I arrived in New York on a frigid February morning in 1999. So I had lived a full 10 months in the United States before I was introduced to Thanksgiving. I still remember sitting in the dining area of my friend Jennifer O'Flanagan's home and the huge bird being brought out.
"Do we really eat this thing?" I thought.
I had worked in kitchens for several years by then, but still the size of this bird astounded me. I remember meeting her parents and addressing them as uncle and aunty just as we would have in India, a source of much amusement at the table. I was informed that I should call them by their first names, a practice that shocked me and which I still don't follow. I remember the meal being delicious—but somehow I missed the zing of spices in the many dishes served that day.
Over the years, I have taken over the Thanksgiving meal being cooked in my own home, inviting friends and family to celebrate the occasion with me. Gradually, I have brought the many influences of India, north to south, into the meals on my table.
We keep the traditions of Thanksgiving at our core: potatoes, pumpkin, and stuffing—except they all are influenced by the many dishes that I cook. If you were to eat the blend of American, French, Italian foods dubbed "continental" in India, it would not be surprising to find green chilies used to awaken our palates in pasta sauces or cumin, ginger, cilantro, and turmeric as the hidden gems in soup.
And so I do with my table. Here's a sampling of recipes that might bring some zest to your home this Thanksgiving.
Coconut green beans
Inspired by green beans poriyal, this dish is a must in South Indian homes. Slow simmered coconut with black pepper creates an amazing heat and cooling profile on your palate. The first time I enjoyed this dish, I was 18 years old and had just begun my education in Manipal, in the southern state of Karnataka. Having been raised in New Delhi, the use of fresh coconut into savory dishes was strange for me; we had no coconut trees in Delhi. Now I can't go a month without eating it.
Ingredients
2 tablespoons canola oil
2 whole red chilies
1 tablespoon mustard seeds
6-8 curry leaves, roughly torn
1 ¼ teaspoons cumin seeds
1 medium red onion, sliced thin
1 tablespoon freshly ground black pepper (add more if you enjoy it spicier)
½ cup shredded fresh coconut (available frozen)
1 pounds green beans cut into bite-sized pieces (you can use frozen cut beans as well)
Salt to taste
½ cup water
½ cup coconut milk
Method
Put a flat bottom pan on high heat; add the oil and whole red chilies into the pan. Once the chilies change color and the oil is really hot, add the mustard seeds to the pan. As soon as they start popping, add the curry leaves and cumin and cook, stirring often, until the cumin becomes fragrant and browned, about a minute. Add onion and black pepper, cook till onions turn translucent in color. Throw in ¼ cup coconut and continue cooking stirring continuously till the coconut is golden brown in color.
Add the green beans and the salt and cook for 5 minutes, stirring occasionally. Add the remaining coconut, coconut milk and the water and bring to a simmer. Cover the skillet and reduce the heat to medium-low. Cook until the green beans are fork tender, about 6-8 minutes. Uncover, increase the heat to medium and cook until the gravy thickens, about five minutes. Taste for seasoning and serve.
Two-onion, fennel and potato salad
Bengali aloo bhartha, or mashed potato, is a staple in the community. The mustard oil, with green chilies, lemon juice, and cilantro make this a staple side dish in our home. I have recreated the dish by adding red peppers and fennel to the mix and using olive oil instead of mustard oil for the ease of the home cook.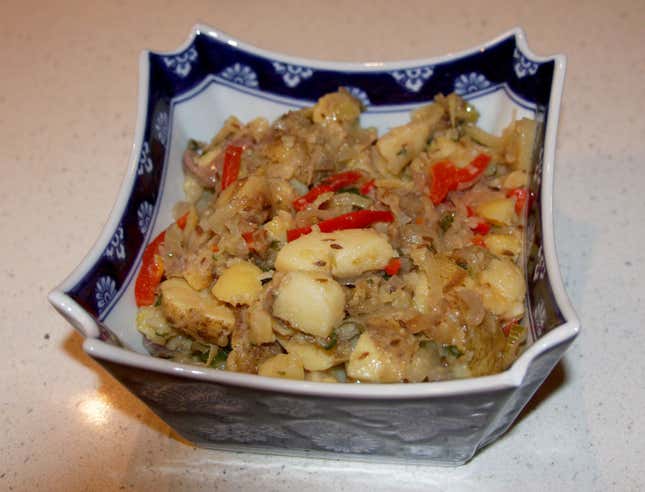 Ingredients
1 pound white or red skin potatoes (about 1 ½ inch diameter) scrubbed
3 tablespoon olive oil (use mustard oil for a more authentic flavor)
1 tablespoon cumin seeds
1 large red onion halved and sliced thin
1 large white onion halved and sliced thin
1 bulb fennel, washed, halved and thinly sliced
½ red pepper, washed, seeded and sliced
3 green chilies, finely chopped
Juice of 1 lemon
A small bunch cilantro finely chopped about 1 tablespoon
Salt to taste
Method
Take the scrubbed potatoes and put them in a large pot with cold water, put a tablespoon of salt in the water. Place the pot on high heat and boil till the potatoes are done. Remove from water immediately and set aside to cool. Once cool, quarter the potatoes into fours and place in a large bowl.
Meanwhile in a flat bottom pan, put olive oil on high heat. Throw in the cumin seeds and cook till golden brown in color. Add the red and white onion into the pot, and cook till the onions sweat and are translucent. Put the fennel and red pepper in the pan and cook till they all turn a slight golden brown in color, about five minutes.
Throw in the onion and fennel mixture into the steel bowl with the potatoes. Add green chilies, lemon juice, and salt to taste on top of the mixture. Using a potato smasher, smash the mixture gently and mix really well. Cool and bring to room temperature, sprinkle with cilantro before serving. Serve at room temperature, can be stored in refrigerator a day in advance.
Spiced butternut squash
Use of spices is so important in Indian food. This dish gets its flavor from the dried spices being added in the end. For most people, Thanksgiving is the time when they spend hours cooking meals for their friends and family. For chefs like me who cook every day and spend 70% of their lives in kitchen, I like to cook dishes that are simple, quick and yet flavorful.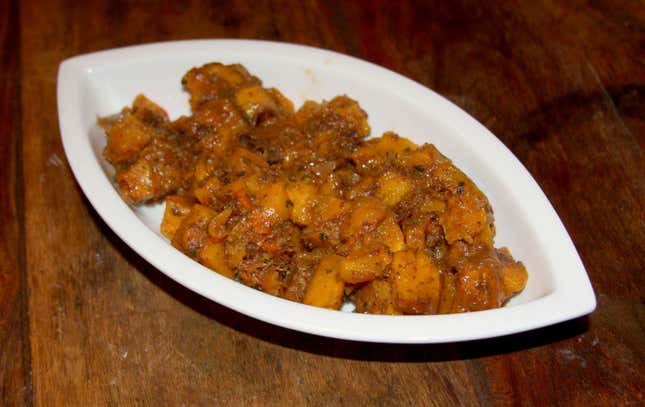 Ingredients
1 butternut squash, peeled, seeded and cut into 1 inch cubes
1 inch ginger, peeled and grated using a microplane
1 teaspoon red chilli powder
2 tablespoon olive oil
Salt to taste
1 tablespoon raw sugar
1 teaspoon amchur (dried pomegranate powder) substitute: 1 tablespoon fresh lemon juice
1 tablespoon dried fenugreek leaves
Method
Preheat oven to 400 degrees F.
Take the butternut squash in a bowl and toss with ginger, red chili powder, salt and olive oil.
Cook till the squash is done and is fork tender about 35 to 40 minutes. Once done turn the squash into a bowl and sprinkle with sugar, amchur and dried fenugreek leaves, serve immediately.
Turkey stuffing
My family hates eating the two ends of a loaf of bread. The month before Thanksgiving, we store those ends in a Ziplock bag in the freezer to eventually make our stuffing. The breads vary from whole wheat to multigrain, and all bring in an equal amount of flavor to the dish. Having cooked for so many years, I generally walk into my pantry, see what's in there and bring it together to create something new. This is one of the most flexible dishes to create.
For the stuffing base:
1 pound firm whole wheat, home-style sandwich bread
1⁄2 cup (1 stick) unsalted butter
2 tablespoon cumin seeds
4 gloves of garlic finely chopped
2 inch ginger peeled, finely chopped
2 cups finely chopped yellow onion
1 cup finely diced celery
½ cup carrots, peeled diced into 1 cm cubes, or any other fresh vegetable you have
2 teaspoons red chili powder
2 teaspoons finely chopped fresh sage, or any other herb you wish to use
2 to 3 cups turkey or chicken stock
Salt and freshly ground black pepper, to taste
Nonstick cooling spray
Additions:
2 apples, peeled, cored, diced and briefly sauteed in butter (pears are a great substitute here)
1⁄2 pound sweet Italian sausages, cooked and cut into 1⁄2-inch-thick chunks
1 cup chopped toasted walnuts or any other nut you have
1 pound sliced and sauteed button mushrooms
Method
Heat the oven to 250 degrees F.
Cut the bread into half-inch cubes, then arrange the cubes in single layers on three baking sheets. If you don't have enough baking sheets, work in batches. Bake the bread cubes until the edges are dried but the centers are still moist, for 45 minutes to one hour.
When the bread is nearly done, in a large skillet over medium heat, melt the butter. Add the cumin seeds, cook till golden brown, and throw in the ginger and garlic cook for about two minutes before adding onions celery, carrots and chili powder to the pan. Let the vegetables soften and turn golden brown in color.
Transfer the vegetables and butter to a large bowl. Stir in the sage, toasted bread and enough of the stock to moisten the bread. Season with salt and pepper also add any additions desired.
If cooking inside the turkey, transfer the mixture to the bird's cavity and roast. If baking as a separate dish, stir in additional broth, then transfer to a baking dish coated with cooking spray, cover and bake at 350 degrees for 15 minutes, then uncover and bake for another 20 minutes, or until slightly browned and crisp on top.
Ginger and black pepper apple walnut crisp
I call crisps the farmer's pie, where any fruits can be thrown in together with flour-butter-sugar-spices to create a mouthwatering array of flavors and profiles. Growing up, we didn't eat dessert but always fruit sprinkled with some sugar, a pinch of salt and some chili powder. When I am creating fruit crisps like this, it is that concept that I closely follow as it is so close to my heart and memory. I change the fruit as per the season, and add honey instead of sugar for a lighter meal. Also I have used olive oil instead of butter.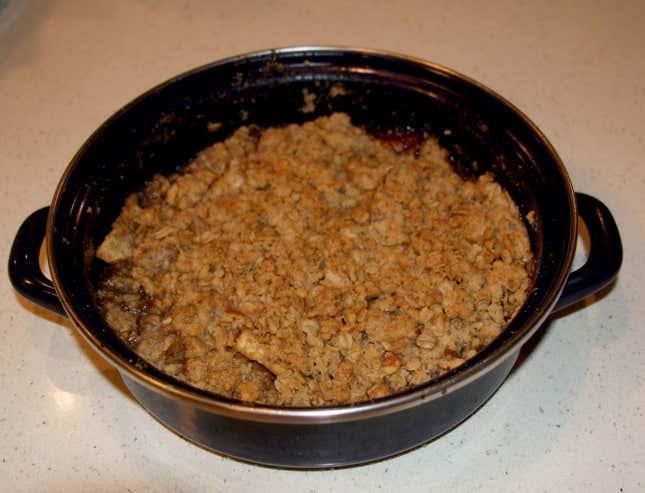 Ingredients
For filling
4 apples washed, peeled, cored, sliced to half-inch slices
2/3 cup of light brown sugar
Juice of 1 lemon about 2 tablespoons
1 inch ginger peeled, grated using microplane
1 teaspoon freshly crushed black pepper
¼ teaspoon red chili powder
¼ teaspoon kosher salt
1 tablespoon butter
For topping
½ cup flour
¼ cup sugar
1 teaspoon ginger powder
½ cup quick oat meal
½ cup walnuts ground to a powder
4 oz butter, finely diced
Method
Preheat oven to 375 degrees F.
Take a steel bowl and toss all the ingredients of the filling except butter together. Melt the butter and rub a 9 inch pie dish with it.
Put the tossed apple into the pie dish. Take the flour, light brown sugar, ginger powder, oatmeal and walnuts in a bowl. Add chopped cold butter rub it in between your fingers till it takes a bread crumb consistency. Sprinkle on top of the apples and place inside the oven to bake.
Bake till golden brown in color, about 35 to 45 minutes. Serve hot or warm with vanilla ice cream.