Six years ago, 10 Pakistani militants arrived in Mumbai by sea and laid siege to the India's financial capital, killing over 150 people, unsettling millions and adding yet another chapter to India's bloody tome of terrorist violence.
Thankfully, the country hasn't faced another attack of the scale and intensity of 26/11 since 2008—but India continues to remain one of the world's most terrorism-afflicted nations.
A study by the Institute of Economics and Peace (pdf) ranks India sixth on the Global Terrorism Index—behind only Iraq, Afghanistan, Pakistan, Nigeria, and Syria.
The report defines terrorism as "the threatened or actual use of  illegal force and violence by a non-state actor to attain a  political, economic, religious, or social goal through fear, coercion, or intimidation."
The index analyses the direct and indirect impact of terrorism in 162 countries, including factors such as lives lost, injuries, property damage and the psychological effects of terrorism.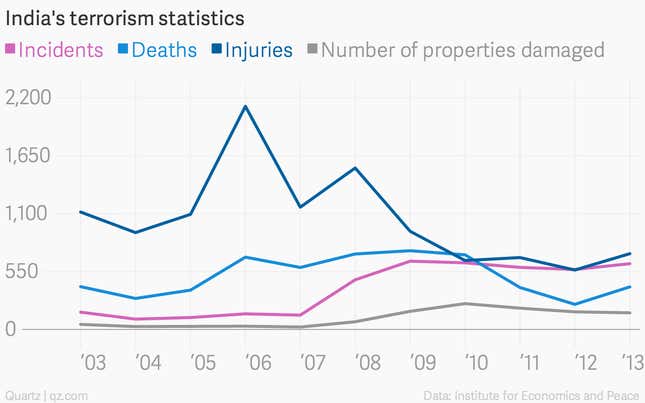 While the number of deaths and injuries have come down from their peak between 2006 and 2008, the number of terrorism-related incidents has recently rebounded.
"Terrorism increased by 70% in India from 2012 to 2013, with the number of deaths increasing from 238 to 404. The number of attacks also increased, with 55 more attacks in 2013 than 2012," the report said.
Unlike the 26/11 attacks and the 2006 Mumbai train bombings, most of the recent terrorism incidents in India have not cause many casualties, with 70% of attacks categorised as "non-lethal." Yet, the number of properties damaged has seen a rise since 2006.
The majority of India's terrorism incidents in 2013 were related to the Maoist groups operating in Bihar, Jharkhand and Chhattisgarh, who were responsible for almost half of terrorism-related deaths in the country last year. That includes the attack on a Congress Party convoy in Chhattisgarh's Darbha Valley in May 2013, where over 20 people, including senior Congress politicians, were shot dead by the insurgents.
"Police are overwhelmingly the biggest targets of Maoists, accounting for half of all deaths and injuries. This is mainly through armed assaults, which killed 85, and bombings and explosions, which killed 43," the report said.
In the restive Jammu and Kashmir region, long a hotbed of terrorism ostensibly sponsored and supported from across the Pakistani border, violence also persists. Three Islamist groups emanating from the region caused 15% of all terrorism deaths in India last year, with the Hizbul Mujahideen the only terrorist organization to use Indian suicide bombers in 2013.
But a slightly larger percentage of attacks—responsible 16% of deaths—came from India's northeast, where separatist groups in Assam, Bodoland, Kamtapur and Meghalaya continue to wage war against the state.
India ranked number one on the same index in 2003.