An election campaign in Ladakh is unlike anywhere else in the country because of two simple reasons—its geography and its people.
Rigzin Jora, the incumbent Congress MLA from Leh, one of country's largest assembly constituencies, says it takes him more than a month to cover every village in his constituency.
Many places in Upper Leh can only be covered on foot, and sometimes he can visit only two to three villages in a day because of the distance between them. In the plains of northern India, election cavalcades often run through more than a dozen villages in a day with ease.
I began my journey in Leh with Chering Dorje, the Bharatiya Janata Party's candidate. His campaign consisted of a series of small meetings in various hamlets situated on the outskirts of urban Leh.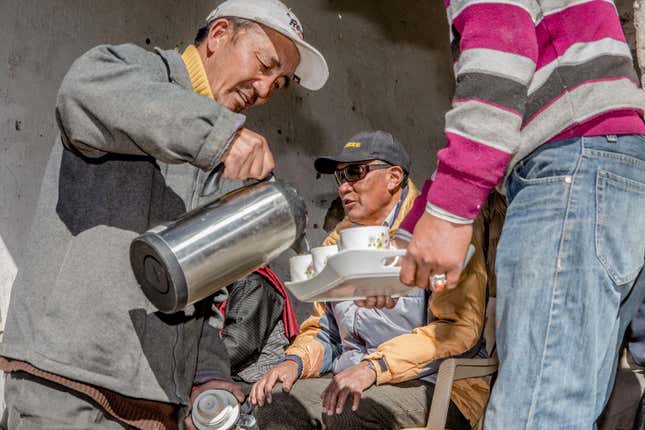 Dorje explains that most of the people he was speaking to were members of nomadic tribes who had sold their livestock in order to settle down in urban areas. These people had led simple lives, were uneducated and were having a hard time adjusting to city life, he said.
When I asked what he was planning on doing to make the situation more comfortable for them, he said: "We are trying to persuade them to go back."
As Dorje delivered his stump speeches, people in the audience often went about their daily chores. There was a man turning his prayer wheel, and two women rolling their freshly spun yarn into a ball of wool.
Each of these meetings was unlike anything I had seen earlier in the 2014 Lok Sabha elections. The meetings in Ladakh are either held out in the open, or in community halls located in each town and at each meeting I counted not more than 50 people.
During the Lok Sabha campaigning, I had grown accustomed to the daily physical battle of standing my ground, elbows out, desperately protecting my camera as crowds would clamor for a glimpse of their leader. Here, it was exactly the opposite.
There were no rousing slogans, no drums and little of the posters, flags and hoardings and other paraphernalia that I had become so used to seeing earlier in the summer.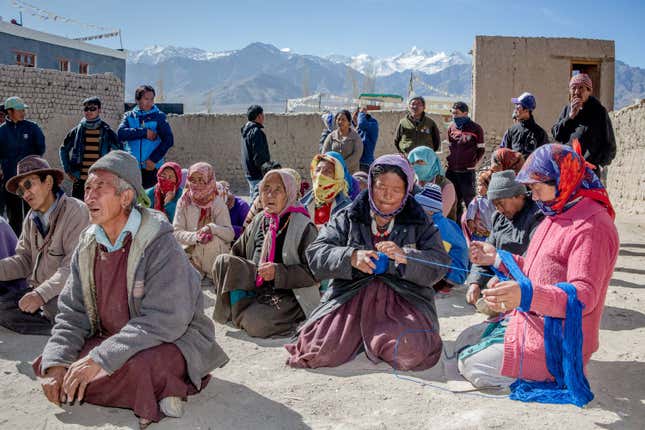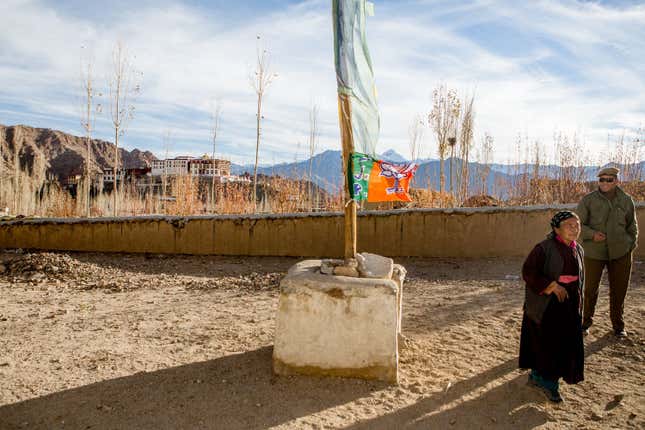 When Dorje entered a village, people politely shook hands—or hung back and quietly allowed the candidate to take his place on the stage. The men in the village would then file in and take their seats to listen to what the candidate had to say, while the women busied themselves by serving tea and biscuits to everyone in the audience.
Dorje had members of the BJP's Mahila Morcha with him as part of his entourage who would often speak to the women separately on why they should vote for the BJP. I also wanted to also observe the BJP's campaign in a place where prior to winning this year's single parliamentary seat, it has had a scant presence here.
Campaigns here can be extremely tedious. Distances from village to village are huge, with vast stretches of desert wasteland separating them. Often, roads are covered with snow, so travel is treacherous. The majority of a candidate's time is spent on the road, commuting.
Winter has also arrived in this part of the Himalayas—and once the sun goes down around 5 pm, the temperature falls well below zero. During the week I spent in Ladakh, Zanskar constituency remained inaccessible as the road was blocked because of snow.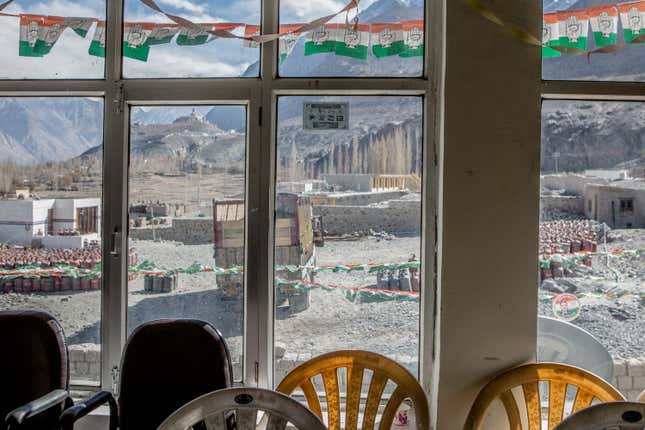 In Nubra, the state's most sparsely populated assembly constituency with just over 13,000 voters, I travelled with the Congress' Leh MLA, Jora, while he campaigned for Deldan Namgail, the party's local candidate.
The focus of Jora's efforts was a small belt of Muslim villages situated along the bright teal blue Shyok River. Bogdang, Tyakshi, Changmar and Turtuk are the most thickly populated villages in this belt comprising Balti Muslims.
It is hugely important for any party to secure the vote in this region in order to swing results in their favor. You can feel the cultural shift when you enter this region. Instead of chai and biscuits, you get traditional salt tea. Visitors are served plates piled high with dried apricots and locally grown almonds.
A villager from Bogdang, situated on a flattened hilltop, a steep climb up from the highway, tells me that this region has been the center of a huge amount of political activity in recent days.
"The National Conference, BJP and Congress—everyone wants the 1,200 votes we have here," he says. On our way out of Nubra, we pass multiple political convoys, including that of chief minister Omar Abdullah.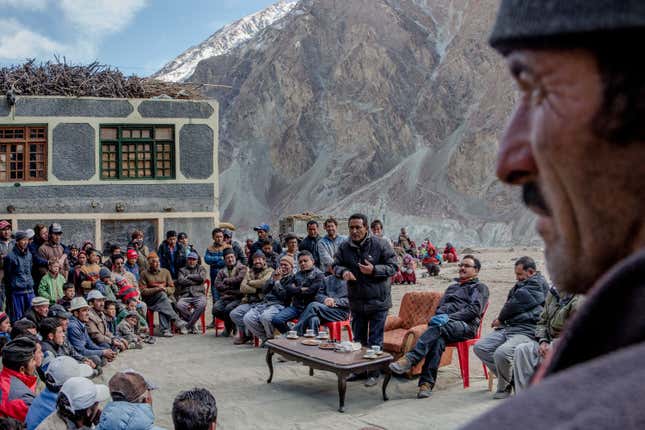 But there is disenchantment here, too. In Tyakshi village, people were upset that little has been done to boost tourism and that they have not been allocated a higher secondary school like the neighboring town.
Jora calms them down but not without a warning that little can be done unless they vote for his party. His manner is half-stern, half-joking. Even in the midst of rants when locals are complaining, there is a wry smile on his face.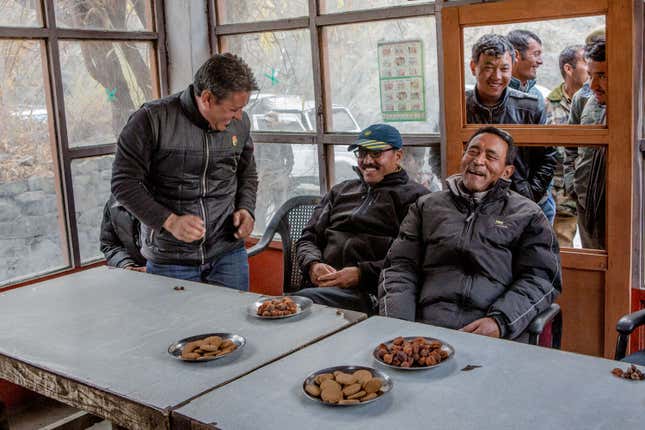 To reach Thang, the last village before the border, there is only a rickety bridge fashioned out of rope and wood. The meeting in Thang is conducted in a small house at the top of the bluff, where only the local headmen attend and list their demands.
A policeman on duty, now evidently bored at hearing Jora's speech multiple times, beckons me to follow him out of the room. Outside, we climb up a short, steep path to the top of the cliff from where we have an unbroken view of the Pakistani villages that start 30 kilometers away. "You are very lucky to be here," he tells me. "I don't know if the media are allowed to come this far."