Update: Tarun Tejpal has been asked to drop out of the Times of India Litfest.
Barely a year ago, news broke first on Twitter and then later across the media, that former Tehelka editor Tarun Tejpal had allegedly raped a junior colleague of his at the magazine's annual confab in Goa. Now, out on bail as the trial drags on, it looks like Tejpal is set to return to the convention circuit.
The Times of India Literary Carnival, set to be held in Mumbai in the first week of December, includes as part of its schedule a panel featuring the rape-accused journalist and author. The panel is titled, "The Tyranny of Power." It will be Tejpal's first public appearance since the scandal broke last year.
Tejpal was accused last year of raping a young female staffer in an elevator in a Goa hotel, an incident that he claimed in an internal email was a "lapse of judgment." He was later arrested and put in judicial custody, before getting bail in the Supreme Court in July. Although he initially admitted to having been at fault— stepping away from Tehelka and claiming he would do the "penance that lacerates me"— in court his lawyers have claimed everything from a personal vendetta to a political conspiracy behind the case.
There's no indication that the discussion at the Times of India's Litfest, on December 6, will be about Tejpal's alleged abuse of power himself, especially since that matter is sub judice. Alongside Tejpal on the panel are journalist and scriptwriter Basharat Peer, Congress politician Mani Shankar Aiyar and the moderator is journalist Manu Joseph.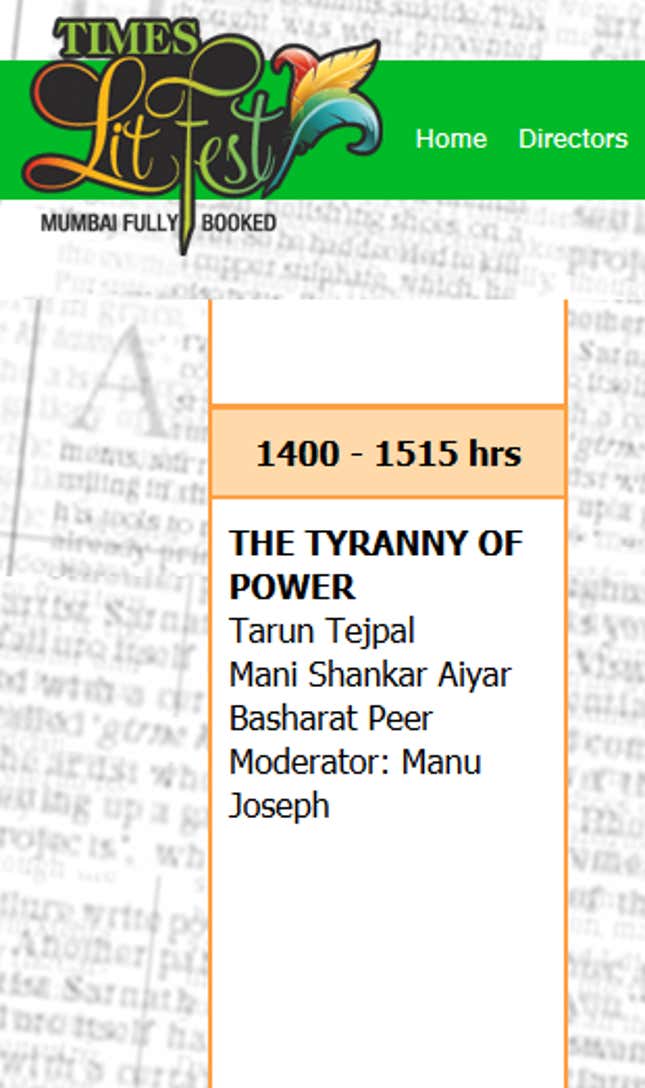 Joseph has some history of dealing with the Tejpal case, having written a cover story for Outlook where he described the contents of CCTV tapes around the incident in Goa, which many criticised for the way in which it was written. The others, however, have no direct connection to the case and since the current description of the discussion has nothing other than the title, it could as easily end up being about prime minister Narendra Modi as about the Goa incident.
In an email message to Scroll, festival director Bachi Karkaria said that the panel is part of the event's overarching theme of Power as Hero and Villain. "Tarun's Masques deals precisely with this," she explained. "The panel has nothing to do with his personal case. We are aware that this issue is sub judice, Tarun is not convicted and is out on bail. The case is not going to form any part of the discussion, and we have always found Tarun to be an articulate panelist."
As to what subjects will be broached by the panel, she replied, "This will develop between the moderator and his panel. We do not dictate this, as indeed no litfest worth the name should. All we can say us that the case will not, cannot, be part of the discussion."
Karkaria seems to have changed her position from last year, when she wrote a piece in the Times of India lamenting the need for modern conventions to have a "disreputable controversy" surrounding them. "L'affaire Tejpal has been behaving much like a Mumbai squatter, refusing to leave the headlines which it grabbed ever since its horny protagonist gave us all that bull about his 'misreading of the situation'," Karkaria wrote.
Karkaria in fact specifically wrote about worrying that "no father will allow his daughters to attend our litfest". And, almost as if she knew what would be coming this year, Karkaria asked the audience reading her piece whether they would prefer more "sexed-up fare" than the literary discussions they were having.
"We do have a high-powered panel dissecting sexual predators, but are we expected to serve up a hot-blooded one, testosterone fully loaded?" she had written.
This post originally appeared on Scroll.in