India's super rich are getting richer—and doing so much faster than most Asian countries.
Between 2013 and 2014, the number of ultra high net worth (UHNW) individuals in India grew by 9.49% to 8, 595 while the amount held by them increased 8.34% to $1, 013 billion, according to the World Ultra Wealth Report 2014.
That's the fastest rate of growth in UNHW individuals among the 10 leading countries that house the most super rich.
At the same time, Japan and China—the two Asian countries with most UHNW individuals—are witnessing a slowdown.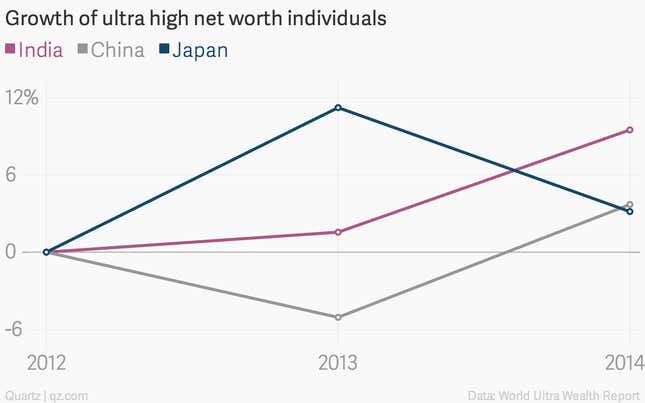 The number of super rich in Japan grew by 3.15% in 2014 and the amount they collectively hold rose by 4.7%.
In China, their population grew by 3.7% in 2014, after declining 5.06% in 2013. The total amount held by the Chinese super rich swelled by 3.3% last year.
Even though the number of UHNW individuals in India has risen steadily since 2012, their numbers (8, 595) remain small compared to Japan's UHNW population of 14,720—the highest in Asia—and China, which is home to 11,070 super rich citizens.
But Indian cities like Mumbai (2,440) and New Delhi (2,130) now house more super rich individuals than Singapore (1,395), Shanghai (1,535) and Seoul (1,095). India's financial capital, in fact, has a larger population of UHNW individuals than Beijing (2,415).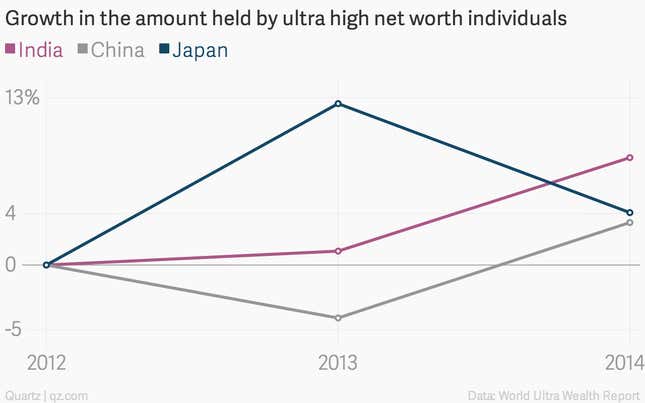 The report defines UHNW individuals as people with a net worth of at least $30 million, including shares held in public and private companies along with investments in different assets such as real estate.
Globally, US has the highest number of UHNW individuals with 69, 560 followed by Germany, Japan, UK, China and India.
In 2014, the number of UHNW individuals in the world increased by 6% to 211,275, while their wealth increased 7% to nearly US$30 trillion. This increase can be attributed mainly to the robust global equity markets that allowed them make money off stocks.
In all, 211,275 individuals, representing about 0.004% of the global population, hold about 13% of the world's total wealth.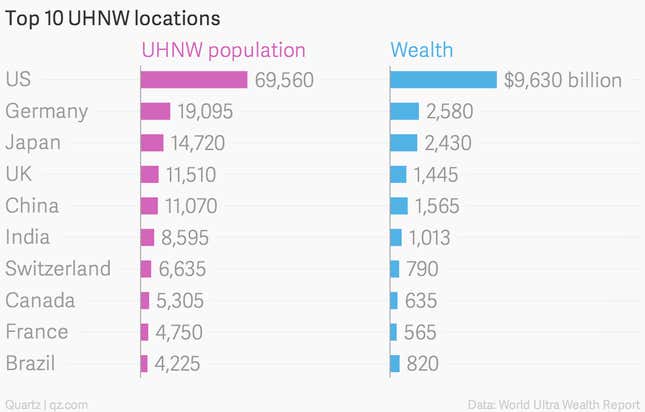 But Asia's performance remained weak compared to last year. "One  of the reasons for the comparatively slower UHNW growth in Asia is the significant number of UHNW individuals who relocated outside of this region, limiting internal gains," the study said.
The slowdown in the growth of the super rich in Japan and China is also a sign of "faltering confidence in the effectiveness of Abenomics in Japan and indications of overleveraging and a slowing real estate market in China," the report said.
Nonetheless, Indian and Chinese cities are likely to takeover Japan as UNHW hubs within the next five years, the report added, as their own super rich populations grow and wealthy foreigners look to tap into Asia's growth momentum.