Millions of smartphone-wielding Indians are emerging as key growth drivers in the country's booming online commerce sector—and some of the biggest names in global e-commerce are arriving to grab their share of the market.
By 2016, more online commerce consumers will make their purchases from mobile phones, instead of desktops, according to technology consultancy firm Forrester Research. And by 2019, total mobile commerce sales could reach $19 billion (Rs1.18 lakh crore) even as the overall online commerce industry grows to over $100 billion (Rs6.2 lakh crore).
These projections are part of the reason why Chinese e-commerce behemoth Alibaba made its first big investment in India earlier this month.
On Feb. 5, Ant Financial Services Group, an affiliate of the Alibaba Group that runs Alipay—China's largest mobile payment service—announced that it has bought a 25% stake in One97 Communications.
One97 runs India's largest mobile payments platform, PayTM, which was launched in 2009 to help users pay their bills through mobile phones. In January 2014, PayTM started its mobile wallet service, which now has more than 23 million customers.
Staggering increase
Backed by over 80 million smartphones, total value of transactions through mobile phones in India grew from Rs7,800 crore ($1.25 billion) in 2012-13 to Rs36,000 crore ($5.79 billion) in 2013-14, according to data from Google and Forrester Research. That's a staggering increase of 383% in a single year.
As a result, some of India's top e-commerce companies now receive bulk of their orders from cellphones today.
In 2014, about 60% of Snapdeal's traffic came from mobile phones. It now expects that number to grow to about 80%.
Meanwhile, at it's big domestic rival, Flipkart, at least half of the total traffic was via mobiles in 2014.
"We are seeing more than two times or three times growth from the mobile front compared to desktop, where Flipkart is growing overall but mobile is growing at a much faster pace," Mausam Bhatt, Flipkart's senior director of marketing, said late last year.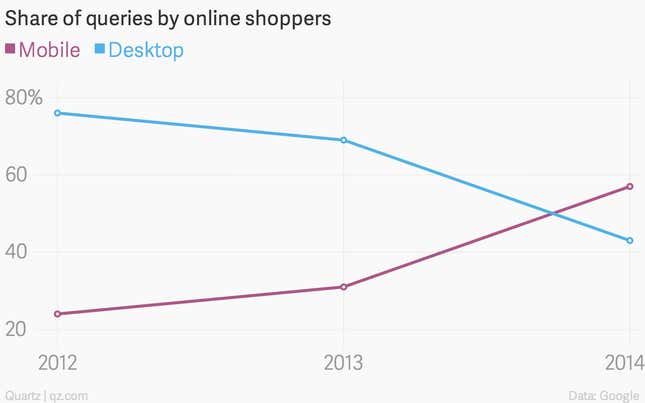 And the mobile commerce market will get even bigger as India comes the world's second largest smartphone market by 2016, fueled by falling mobile phone prices and cheaper access to data services.
But there is one more factor that has worked in PayTM's favour: The Reserve Bank of India's (RBI) credit card rules.
India's central bank has made it mandatory for companies to follow its two-step authentication process on Indian credit cards where customers have to manually input a password, to help make transactions more secure.
The guidelines have irked some companies, such as Zomato and Uber, as it complicated the payment process on mobile phones. For others, like PayTM, however, it's proven to be another business opportunity.
In November 2014, PayTM partnered with online taxi aggregator, Uber, after the latter was forced to comply with RBI guidelines on payments.
And there's a lot more that PayTM wants to do today. It already operates a marketplace and has applied for a payments banks license from the RBI, which would allow them to offer deposit and remittances services.