Atya patya, tennikoit, cycle polo and tennis ball cricket—these are all sports that are not merely played in India, but also supported by the government.
These are part of the 60-odd sports in the country, besides cricket, that have official funding from the central government.
Quartz brings you a list of 10 lesser-known sports (and their federations) that received anywhere between Rs5 lakh ($8,082) to Rs70 lakh ($113,113) in monetary support this year (PDF).
Obscurity, evidently, is no bar for receiving government funding.
Atya Patya
Like kabaddi, atya patya originated in India. The government provided Rs14 lakh ($22,629) to its sports federation for 2013-14.
How to play: Two teams of nine players each face each other within a small play field, called a trench. The "grenadiers" need to go through the trench, guarded by "assailant," to win a match. And like kabaddi, atya patya requires no equipment.
Though relatively unknown outside rural India, the sports is not free from controversy. The national federation came under a scanner when it was alleged that it was issuing fake certificates to students, which could help them get admission into professional colleges.
Cycle Polo
Cycle polo is the same as traditional polo, but with cycles instead of horses.
How to play: Each team consists of four cyclists (and four extras) who use long wooden sticks to scurry the ball and score goals. Ordinary cycles, with no special gears or fittings, are used for the game. The central funding to the Cycle Polo Federation of India for 2013-14 was Rs27.5 lakh ($44,437).
This is a video by British Pathe from 1958, when the sport was still relatively new:
Shootingball
Another indigenous sport, shootingball is similar to volleyball. The sport's first world cup was held in New Delhi in 1992, with teams from India, Pakistan, Canada and UK, which India won.
How to play: Players must clasp their hands to hit the ball. The game is played by seven players on each side of the net.
In 2013-14, the central funding toward the sport was Rs14.2 lakh ($22,953).
Korfball
This is one of the few sports in the world where men and women play together. It is said to have Dutch origins.
How to play: Two teams of two men and two women compete with each other to shoot the ball into a basket called korf. Almost two decades ago, Korfball was recognized by the International Olympic Committee. India's national federation for the game has received no central funding over the past two years.
Tennikoit
The funding for the game from the central government was to the tune of Rs15. 7 lakh ($25,378) in 2013-14.
How to play: Similar to tennis, the game can be played in singles, doubles and mixed matches. No racket is used, and the tennis ball is replaced with a koit (a ring made of foam rubber), which is thrown by players to each other over the net using their hands.
Sepak Takraw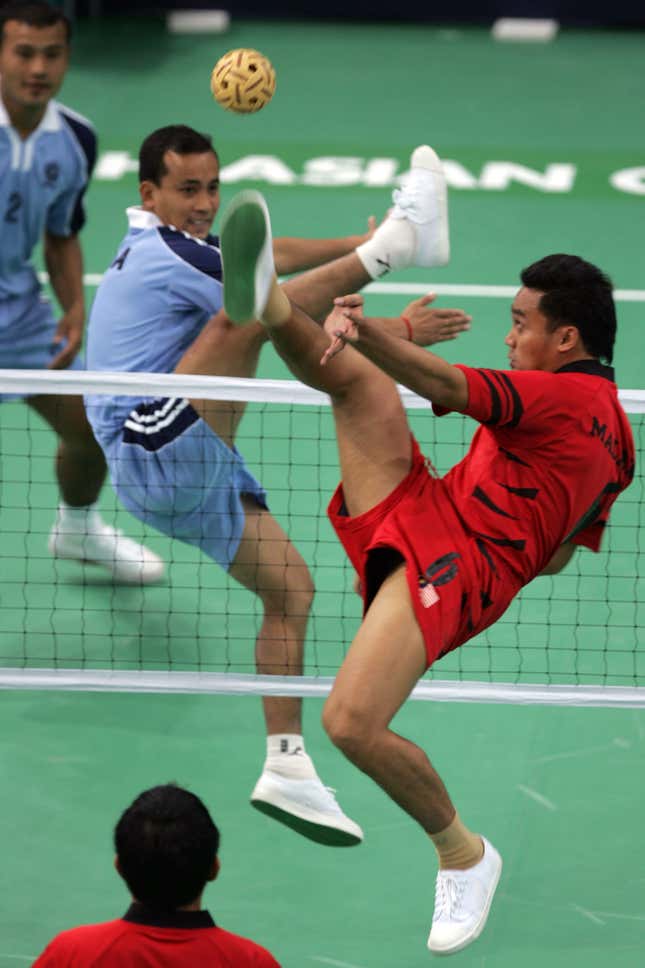 This Southeast Asian favorite has a large enough following here to merit Rs64.6 lakh ($104,387) in funding to the sport's Indian federation during 2013-14.
How to play: A volleyball-like game, it is played only using legs, the chest and the head on a badminton-sized court. The ball is traditionally made out of rattan cane, a popular material used in furniture, although synthetic versions are now used for competitive games. The sport has been part of the Asian Games since 1990.
Tennis Ball Cricket
Sachin Tendulkar, one of world's greatest cricketers, loved to play tennis ball cricket. Apparently, he isn't the only one. There's even a dedicated website for the sport.
How to play: It is more or less like cricket, but played with a tennis ball. It is popular in India and Pakistan—and in the Indian expat community in the US, which seems to have a full-fledged league.
The Gorakhpur-headquartered Tennis Ball Cricket Federation of India received a funding of Rs28.5 lakh ($46,053) in 2013-14 for the promotion of the sport in the country.
Tug of War
Its exact origins are unresolved, though there is early evidence of the sport in India. Between 1900 and 1920, the sport was included in the Olympics, but has since been discontinued. The Tug of War Federation, however, organises an international championship every two years.
How to play: Teams of eight players each participate in the game and basically pull in opposing directions.
The Indian government's funding toward the game was Rs10.5 lakh ($16,972) for 2013-14.
Ball Badminton
How to play: Ball badminton is like badminton except that it is played with a ball made of wool instead of a shuttlecock.
The sport originates in Tanjore, Tamil Nadu, where it enjoyed the patronage of the local royal family and gained much popularity in southern India. National-level tournaments of ball badminton are held regularly in Tamil Nadu, Puducherry, Andhra Pradesh, and Karnataka.
The funding from the government for 2013-14 was Rs13.3 lakh ($21,498).
Roll Ball
How to play: Roll ball is a combination of roller skates and basketball. Helmets are advised.
The sport was invented by Raju R. Dabhade, a sports teacher at a school in Pune. Currently, 28 countries play roll ball. The first roll ball world cup was held in 2011 and the second in 2013. India won both tournaments.
The Roll Ball Federation of India received Rs4.5 lakh ($7,273) from the government for 2013-14.