With elections in Delhi likely to be held early 2015, the Aam Aadmi Party (AAP) is trying every trick in the book to fill its shrinking war chest.
But the results of the political party's latest fundraising campaigns might be a far cry from last year, when it had no trouble convincing its supporters to donate millions of rupees.
In its latest effort, AAP—that rose to prominence riding on the nationwide anti-graft movement in 2012—has taken to Twitter to reach its target of Rs30 crore ($4.84 million) for the Delhi elections.
Some supporters of the party have started a Twitter campaign where they promise to donate money to AAP based on the number of retweets.

https://twitter.com/deepu_kamboj/status/540388711801061376
At the same time, Arvind Kejriwal, former chief minister of Delhi and AAP leader, is trying to get donations from within the country and abroad.
He will be visiting New York this month, where he will speak at Columbia University's School of International and Public Affairs (SIPA) on Dec. 7 and later attend a fund-raising dinner organized by his supporters.
Back home, AAP is busy hosting fund-raising dinners and lunches.
Hard times
But so far, the campaign has been a damp squib. The party has raised only Rs1.38 crore ($0.2 million) since Nov. 1 2014. In comparison, it had attracted donations worth Rs1.29 crore ($0.21 million) in a single day on Dec. 13, 2013—soon after the results of Delhi elections were announced.
Last year, AAP reached its target of Rs20 crore ($3.23 million), with money pouring in from its supporters in India and abroad, almost 20 days before the Delhi elections.
This time around, donations are low—and trickling in slowly.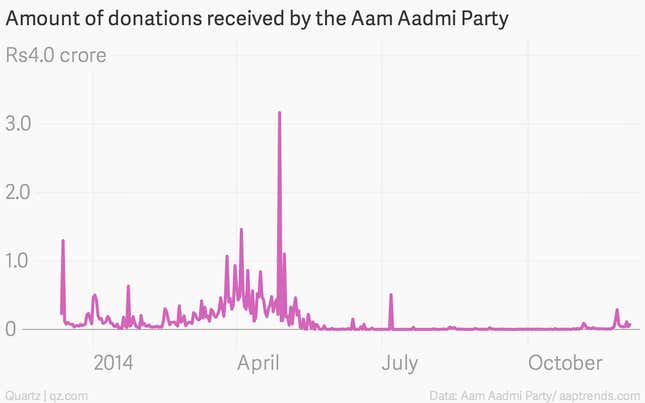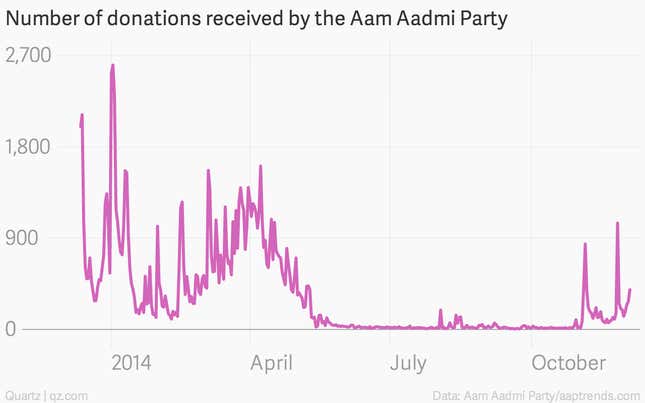 As the charts show, even though there has been a marked increased in the number of donations since October, the amount raised isn't that substantial—perhaps an indication of the diminishing enthusiasm among AAP supporters to donate large sums to the party.
Spending more
The party, however, has not been shy of spending money during the elections. It has raised its budget by Rs10 crore ($1.61 million) from last year to campaign more aggressively this time.
According to the party's balance sheets, it spent Rs15.38 crore ($2.48 million) during the Delhi elections in 2013 and another Rs21.99 crore ($3.55 million) during the Lok Sabha polls in 2014. This is despite the fact that AAP failed to collect enough funds during the national elections and asked its candidates to campaign with their own money.
With Delhi elections just months away and donations dwindling, standing up to the financial might of the Bharatiya Janata Party and Congress is looking difficult.
"Well, it (fund raising]) was never easy. It was not easy in Delhi and it was not easy in Lok Sabha elections," said Arvind Jha, an AAP member, who manages fund raising for the party. "There is no change in momentum, the real momentum only kicks in when elections are announced, candidates are announced."
Retweets will surely help, but unlikely that they'll do enough to transform AAP's fortunes.