The Indian government's plans to expand its coal-based power production could result in hundreds of thousands of premature deaths by 2030 due to increase in emissions.
A new report (PDF) by Mumbai-based non-profit, Conservation Action Trust, and Urban Emissions, an independent research group, estimates that in another 15 years between 186,500 and 229,500 people may die premature deaths annually as a result of a spike in air pollution caused by coal-fired power plants.
Asthma cases associated with coal fired power plants, the report added, are also expected to grow to 42.7 million by 2030. That is roughly one in every thirty persons in the country.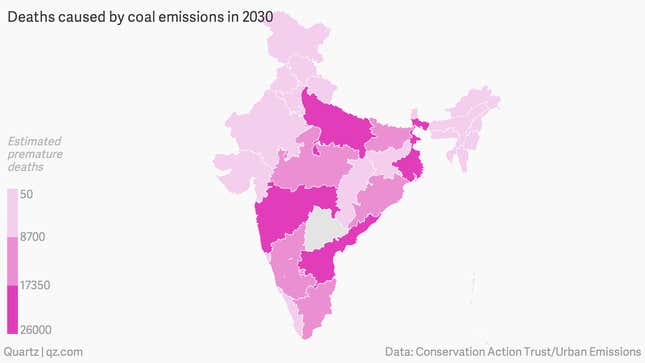 Last month, India's power Minister Piyush Goyal announced his ambitious plans of doubling domestic coal production by 2019 and provide 24×7 electricity to households and businesses nationwide.
With such aggressive expansion plans, the report estimates that  coal generation capacity is set to increase 300% from 159 gigawatts (GW) currently to 450 GW in 2030. This increase would be achieved by trebling India's coal consumption from 660 million tonnes (MT) to 1800 MT a year, while yielding a similar jump in annual carbon emissions.
Soaring pollution
Outdoor air pollution has largely been ignored in the country. A recent WHO report ranked Delhi as the most polluted city in the world, along with 12 other Indian cities in the top 20. But there seems to be little in the way of strong policy that the government is keen on introducing.
The air pollutants typically includes sulphur dioxide (SO2 ), nitrogen oxides (NOx), carbon monoxide and particulate matter, which are categorised as PM2.5 and PM10. Particles of less than 2.5 micrometres in diameter (PM2.5) should ideally not exceed 10 micrograms per cubic metre as per WHO standards.
At its worst, Delhi recorded 153 micrograms of PM2.5 per cubic metre, a staggering 1500% greater than permissible levels.
Controlling coal
Coal-fired power generation contributes roughly 15% of the annual PM2.5 emissions and approximately 50% of the Sulphur dioxide emissions. Given India's coal expansion plans, the emission of these pollutants is set to double, the report notes.
But there is a way to control this crisis, without stifling power generation, the report suggestions. Enforcing the use of Flue-gas desulfurization (FGD) to scrub out the highly toxic sulphur during or after the burning of coal could bring down premature deaths by as much as 50% annually.
India also doesn't have any emissions standards to limit the amount of sulphur dioxide and nitrogen oxides belched out by power generation units. Coupled with a lack of effective monitoring systems, power generators and other industries have had a free ride in the country so far.
With the proposed dilution of environmental norms, it is hard to see if stringent emissions standards will ever be introduced in the country. The report also recommends changes in the Environment Impact Assessment (EIA) of coal-fired power plants that will mandate the project proponents to consider impacts beyond a 10 kilometer radius of the site.
In monetary terms, the report estimates that, utilising FGD technology could reduce healthcare related costs by between Rs12,200 crore and Rs20,300 crore. But that it will also save thousand of lives across the country is perhaps a more urgent reason to consider its enforcement.