Indian child rights activist Kailash Satyarthi is in Norwegian capital Oslo to collect this year's Nobel Peace Prize—an honor jointly conferred on him with Pakistani activist Malala Yousafzai.
Every year since 1901, the Nobel peace ceremony takes place on Dec. 10, the death anniversary of Alfred Nobel. This year, it will be between 12:50pm and 2:40pm (Central European Time), or between 5:20pm and 7:10pm in India, and can be streamed online.
Satyarthi, 60, is the eighth Indian to win a Nobel, and the first Indian-born person to win the Nobel Peace Prize. The only other Indian to win the prestigious accolade was Macedonia-born, and naturalized Indian citizen, Mother Teresa.
Ahead of this year's ceremony, here are the other Indian Nobel laureates, and excerpts from their speeches:
Rabindranath Tagore (1913, literature)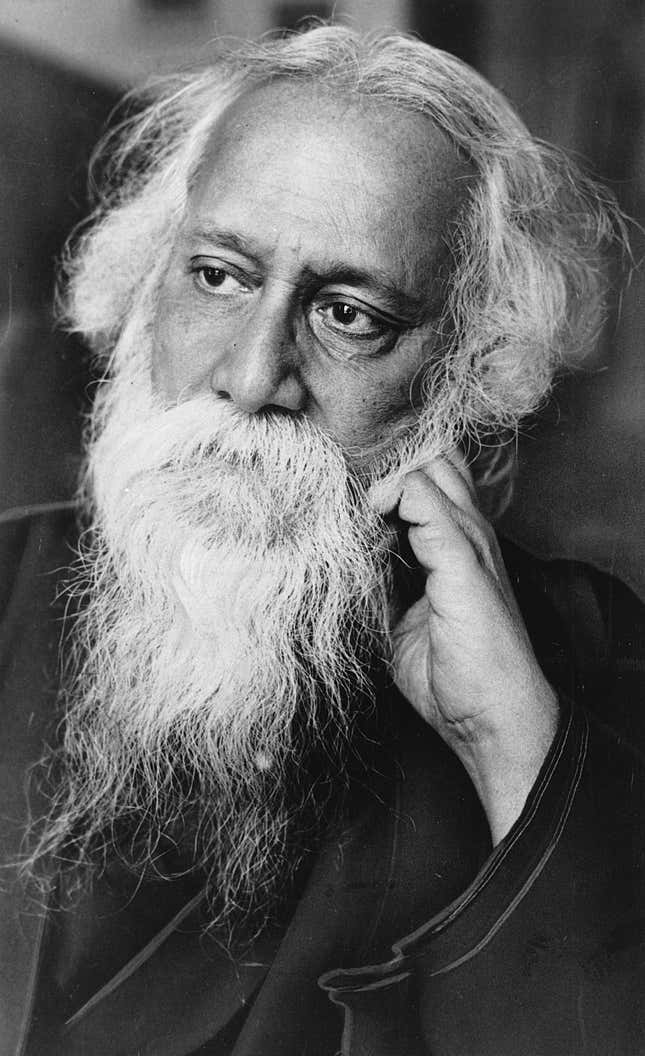 Bengali polymath Rabindranath Tagore was awarded the Nobel Prize in Literature "because of his profoundly sensitive, fresh and beautiful verse, by which, with consummate skill, he has made his poetic thought, expressed in his own English words, a part of the literature of the West."
Though Tagore wrote in Bengali across all literary genres, he became known in the West for his poetry, which he often translated himself into English. His banquet speech, sent via telegram, was read at the ceremony in Stockholm:
I beg to convey to the Swedish Academy my grateful appreciation of the breadth of understanding which has brought the distant near, and has made a stranger a brother.
C.V. Raman (1930, physics)
C. V. Raman was awarded the Nobel Prize in Physics for "his work on the scattering of light and for the discovery of the effect named after him." This effect is now called the Raman scattering. His win officially put India on the scientific map.
In his Nobel lecture, Raman said that "a voyage to Europe in the summer of 1921 gave me the first opportunity of observing the wonderful blue opalescence of the Mediterranean Sea."
A National Film Award-winning biopic, C.V. Raman: The Scientist and his Legacy, was filmed by director Nandan Kudhyadi in 1989.
Har Gobind Khorana (1968, physiology or medicine)
An Indian-born biochemist from Raipur (who later became an American citizen), Har Gobind Khorana shared the Nobel Prize in Physiology or Medicine with Robert Holley and Marshall W. Nirenberg. They were recognized for his role in deciphering genetic code.
In his Nobel lecture, he said the success of his work was "very much a group effort" and "the result of the efforts of a large number of workers professing a variety of scientific disciplines."
Mother Teresa (1979, peace)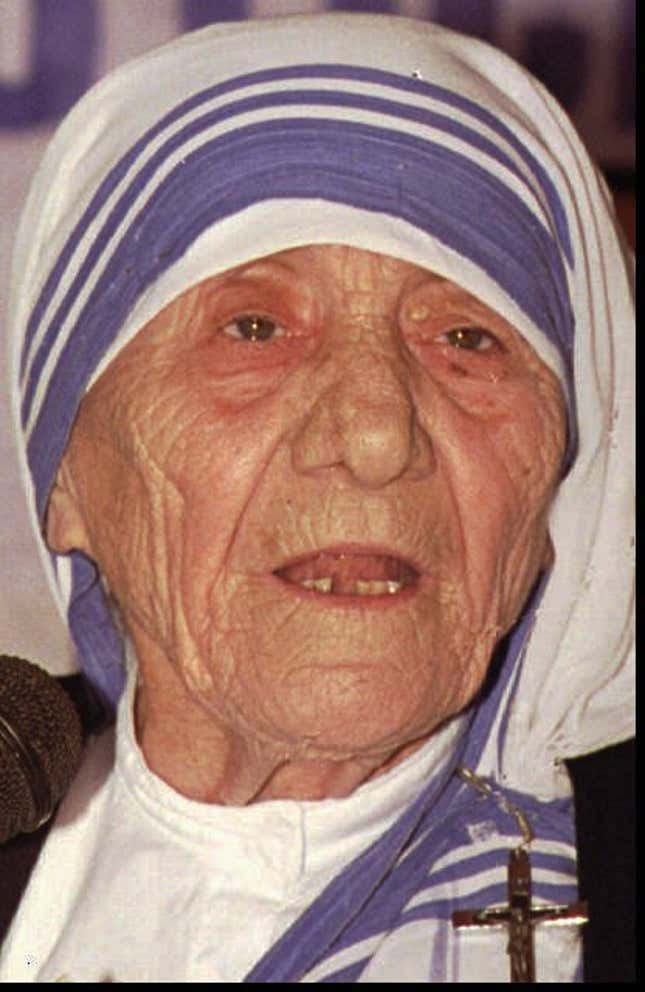 Mother Teresa (Anjezë Gonxhe Bojaxhiu) was awarded the Nobel Peace Prize for her role as the leader of Missionaries of Charity in Calcutta, India. She served her life to the poor and hungry, and to them she dedicated her award. At the ceremony, she said:
The poor people are very great people. They can teach us so many beautiful things. The other day one of them came to thank and said: You people who have vowed chastity you are the best people to teach us family planning. Because it is nothing more than self-control out of love for each other. And I think they said a beautiful sentence. And these are people who maybe have nothing to eat, maybe they have not a home where to live, but they are great people. The poor are very wonderful people. One evening we went out and we picked up four people from the street. And one of them was in a most terrible condition—and I told the Sisters: You take care of the other three, I take of this one that looked worse. So I did for her all that my love can do. I put her in bed, and there was such a beautiful smile on her face. She took hold of my hand, as she said one word only: Thank you—and she died.
Subrahmanyan Chandrasekhar (1983, physics)
The Nobel Prize for Physics was jointly conferred to astrophysicist Subrahmanyan Chandrasekhar "for his theoretical studies of the physical processes of importance to the structure and evolution of the stars" and American astrophysicist William Alfred Fowler. In his banquet speech, Chandrasekhar said:
I am grateful for the award since it is possible that it may provide a measure of encouragement to those, who like myself, have been motivated in their scientific pursuits, principally, for achieving personal perspectives, while wandering, mostly, in the lonely byways of Science… 
Quoting from Rabindranath Tagore's poetry book Gitanjali, he continued:
Where the mind is without fear and the head is held high;
Where knowledge is free;
Where words come out from the depth of truth;
Where tireless striving stretches its arms towards perfection;
Where the clear stream of reason has not lost its way into the dreary desert sand of dead habit;
into that haven of freedom, Let me awake.

I learnt the poem when I was a boy of twelve some sixty and more years ago; and the following lines have remained with me ever since:
May I, on behalf of my wife and myself, express our immense gratitude to the Nobel Foundation for this noble reception in this noble city?
Amartya Sen (1998, economics)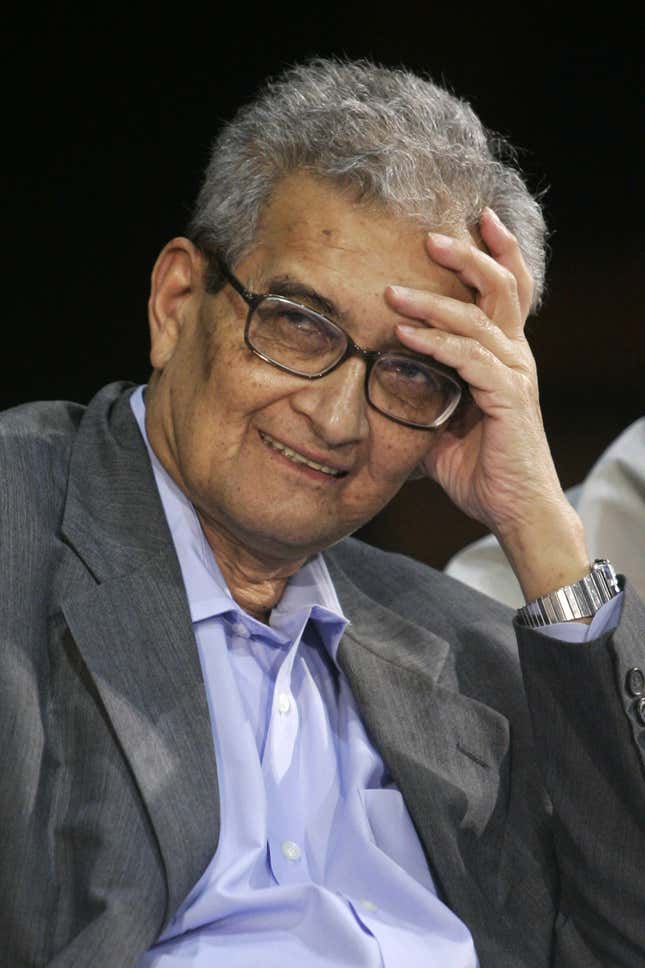 Amartya Sen's "contributions to welfare economics" gained him the Nobel Prize in Economics in 1998.
Upon Satyarthi's news of the Nobel Peace Prize, Sen had told Quartz that a Nobel prize "messes up one's life a bit, because it comes with so many commitments—but it also gives you greater opportunity to pursue those things that are valuable to you."
In his acceptance speech in Oslo, Sen called for "the clear stream of reason. What Tagore, the poet, and Chandrashekhar, the physicist, demanded [open-minded reasoning], we need in economics too—for much the same reason."
Venkatraman Ramakrishnan (2009, chemistry)
In 2009, Venkatraman Ramakrishnan was awarded the Nobel Prize in Chemistry for his role in studying "the structure and function of the ribosome." He shared the prize with his co-researchers Thomas A. Steitz and Ada E. Yonath. In his acceptance speech, he expressed gratitude for "the dedicated work and intellectual contributions of generations of talented postdocs, students and research assistants".