Indian prime minister Narendra Modi may not be the face on TIME magazine's cover this year, but there's one place he is definitely winning—on Twitter.
Modi's triumphant tweet after the Lok Sabha polls has emerged as the most popular tweet by an Indian in 2014, according to a year-end round-up by Twitter. More than 70,000 people retweeted it.
The most retweeted tweet globally, of course, was television host Ellen DeGeneres' Oscar selfie. Starring many Hollywood A-listers, DeGeneres even called it the "best photo ever."
Such was the response to DeGeneres' tweet that it not only broke a previous record set by US president Barack Obama, but also led to a technical glitch on Twitter server due to overload. It had been retweeted over 3.3 million times at the time of writing this post.
Among Indian celebrities on Twitter, a close second to Modi's tweet was Bollywood actor Salman Khan's tweet about his film Kick. It was retweeted more than 50,000 times.
The two tweets on India's Mars Orbiter Mission were also among the top ten most popular tweets of 2014:
Most followed Indian
Bollywood dominates the list of the most followed Twitter handles in India.
The top three spots belong to Bollywood actors Amitabh Bachchan, Shah Rukh Khan and Aamir Khan. Modi is fifth on the list.
Cricketer Sachin Tendulkar ranks 15th and batsman Virat Kohli is right behind at 16.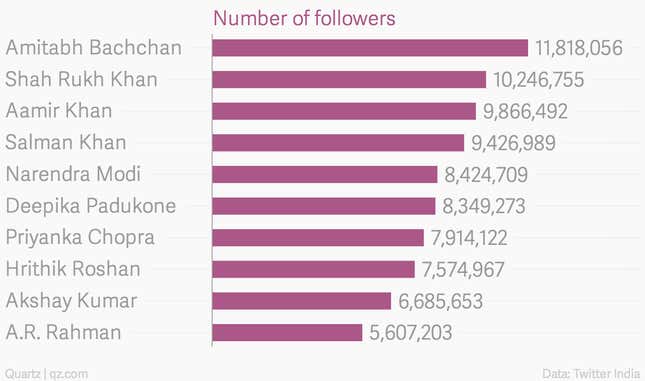 Top hashtags
"The fastest rising Twitter hashtag trends in India saw a mixture of sports, disasters and political campaigns," said Twitter's report said.
The most popular hashtag on Twitter among Indians was #WorldCup2014 for conversations about the FIFA world cup in Brazil. The second most used hashtag was #MH370, started after the disappearance of the Malaysia Airlines flight. #KashmirFloods, for the Jammu and Kashmir flood relief operations is fifth on the list.
Meanwhile, #Mufflerman, a campaign led by the fans of the Aam Aadmi Party in support of party leader and former chief minister of Delhi, Arvind Kejriwal, was the most popular hashtag, beating #QuitAAP and #Results2014.