At the beginning of this year, Alia Bhatt was only one film old. Twelve months later, she is shaking the old, established order of Bollywood on her rise to stardom.
Bhatt, who debuted in 2012, scored a neat hat-trick this year with Highway, 2 States and Humpty Sharma Ki Dulhania—with the latter two being among the top 10 highest grossers this year. And the total return on investment from the box-office collections on her three films is greater than that of any of the reigning Khans of Bollywood.
Even Salman Khan.
Top of the charts
A film's return on investment is the difference between the total cost incurred while making the film and the domestic box-office collections divided by the total cost, multiplied by 100.
In India, a big star's presence often guarantees good returns. But factors such as a director's past record, music or promotions also have a hand in a movie's success—especially when it features newcomers.
Based on net domestic box-office collections, the combined return on Bhatt's films was over 135%. Her films were all small budget productions, at Rs88 crore ($14.1 million) in total, and these recovered as much as Rs207 crore ($33 million).
On the back of her newfound fame, Bhatt debuted on this year's Forbes India Celebrity 100 list at number 53. The list is based on estimated entertainment-related earnings of celebrities and their media visibility from October 2013 to September 2014.
Reigning newcomers
Sidharth Malhotra, who started his Bollywood career alongside Bhatt in Student of the Year, had an equally successful run with a 135% return on investment with Ek Villain (starring alongside another male actor Riteish Deshmukh) and Hasee Toh Phasee.
Moreover, the success of Ek Villain, followed by a critically acclaimed Haider, helped Shraddha Kapoor of Aashiqui 2-fame deliver a staggering return on investment of 177%.   
Arjun Kapoor and Varun Dhawan were also among the most bankable stars this year.
Kapoor gave two hits this year—2 States and Finding Fanny—while his third release Gunday was an above-average earner at the box office. Meanwhile, Dhawan's two films recovered Rs130 crore ($20.8 million) after being made on a combined budget of Rs63 crore ($10.1 million).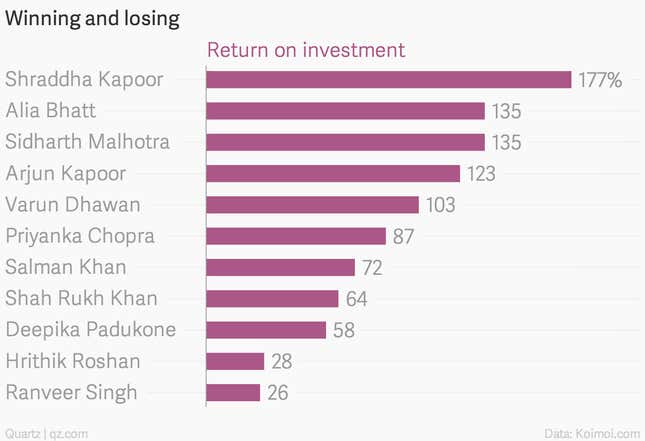 The return on investment does not take into account a film in which an actor did a cameo or an item dance number—or any film that an actor produced, but did not act in. The figure only includes net collections from Bollywood films.
More bankable than the Khans
Superstars Salman Khan's Kick (Rs233 crore) and Jai Ho (Rs111 crore), Shah Rukh Khan's Happy New Year (Rs203 crore), Hrithik Roshan's Bang Bang (Rs181 crore), Ajay Devgn's Singham Returns (Rs 141 crore) and Akshay Kumar's Holiday (Rs112 crore) delivered big bucks at the box-office. However, the high cost incurred on the making of these films brought down the return on investment.
For instance, Salman Khan's movies had a budget of Rs200 crore. The total amount recovered is Rs344 crore, or a return of 72%. Similarly, Hritik Roshan's film Bang Bang gave a return of 28%.
Deepika Padukone garnered a return of 58%, while female superstar Priyanka Chopra, who starred in Mary Kom and Gunday, gave a return of 87%.
This year, with Happy New Year, eight films have reached the Rs100-crore ($16 million) mark—the elite group of films that make a billion rupees in box-office collections. But the Rs203 crore domestic net box-office against a budget of Rs125 crore fails to show impressive returns. Haider, for instance, cost about Rs37 crore, which is less than the estimated marketing budget of Happy New Year's.
In Bollywood, the Khans still may be king, but a new clutch of upstarts is giving them a run for their money.