Exactly two years ago on this day, a 23-year-old physiotherapy student was brutally assaulted and gang raped by five adult men and a juvenile on a moving bus in New Delhi—before she was left to die on the city's streets.
Thirteen days after the assault, she succumbed to her injuries.
The gruesome case outraged thousands of men and women, who demonstrated for women's rights on the streets of Delhi, and nationwide. Never before had there been such a collective show of anger at the government's failure to ensure safety of women.
Two years on, here's what's changed—and what hasn't.
Verdict and punishment
No assailant has been punished till date.
In March last year, bus driver and main accused Ram Singh, who faced death penalty if convicted of murder, was found hanging in his cell in Delhi's Tihar jail. His family suspected foul play.
The other four adult perpetrators—bus cleaner Akshay, gym assistant Vinay, fruit vendor Pawan and Ram Singh's brother Mukesh—were given the death penalty by a fast-track court. Though the Delhi high court upheld the verdict, a supreme court hearing on the case has left the case pending.
The sixth offender, who was just six months shy of 18 at the time, was tried separately from the other five men in a juvenile justice court. In August last year, he (who cannot be named under Indian law) was sent to a correctional facility for a maximum term of three years. This left protestors unimpressed.
The teenager is now cooking, sewing, painting, playing volleyball, watching television or pigeons at the reform home.
Victim's family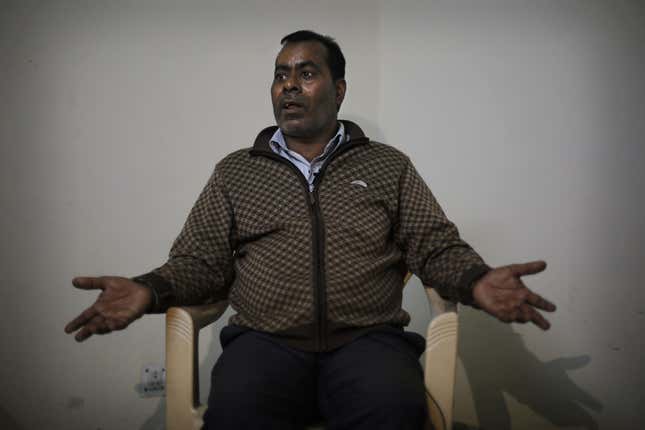 Earlier this month, the victim's father Badri Singh reacted to a 27-year-old woman's rape allegation against an Uber driver in New Delhi. "Nothing has changed… All promises and statements made by our leaders and ministers have turned out to be shallow," he said in an interview.
"What is holding the authorities back from hanging those rapists and murderers when all the evidence are in place?" he said. "They say he (Modi) is fearless. They also say he is a decision taker. Will he then help us get justice?"
His hope in the present government is not unwarranted. After all, in the run-up to the general elections this year, ensuring safety of women was a major election plank for Modi.
So far, the government has helped Badri Singh and his wife Asha Devi start the non-profit Nirbhaya Jyoti Trust for rape survivors.
Law enforcement
The case triggered the need for stricter rape laws in India. Under a new legislation passed in 2013, punishments for sex crimes were strengthened, including death for repeat rape offenders. The law also covered violations such as stalking, voyeurism and lewd expressions.
However, the procedure is still a bottleneck. Court matters crawl slowly through charge sheet submission, traditional police officials, archaic equipment and long trials.
Evidently, the law has given women confidence to register sexual offenses against them. Between 2013 to 2014, there has been a 15% increase in the number of reports of crimes against women.
This has also been made possible due to a clause that deems non-registration by police a criminal offense.
Simultaneously, the Modi government has introduced a bill in parliament to try minors charged with rape and murder in regular courts, just like adults. From 2012 to 2013, the National Crime Records Bureau data showed that the numbers of criminal cases against minors increased from 63 to 163.
In its effort to provide safe treatment of rape victims, the government introduced fresh guidelines to hospitals. The two-finger test—in which a doctor determined whether a woman had been raped or not by inserting two or more fingers in her vagina to test for the presence of hymen and the laxity—has been banned. Although, there are reports of medical students still being taught about this test in colleges.
Under the new guidelines, hospitals should have a designated room for forensic and medical examination and the presence of a female attendant is necessary if the doctor is male.
Safety of public transport
Two years since, women in the national capital are no safer on the road.
In Oct. 2014, Delhi's public transport was ranked fourth most unsafe in a Thomson Reuters Foundation poll of world's largest capitals. In the most dangerous transport systems for women survey, which studied women's rights, gender equality, urban planning and gender-friendly urban spaces, Delhi polled second-worst on safety at night and for verbal harassment and fifth-worst for physical harassment (such as groping).
The chartered bus that Jyoti Singh and her male friend, Awindra Pandey, had boarded on the night of Dec. 16 was unauthorized. After the Dec. 16 case, the Delhi Transport Corporation claims to conduct gender classes for its bus drivers. It is also fitting buses with GPS tracking systems.
The alleged rape in an Uber cab on the night of Dec. 05, has broken any trust in even taxi-booking services. Delhi does not have 24-hour metro system, and so traveling safely at night for women is difficult.
Ineffective police helplines
In the wake of the incident, fast-track courts, one-stop rape centers and a women's distress helpline were introduced.
After the Uber incident, a decision has been taken to revamp the helpline. But for two years, it had three phone lines and 16 women staffers. Calls were often dropped, though helpline officials claimed to have received more than 250 calls a day and to have responded to more than 800,000 women.
Few, however, even know that such a helpline (181) even exists.