A group of Taliban gunmen attacked an army-run school in Peshawar, northwestern Pakistan, on Dec. 16 and the reported death toll is horrifying.
Over 140 people, including at least 132 children, have been killed in the attack.
More than 100 have also been injured after some 500 students and teachers were trapped when terrorists stormed the compound that houses the Army Public School and College.
A Taliban spokesman told wire services that the militants were ordered to kill the older children and release the younger ones.
"It's a revenge attack for the army offensive in North Waziristan," spokesman Muhammad Umar Khorasani told Reuters.
Seven terrorists have been killed by security forces, a Pakistani general said, adding that operations had slowed down because of the risk of Improvised Explosive Devices (IEDs) planted inside the school.
It took the army over six hours to gain full control of the premises.
How it happened
The terrorists began their attack at 11 am local time (6 am GMT) and entered through a graveyard behind the school.
Successive explosions were reportedly heard, followed by firing from automatic weapons.
Two more blasts were heard at 3.22 pm local time (10.22 am GMT), Pakistan's Express Tribune newspaper reported, and gunfire continued.
According to students interviewed by local television channels, many spent at least an hour inside their classrooms before being rescued by the Pakistani military.
Students who were trapped had to run past the dead bodies of friends and classmates as they escaped:
I was sitting in the corridor with 10 of my classmates when we heard firing. We immediately ran towards the classroom to hide there but the militants chased us down and found us. They were dressed in shalwar kameez and the only thing they told us is: 'read the kalma'

When we were coming out of the class we saw dead bodies of our friends lying in the corridors. They were bleeding. Some were shot three times, some four times
Students and teachers have been taken to two Peshawar hospitals, which began running out of blood just hours after the attack as the number of injured steadily rose.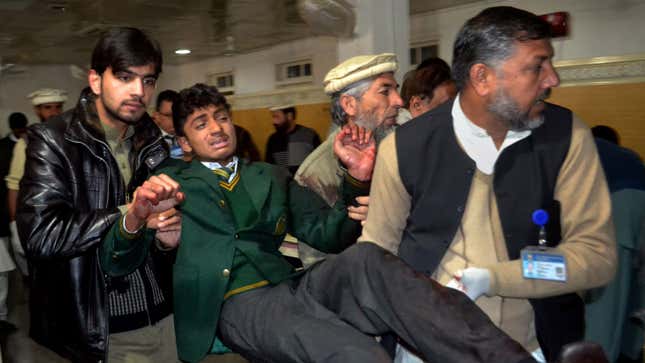 The Taliban's motive
Peshawar is home to the Pakistan Army's XI Corps, which is responsible for the North West Frontier Province (NWFP) and the Afghan border—and is spearheading the military's operations in the restive tribal belt of North Waziristan.
In recent months the army's offensive in northwestern Pakistan has pushed more Taliban into Peshawar, where they have stepped up attacks on government forces and launched a campaign of extortion, killings, and kidnappings.
Pakistan's heavy terror toll
Although Pakistan is no stranger to widespread terror attacks, there is very little precedent for an assault involving hundreds of children at a military-run establishment.
Pakistan is one of the world's worst terror-affected countries, according to the Global Terrorism Index 2014 (pdf), with almost 2,000 incidents in 2013 that killed 2,345 people and injured a little over 5,000. The Tehreek-e-Taliban Pakistan, as the Pakistani Taliban is also known, was responsible for a quarter of all deaths and 49% of all the claimed attacks.
In the country's deadliest terror attack last year, over 100 people died when a water-tanker full of explosives was detonated at a market in Quetta in August.
In 2013, only five countries—Iraq, Afghanistan, Pakistan, Nigeria and Syria—were responsible for about 60% of the world's total terrorist incidents, and most terror-related fatalities.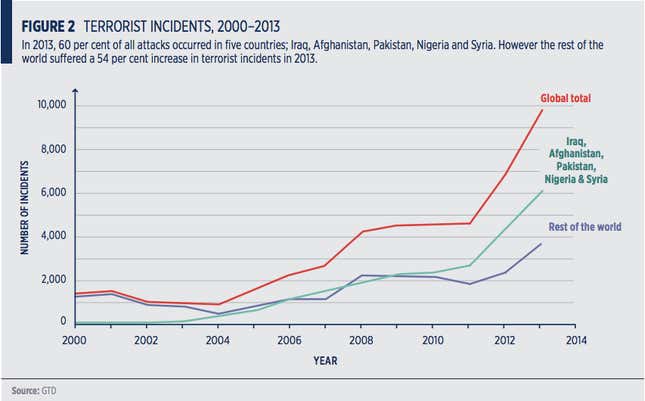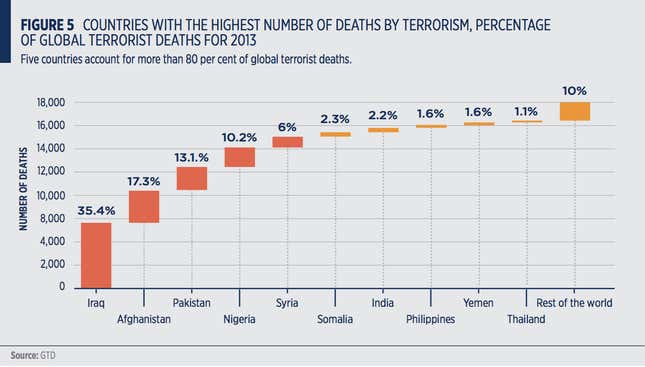 Reactions from around the world
Pakistan: The country's prime minister Nawaz Sharif left Islamabad for Peshawar soon after the attack. "I have decided to proceed to Peshawar and I will supervise the operation my self," he said in a short statement before his departure.
He also said: "Ye mere bache hain (they are my children)."
Imran Khan, chairman of opposition political party Pakistan Tehreek-e-Insaf, has also left for Peshawar.
Nobel peace prize winner Malala Yousafzai, who was shot by the Taliban, has condemned the attack. "I am heartbroken by this senseless and cold-blooded act of terror in Peshawar that is unfolding before us," she said.
Taliban spokesman Muhammad Umar Khorasani told Reuters: "We selected the army's school for the attack because the government is targeting our families and females."
"We want them to feel the pain," he said.
India: Prime minister Narendra Modi has called the attack a "senseless act of unspeakable brutality."
UK: 
US: Washington's envoy in Islamabad, in a statement, said that the US "strongly condemns senseless and inhumane attacks on innocent students and educators." Ambassador Richard Olson added:
Few have suffered more at the hands of terrorists and extremists than the people of Pakistan. That is why it remains essential for the United States and Pakistan to continue to work together to secure peace and stability in the region.