Pinky Bhan, 14, is the first woman in her family to go to school. Her parents, who are daily wage labourers earning less than $60 a month, want to ensure that their daughter gets a decent education.
But Pinky's school has just four teachers—and 700 students.
Neither Pinky nor her classmates are taking this lying down. They have been protesting for over two months now.
"We sit idle the whole day or read whatever we want," said the class 10th student of Government Girls Higher Secondary School, Bhim in Rajasthan.
"Since I am a classroom monitor, sometimes I teach what I know to the rest of my classmates."
Pinky's all-girls school has four teachers, who are trained to teach physical education, English, political science and Hindi respectively. Often, given the severe paucity of staff, these teachers are asked to instruct students in other subjects as well. For instance, a biology teacher was recently forced to cover the mathematics syllabus.
The school has no science labs, a functioning toilet or safe supply of water.
"The school timings are from 10 am to 4 pm, and during this period these girls do not use the toilet," said Radhika Ganesh, an activist who works with a non-profit Mazdoor Kisan Shakti Sangathan across Rajasthan. "Some of the students live 20 to 30 kilometres away, and spend money every day to come to school, even though their parents are daily wage labourers."
The authorities at the school need to hire at least 20 more teachers in order to meet the pupil-teacher ratio mandated by the Right to Education (RTE) Act in India. As per the law, every school should have one teacher for 30 students.
Pinky and her classmates have been protesting since October 2— the birth anniversary of Mahatma Gandhi—against the negligence shown towards their school by the local education authorities.
Their two sit- in demonstrations last month have drawn the attention of activists and media in the state. A video of their protest was uploaded on YouTube recently. The girls can be seen marching down the streets of Bhim, singing: "God, give some wisdom to the government."
Happens all the time
The predicament faced by Pinky's school is hardly unique. State-run schools across the country are grappling with an acute shortage of teachers. India was short of 1.2 million teachers in 2010, with many schools running only on a single teacher.
India, as a result, is raising a generation that does not even have basic arithmetic or reading abilities.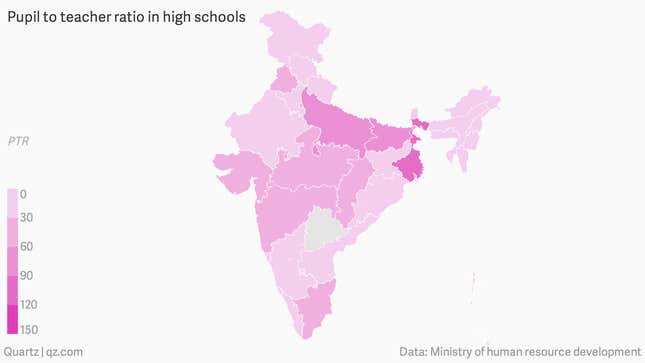 The RTE requires all children aged six to 14 to attend school. And the country has made tremendous gains in providing access to schooling in the past four years—about 90% of all primary school-age children were enrolled in school by 2011. But the Act pays little attention to what they learn when they are there. Nearly half of grade four students in government schools in India cannot answer the following question correctly: 70 -43=?
Angry girls
But the fact that girls in this small town in conservative Rajasthan have chosen to vociferously demand an education is unusual. Many girls in their position would simply give up on formal schooling.
According to the Annual Status of Education Report (ASER) 2013, 47% schools in the country still do not have separate toilets for girls, forcing them to skip classes or drop out entirely.
In Bhim, the boys-only school not only has a toilet, it also has 26 teachers—much to the chagrin of Pinky and her friends.
"The boys' school has toilets, clean drinking water and a steady supply of books and teachers. Why such inequality? How are they superior to us? With enough teachers, we will get better marks than the boys do," said Pinky.
So far the authorities have done little for the girls, despite the protests or newspaper articles, but they have suspended their school principal (ad hoc) for allegedly provoking the students to hold the protest.
"It was her responsibility to pacify the students. Complaints of staff shortage keep coming from across the district and we try our best to address the issue," a member of the local administration told the Indian Express newspaper.