Flipkart is at it again.
After raising $1 billion in July this year, the Indian e-commerce company has just raised another $700 million to cap a landmark year.
Apart from existing investors—DST Global, GIC, ICONIQ Capital and Tiger Global—the Bengaluru-headquartered company has also roped in Baillie Gifford, Steadview Capital, T. Rowe Price Associates​ and the Qatar Investment Authority.
Flipkart, now valued at $11 billion, said that "these funds will be used towards long-term strategic investments in India and to build a world-class technology company, delivering superior customer experiences."
A day after its latest round of fundraising, Quartz accessed Flipkart's records at the Accounting And Corporate Regulatory Authority in Singapore, where the e-commerce platform's ultimate holding company is incorporated, to find its latest shareholding pattern.
Flipkart Limited (known as Flipkart Private Limited till Dec. 16) has issued 71.89 million preference shares and 16.46 million ordinary shares with a paid-up capital of $2.16 billion and $774,305 respectively. Preferential shareholders, unlike ordinary shareholders, are typically paid a fixed dividend on a regular basis.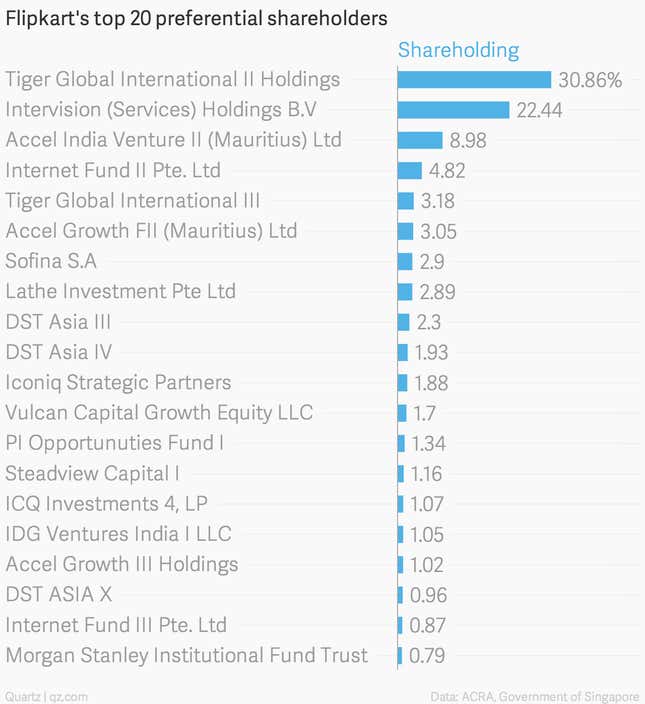 Together with founders Sachin and Binny Bansal (unrelated), Flipkart now has a total of 52 shareholders—prompting it to apply to Singapore's regulator to register itself as a "public company."
In Singapore, a public company is defined as (pdf) "a locally incorporated company in which the number of shareholders can be more than 50."
"This filing ensures we are in compliance with the laws of Singapore and is in no way indicative of any upcoming IPO or of any corporate activity that the company is engaged in either in Singapore or any other part of the world," Flipkart said in a statement.