This article has been updated.
The mother smiles at her wounded son.
She's just cradled his flailing head in her arms, held on to him for dear life, held him so tight it feels the world will unravel if she doesn't. Clutching the top of his head with her hand, she comes closer and kisses his bleeding temple. She pulls away only to come closer, caress his beard, kiss him on his cheek, intimately. Her hands drop to his shoulders as she rubs his mouth with her thumb. Then, she kisses him on the mouth. Quickly, passionately, swiftly. Like she's done it before. 
She lingers devastatingly close to him, daring him to inhale her, breathe her in, but then steps down, as if about to kneel. He looks at her expectantly but she steps away, pushing herself from him, the son virtually exploding with unfulfilled angst.
Like a stick of raw dynamite, that scene from Haider—with that scandalous nearly-kneeling serving as the matchstick on the fuse—is by far the most sexually-charged moment in recent Indian cinema. Any Hamlet adaptation worth its salt must dwell on the Oedipal angle, and director Vishal Bhardwaj isn't one to shy away from shadowy corners, but it is that fearless, fantastical actress who makes Gertrude come achingly alive, staying true to the spirit of the text and yet evoking our love as viewers.
It's hard to feel affection toward a black widow spider who leaves bodies strung up in her wake—unless Tabu plays her.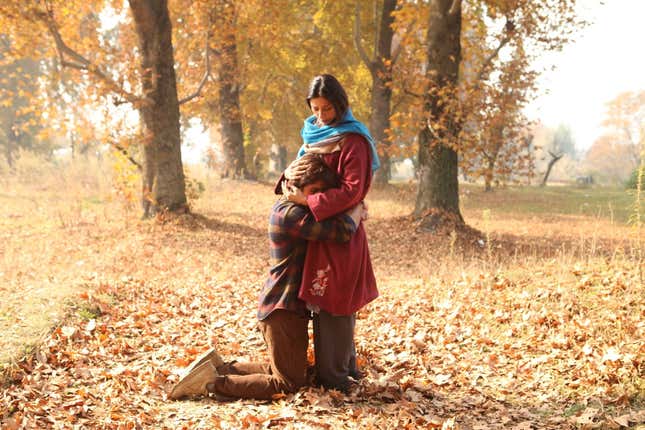 A Bollywood conundrum
Tabu, 43, sits across from me in her office wearing a fiercely fuchsia kurta and a giant smile. She is a Bollywood conundrum, an uninhibited and bold actress who hit that bend in the road a few years before we—we as an industry, as Hindi cinema—started applauding our actresses for being powerful.
Today, we claim to champion boldness in our leading ladies; then, back when she started being edgy, we applauded from afar and handed her consolatory 'critics' awards. Her maturity was timed prematurely, shall we say, and we have since fumbled to come to grips with this gorgeous actress. For the most part, we haven't come up with worthy roles and films, making her an exquisite puzzle-piece somehow out of place and underused, Bollywood's jigsaw all the poorer for this shortness of vision.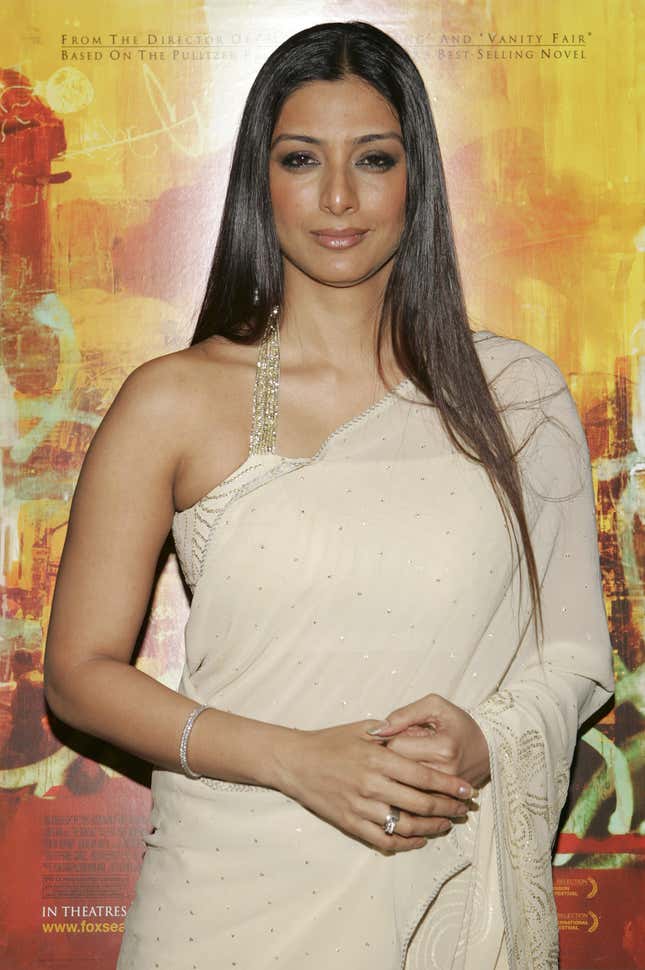 Childhood
"I always felt films were a big distraction," she says, talking about her priorities growing up. "And all I wanted to do was stand first in class. And I could never achieve that, because there was always someone smarter. Actually," she catches herself, "There was always someone better at mathematics, and that's where I always lost."
Growing up in Hyderabad, Tabassum Hashmi studied far too rigorously for school exams, enough to upset both her grandmother—a kindergarten teacher for 35 years who hated children getting so rigid and pressured—as well as elder sister Farah, who missed out on their Saturday afternoon movie outings whenever Tabu had a class test coming up and didn't want to be distracted.
The pretty Farah Naaz devoured movies and drove the family up the wall if she wasn't taken to see the latest releases, and her path into Bollywood—which began with Yash Chopra's Faasle—resembles the starry-eyed, dream-paved cliché that results in hundreds of aspirants moving to Mumbai every single day. She shined, she shimmered, she was part of a few hits.
The younger sister, in contrast, had to literally be tempted into cinema.
"It's such a long story," Tabu complains when pressed about her past, sighs a theatrically deep sigh, and laughs. "We used to come to Bombay to visit my mum's brother, who was a cinematographer (Ishan Arya, who shot Garm Hawa). He used to live here and mum used to bring us for our summer holidays, by train, and that was something me and my sister would look forward to the whole year. This was like a foreign country for us."
Sushma Anand, wife of famed director Vijay Anand (Guide, Teesri Manzil), spotted the girl at a children's birthday party in Mumbai and thought she should meet Vijay's brother, Indian superstar Dev Anand, who was looking for someone to play his daughter.
"I was 11 years old, I think… It was a strange, anxious type of nervous excitement. I was in school when they finalised me, so I said I'm not going to stop school. Whenever I come here on holidays etc. we can shoot." And so they did, Dev Anand shooting Hum Naujawan with Tabu while recommending Farah to Yash Chopra, who liked her immediately.
Their mother Rizwana, a teacher, had no clue who Yash Chopra was when he called her up in Hyderabad on a neighbour's telephone, but it was soon apparent that this was a life-altering moment. "So my sister and mum came here but I refused to come to Mumbai before I completed my tenth; I was very attached to my school and my teachers. So three years I stayed back in Hyderabad, and I would come for my summer vacation and my winter break. And my sister had signed some 2000 films by then, and become a big star, in those two-three years only. So whenever I used to be on a break, and if it was an outdoor shoot, I'd go along. Like Kashmir I remember going to in 1986, when I was in my tenth standard. Then Goa… Ah, I went to so many places while she was shooting. And after my tenth, I also came and started to live in Bombay."
At this point, Tabu had different career plans. "I didn't know what, but I definitely wanted to pursue academics, and travel in order to do that. And at one time I even applied to be an airhostess," she grins sheepishly. "I applied to Cathay (Pacific Airlines) and I got a call, but then Prem happened and then nothing else ever happened."
A carrot dangled
When she was around 16, director Shekhar Kapur, who had known Tabu since she was a year old, insisted she act in Boney Kapoor's production Prem. "I said 'No Shekhar Uncle, don't do this, I've joined college now.' And he said 'Just this one film and I promise I will send you to America for studies, whatever you want to do you do, you just let me know.'"
Thus was the carrot dangled, but after Tabu said yes, Shekhar ended up leaving that project and the film took forever to make. "By which time I got completely involved… Once I started acting there was just no way I could turn back."
"Movies happened to me completely by accident," she repeats. "It's been 25 years. I don't know if I consciously thought that I have to do this for the rest of my life, but I think it came as a given. When you're that young and for a long period of time, so focussed on something, you don't have the mental energy for anything else. You're so consumed. Wanting to do well, wanting to do better than yourself."
Polka-dotted scarlet frock
"Ab meri zidd hai banungi teri bride / Warna tere saamne karungi suicide.(Now I will either become your bride, or I will commit suicide.)"
For most of us, our first memory of Tabu remains Vijaypath's 1994 chartbuster Ruk Ruk Ruk, a bizarrely corny earworm whose video featured the tall girl in a tight red top and jeans surrounded by extras (half dressed as beggars, half as cops) as she tried to win the attention of leading man Ajay Devgan. By the end of the song she's wearing a polka-dotted scarlet frock (with leggings and socks to match) and surrounded by unlicensed Disney knockoff characters and girls in stripper-cop outfits, proudly declaring herself tastier than a butter roll.
In a week, those polka-dotted frocks—or approximations thereof—were selling at Delhi's Janpath, the pavement-market first to leap aboard emerging trends. This was instant stardom, no mistake.
"Personally, it was difficult to absorb that kind of fame and popularity," she says, "but I think I totally went with it. I actually thoroughly enjoyed it. And at that age, you're just wanting to capture the world and be out there and have fun and enjoy the attention and all of that. It was great."
The turning point
One of the people who spotted the polka-dotted girl giving it her all was legendary writer-director Gulzar, who promptly reached out and offered Tabu a film called Maachis. "I couldn't believe he offered me that kind of a film when seeing those promos. I wonder what he saw. But like I always say, films are films are films, there is no good-bad segregation."
It was a decidedly surreal invitation considering just how Tabu viewed Gulzar's understated arthouse cinema. "I had seen Mausam and one more film of his, and was thinking 'Wow, yeh to bahut achcha hai, yaar. It's this easy kind of filmmaking where you wear simple clothes and just, you know, 'act.' So simply. It'd be so good to act in a film like that, not work so hard. The shoot would be quick, just in a house or something, no make-up needed, simple dialogues, it'll all get done smoothly. Haan, one day I'll have to do a picture like that. Aaram se.'" She laughs uncontrollably at her own naïveté, big disarmingly full-throated peals conjured up out of nowhere, making me long for someone to cast her in a truly uproarious comedy of manners.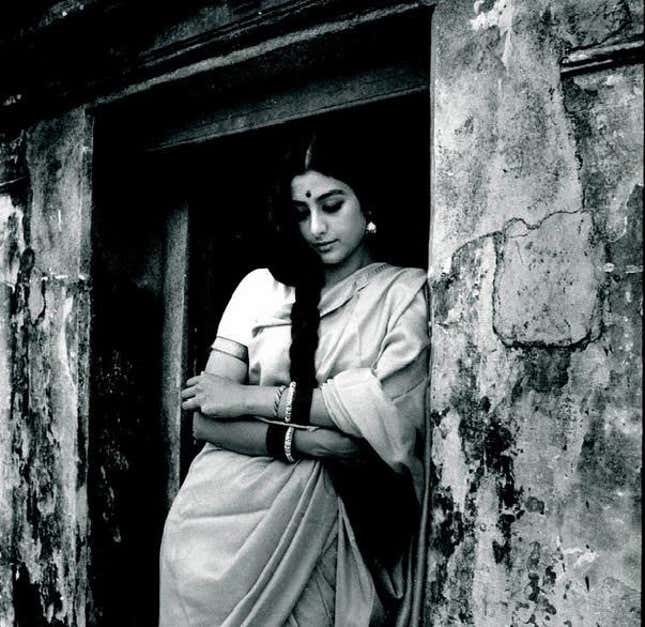 "But then there was so much more you could do with a film like that, so far you could take the scene, so much depth you could express. And I think I always wanted to express a deeper emotion. I don't know if it came easily to me, or if I liked that, or I was good at it. I don't know what it was but I gravitated towards that. It just felt good. It felt good to be able to express yourself like that. So yeah, I think it was one of the milestones of my life, after which I started taking things seriously," she says, and laughs again, drily. "I don't know if I should have taken things that seriously."
Gulzar frequently cast very mainstream actors—Rekha, Hema Malini, Jeetendra—against type, and he did excellently with Tabu in Maachis, cashing in on her tall build and imposing presence while tapping into her simmering intensity. Here was an actress clearly unafraid to go out on a limb and cloak herself in melancholy, and she made quite an impact doing Priyadarshan's dark Kaalapani the very same year. "A few people thought these films were risky, but there was always a balance. Because there were so many other films happening. And I would do everything, like I would do Telugu films. I would come to the shooting of Maachis from the shooting of a Telugu film on a beach in Seychelles in a swimsuit and sarong, then shoot Maachis and then go do Virasat. You want to do everything at that age and stage. There are ten thousand other things you want the time for, and you make the time." Which is why 1996, along with those two films, also saw Tabu in Saajan Chale Sasuraal going full-slapstick opposite Govinda, master of the nonsensical. "I did whatever role attracted me, and with whoever."
There was no 'I won't do this' at all? "I don't think so. I couldn't afford to, also. Paisa bhi kamana tha, na."
She remembers her critically raved about films fondly, speaking of how director Mahesh Manjrekar would keep writing and rewriting his Astitva, making the actors work from a handwritten script, and how Chandni Bar director Madhur Bhandarkar would literally ask them to switch on "ek aur channel" when he wanted their performances louder. That was a film she insists just got made somehow, reticent to take credit for the fact that she redid all her character's lines herself to make them less dialogue-y. "I changed the language simply because a character living in those areas, a bar-dancer, will not say 'mere iss jeevan ka sapna tha'," she laughs. "I'm just glad it turned out okay and was presented well, and wasn't reduced to being a sleazy film."
The tightrope walk between highly commercial cinema and smaller, more critically acclaimed work always demands an excruciatingly fine balance. The idealised one-for-you, one-for-me philosophy of picking movies sees most actors seesaw for a while before landing firmly on one side of the fence they try to straddle. Shah Rukh Khan, for example, tried to do smaller, artier films to offset his huge candyfloss successes (an Oh Darling Yeh Hai India between a Guddu and a Dilwale Dulhaniya Le Jaayenge, for example, or a Dil Se to follow Dil Toh Pagal Hai and Duplicate) but ended up the king of the blockbuster, with no time for radical little movies.
Tabu, on the other hand, was an actress taking on decidedly adult content, like Astitva—where she plays a lonely housewife who has an affair with a music teacher—and Chandni Bar, a move that eventually and unfairly saw her commercial offers dry up.
The actress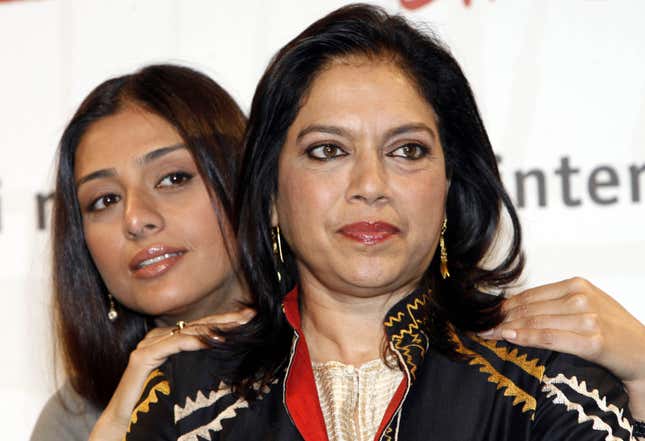 "There are twelve moles on my body," the gangster's queen confesses to his right-hand man, "would you like to see each of them?" That line from Vishal Bhardwaj's Macbeth adaptation, Maqbool, might be one of the sexiest come-ons in Hindi film history. The line itself, while prettily worded, isn't particularly incredible—and more than a little reminiscent of Rene Russo's invitation to Mel Gibson to compare scars in Lethal Weapon 3—but the context is audacious and immensely loaded. The empress and the grand vizier walking barefoot to a mosque, her daring him to express his feelings, feelings she has sensed despite him having avoided her gaze dutifully, her calling him out as a wimp, him in denial and then momentarily defiant, and then finally her hurling the line—that line—at him. It is slow-burn torture that culminates in complete verbal decapitation, where she cuts his will off with a sexy suggestion.
And it is the delivery—her gradual, calm delivery—that arouses the moment, where she starts off almost coy, then commandingly holds his gaze, and finally, just before finishing her question, cocks her head, like taking a revolver off safety, and delivering the final word. It is astonishing just how much sexiness Tabu musters up here, and how sneakily she hides it early in the scene. This scene, in many ways, encapsulates the essence of Tabu's tremendous sensuality, how she uses silences like gunpowder and can go from tease to tigress in the blink of a lovely eye.
It is, perhaps, only to be expected that an actress revelling in mature characters and adult themes would find herself displaced in an industry that, until very recently, averted its eyes to look at flowerpots when its characters coupled. On some level, Tabu simply outgrew Hindi cinema.
For me, the one constant through her finer, less hurried performances is the sense of longing Tabu brings to the part, the sheer wistfulness that runs through her characters and their silent moments, be it in Cheeni Kum or The Namesake or the Shakespeare masterworks.
Which makes it absolutely, utterly remarkable that she isn't a trained actress.
I ask if her decisions as an actress are instinctive, or if she's always studied acting as a craft, given her academic bent of mind. She's puzzled by the very suggestion. I try again, urging her to delve into her process, as compared to actors from the theatre, say, who have a different level of self-awareness. "Actually on the job seekhne ke jaisa hai yeh. And that self-awareness also I think it builds slowly, slowly, slowly. Like I said, working with talented people, studying your own work, learning what you prioritise as an actor and a character. That makes you realise how you should apply yourself."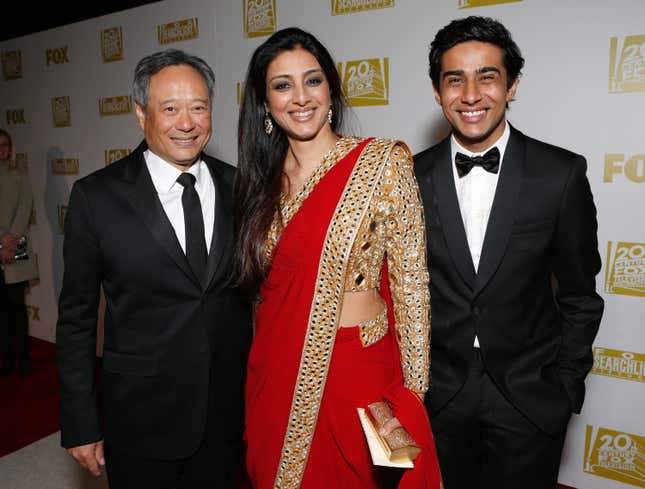 She's is rightfully proud of her most applauded work, of Maachis and Chandni Bar and the National Awards she won for each, and the four Filmfare Critics Awards for Best Actress (Virasat, Hu Tu Tu, Astitva, Cheeni Kum), not to mention the Bhardwaj movies. "I was doing those films with complete involvement and complete surrender to the roles and the characters, and that in itself was a success for me. I liked these characters because they were so layered and they had so much to say, they had so many feelings and emotions and I could play them in so many ways, you know? These were my own personal journeys, that's why they are so close to me," she says, before opening her eyes intensely wide and dropping her voice an octave. "And because they're mine; my characters are mine. What an actor does in front of the camera is solely only theirs, because it's their journey, na? Nobody's with you while you're giving that shot. It's your process."
Haider
We talk about Haider, about the film I feel contains her best performance yet.
She takes the praise gracefully, smiling as if nothing she's ever done has been a big deal, and I veer her toward that scandalous, amazing Haider scene described at the start of this piece. She reveals behind-the-scenes details, that it took only two takes, and what the script said. "It was written that 'she kisses his forehead, then the cheeks, then the lips.' Aise line likhi thi, but of course you can't be so… (literal) about just the written line, na? And the emotion has built up to that place through the film, and there is such a strangely strong, ajeeb kind of a relationship that you see the mother and son having, more from the mother's side because she's so obsessively possessive about the son. And that was her moment, and I felt like she wanted to stretch that, keep looking at him and… I don't know, that was the most natural way I could think of doing it."
She loved working with the confidence that Bhardwaj knew what he was doing, that he would present things tastefully. It works better without being even more explicit, she feels, because you keep wanting more. "And then it's in your own mind, you can make up your imagination about their relationship." Not being explicit also helps in keeping the focus on the story. "Exactly. Otherwise everyone would keep talking about the shock of what happened between mother and son. And you don't want that, you don't want to take the conversation away from what matters. The film is not about that. But I think because it exists at some subliminal level, it adds one more dimension. I think it had an… impact."
But what if, I wonder aloud, Vishal had done a Pedro Almodovar and gone far more explicit in that very moment? What if this was Y Tu Mama Tambien? Would she have gone for it?
She stays silent for a fair bit. "I'm just thinking," she says, eager for me to know she isn't stalling for time. "I'm just thinking of the possibilities. It depends." Her brow furrows as I insist on finding where she'd draw the line. "Oh," she says, voice conspiratorially breathy, "We couldn't have shown mother and son… smooching." Tabu breaks the moment with one of her giant, infectious laughs, and laughs for a while before looking up, eyes eagerly agleam. That actress—whose chosen name itself means the forbidden—is curious. "Could we?"
Correction: An earlier version of this piece mixed up Vijaypath, featuring Ajay Devgan, with another Devgan film, Phool Aur Kaante.