It is hard to imagine winter in New Delhi without fog, but 60 years ago it was a rather rare weather phenomenon in the city.
Since Monday, India's national capital has been grappling with dense fog. Several flights have been cancelled this week, and at least 115 trains were delayed on Thursday alone, due to dangerously low visibility. Such weather conditions—and the ensuing turmoil—is likely to continue for the next few weeks.
But historic data from the 1950s shows that Delhi of yore was blissfully spared such a prolonged winter chaos.
In fact, in the year 1951 only one fog day was reported during winter months (Dec to Feb). The year 2013 had 74 such days during the same period, and 2014—excluding December—has already seen 54 fog days, according to data sourced from Centre for Atmospheric Sciences at Indian Institute of Technology (IIT) Delhi.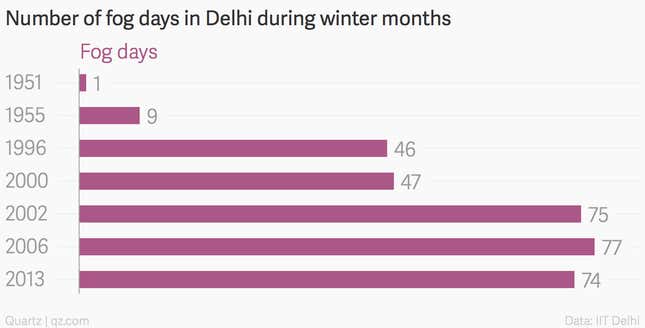 According to historic data accessed by Quartz, only 29 days during winter months from 1951 to 1955 had fog. This year, January alone had more fog days (31) than that.
The staggering increase in the occurrence of fog over the past half a century can be attributed to urbanization and consequent increase in the levels of air pollution, according to Manju Mohan, a professor at IIT Delhi.
Mohan defines fog as a "synergic effect of pollution and meteorological factors." These favourable meteorological conditions include low temperatures, low wind, and high relative humidity.
The chart below show how the situation has intensified every half a decade since 1996.