A 14-year-old girl has alleged that she was abducted and raped in Uttar Pradesh's Badaun district on new year's eve.
The suspected rapists, according to media reports, are two police constables who sexually assaulted the minor at a police station in Badaun.
This incident, once again, underscores the continuing problem of crimes against women in Uttar Pradesh, which has population of about 200 million, comparable to that of Brazil.
But crime data indicate otherwise.
According to India's National Crime Records Bureau, the rate of crimes against women in Uttar Pradesh is mostly lower (and in some cases, significantly so) than the national average. This is in spite of the endless wave of reports and events pointing in the opposite direction.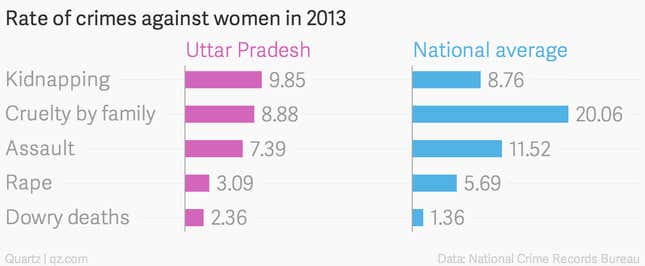 One explanation for these low crime numbers has been that victims often do not report these crimes—and that the state's police force is loathe to record them. As a result, the rate of rape Uttar Pradesh, according to the crime database, is lower than almost every other state in northern Indian.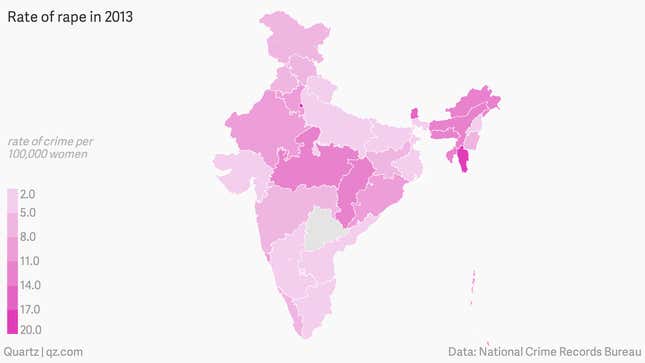 Moreover, as the latest incident in Badaun shows, the police's role in Uttar Pradesh's continuing spasm of sexual violence may not be restricted to merely under-reporting crimes.
The district, located in Uttar Pradesh's Bareilly region, gained notoriety last year after two girls were found hanging from a tree in a village in the region. Initial inquiries had suggested that the girls were raped and murdered by upper caste men. In November, the Central Bureau of Investigation (CBI) finally concluded that the girls had committed suicide, but few bought this theory.
"Badaun seems to be a convenient cover-up to avoid international shame and acceptance of the dismal law and order situation in Uttar Pradesh," the Aam Aadmi Party said soon after the CBI's final report.
Even though such statements are politically expedient, there is more than a grain of truth in them. Uttar Pradesh's police has much to answer for.