The list of India's biggest givers in 2014 is out—and the man on top remains unchanged.
Azim Premji has been named the "Most Generous Indian," according to China's Hurun Research Institute's ranking of India's biggest philanthropists. He was also at the top of the list in 2013.
Between April 2013 and October 2014, Premji, chairman of information technology major Wipro, donated Rs12,316 crore ($1.9 billion)—or 14.3% of his personal wealth—to charity. Much of this went to the Azim Premji Foundation, which he helped establish in 2001. The foundation primarily focuses on education.
And Premji is far more generous than any of his peers.
Anil Agarwal, the mining baron who is the country's second biggest philanthropist, spent about Rs1,796 crore ($283 million) during the same period—about seven times less than Premji's contributions.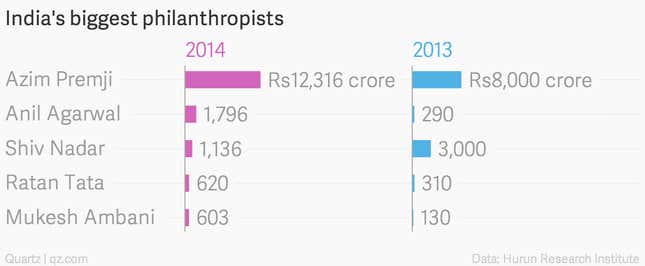 India's richest man, Mukesh Ambani spent 0.4% of his wealth on philanthropy, while Shiv Nadar, India's seventh richest man, gave away 1.66% of his wealth. The estimates were calculated by comparing their donations listed on Harun's rankings with their net worth according to Forbes.
"It is quiet interesting to note that many entrepreneurs in India consider religious donations as philanthropy. In this context we would have missed many more philanthropists in India," said Anas Rahman Junaid, publisher at large of Hurun Report India.
Globally, leading philanthropists spent between 2% and 5% of their net worth of philanthropy annually—with Bill Gates and his wife Melinda Gates listed as the top donors, with lifetime giving of $28 billion for various causes.
With just two out of the top 10 richest Indians finding a spot in the top 10 philanthropists of the year, India's wealthy can definitely afford to be more charitable.