India's cabinet approved its largest ever telecom spectrum auction on Monday and it is expected to fetch the government Rs64,840 crore ($10.22 billion).
The government will be auctioning 2G spectrum in three bands: 900 megahertz (MHz), 1800 MHz and 800 MHz. It also plans to auction 3G spectrum in 2100 MHz but that can only happen when India's defence ministry vacates the spectrum.
The auction will start on Feb. 23.
The purpose of this auction "is to provide adequate spectrum, prevent hoarding, fair competition, improve telecom services for consumers and adequate revenue for government," said telecom minister Ravi Shankar Prasad.
That amount will be crucial for the government to increase its revenues and to meet its target of keeping the fiscal deficit within 4.1% of the GDP.
The first such auction of a spectrum was held in 2010 in the country. The government raised Rs67,718.95 crore ($10.68 billion) from the auction of 3G spectrum and Rs38,542.11 crore ($6.08 billion) from broadband wireless access spectrum in that year.
The following two auctions were damp squib in comparison.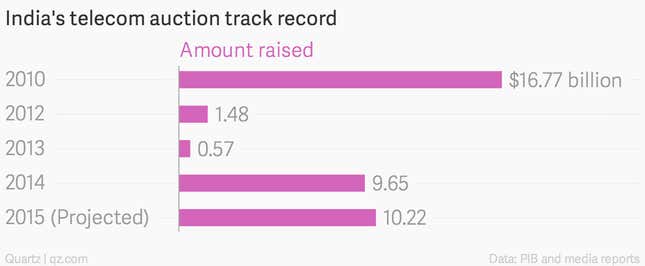 That's partly because the government had set a high reserve price for the auctions, which kept some bidders at bay. The 2012 auction lasted just two days and the 2013 auction was a day-long event, which sold only CDMA (Code-Division Multiple Access) spectrum in some circles. Together, they could only fetch a total of $2.05 billion.