Never mind the high debt and low call rates, Indian telecom companies are raking in profits from a new source: data services. And some of that data bandwidth is presumably being used by millions of Indians for indulging in a newfound passion—watching porn on their mobile phones.
In fact, so prolific is this habit that, in 2014, India was among the highest consumers of pornographic content in the world, sliding into the top five traffic sources for Pornhub.com.
It moved up three places, the highest increase for any country in the top 10 traffic sources for Pornhub.com, one of the world's biggest pornography portals and the 75th most popular website, according to Alexa.
Much of this consumption is coming from mobile phones, which overtook desktops as India's primary device for accessing Pornhub.com.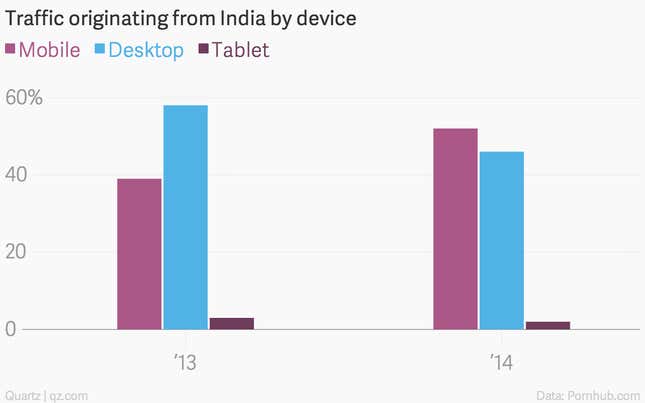 That's hardly surprising given that India is among the fastest growing smartphone markets in the world, with 80 million handsets estimated to have been shipped in 2014. In 2013, that number stood at 44 million units.
And with smartphones for as low as $30 now available to Indians, who also constitute the world's largest offline population, the country's mobile phone boom is set to continue. As is, in all likelihood, India's porn habit.
That's in line with the global trends where most people around the world are using their cellphones to watch porn.
Favourite day to watch porn is…
…Monday. At least that's the most popular day globally to watch porn, while Friday is the least.
But things are different in India, where it's more of a weekend habit. So, the most popular porn-watching day is Saturday, while Wednesday typically registers the weekly low.
Women watchers
It's not just Indian men. Indian women, too, are prolific consumers of pornographic content.
In 2014, 25% of Indian visitors on Pornhub.com were women—two percentage points higher than the global average.
That's also higher than many European countries that are perceived to be liberal, but the South Americans clearly lead the pack.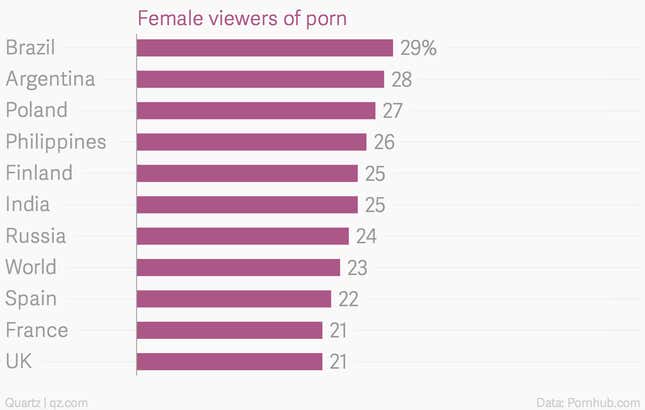 Viewers around the world also apparently continue to hold special place for Indian pornography.
The term "Indian" was the 18th most popular term on Pornhub in 2014. The only other search term to include a nationality is "Japanese," at 16th place.
Perhaps some of that has to do with Sunny Leone, a Canadian of Indian-origin who was an adult star before transitioning into a Bollywood actress.
Leone isn't just India's most popular pornstar. Spain is also seemingly obsessed with her, and Leone ranked fourth in the country's top searches on Pornhub last year. Compared to 2013, that's a move of 150 spots on Spain's search rankings.
Back in India, the biggest mover in 2014, with a jump of 96 spots on the search rankings, was—"Indian Bhabhi."