Often viewed as a homegrown upstart, India's Micromax is likely to shed that tag in 2015 as it prepares to launch its own line of wearable devices—and perhaps, hit the stock market.
India's second biggest phone maker, Gurgaon-based Micromax is rumoured to be working on an initial public offering to raise Rs3,100 crore ($500 million) after a failed attempt in 2012. The funds are expected to be used to thwart competition from Chinese handset manufacturers who have been aggressively selling their phones in India.
While Micromax dismissed the talk about its IPO plans in 2015—calling it "speculation"—it confirmed another significant development for the company.
"We have been working on some powerful innovations around the wearable space, and plan to evaluate and test such products and solutions in the market," Micromax CEO Vineet Taneja told Quartz in an email interview.
That's something analysts have been watching for sometime now—and the Micromax's brass has spoken about before.
"The company was close to launching a watch and I think they dropped the idea later. But sooner or later Micromax could become India's answer to Apple," said Faisal Kawoosa, lead analyst at CyberMedia Research.
This is the year when it may well materialize. If Micromax manages to launch its wearable devices, it will be a big boost for the 14-year-old company whose four co-founders started out by developing affordable phones with dual SIM options and phones with longer lasting batteries.
In effect, it killed the dominance of Nokia in India through its products, sometimes priced for as little as Rs900 ($15).
Cornering the market
Micromax's big break came around 2005, when India's mobile phone boom firmly took hold. This was largely aided by a change in India's telecommunication rules and cutthroat competition in the mobile network space, with companies slashing rates along with a fast-paced growth in the Indian economy.
From 90 million users in 2005, India's mobile phone subscriber base rapidly grew to 937 million by November 2014, making it the second largest market in the world after China.
Amidst this, Micromax firmly established itself as India's second largest mobile phone manufacturer.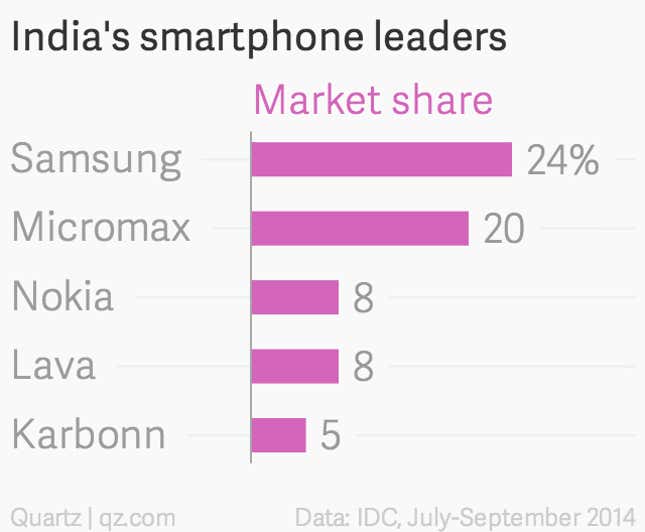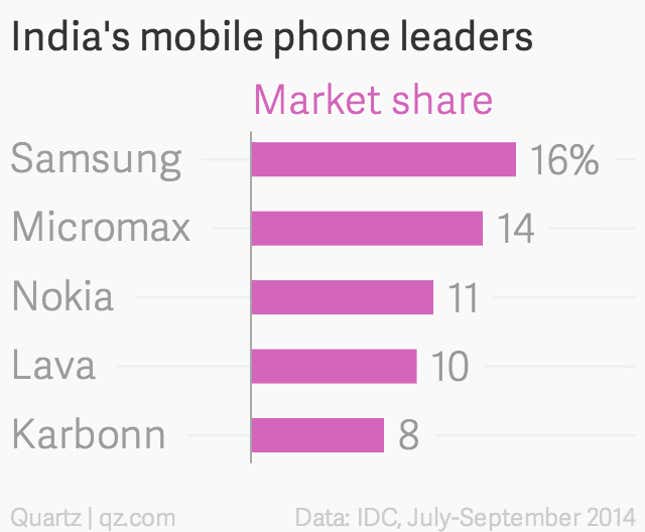 "Compared to many of the smaller Indian brands, Micromax started early," said Kawoosa of CyberMedia Research. "They set in place the right distribution models and played at a different level."
That different level involved spending aggressively on marketing, notably bringing in Hollywood star Hugh Jackman to endorse the brand in October 2013—till then a scale of advertising entirely unexpected of a homegrown phone maker.
In November 2014, the company bought the Indian franchise of the International Tennis Premier League for an undisclosed sum and named it "Micromax Indian Aces," which featured marquee players such as Roger Federer and Pete Sampras.
Still, the company hasn't been entirely successful in shedding its low-cost image, but that may well be part of the plan.
"We are increasingly becoming a brand that the urban masses can identify with," Taneja said. "Be it the savvy yet economical-minded youth of today or the tech-savvy middle-aged urban crowd."
Bourse course
Micromax has four promoters—Rahul Sharma, Sumeet Arora, Vikas Jain and Rajesh Agarwal—who together hold 78.29% of the company, while private equity fund Wagner Limited has the remaining 14.82 %, according to the company's filing (pdf) with India's ministry of corporate affairs.
Sharma, a veteran of Proctor & Gamble and Microsoft, is the face of the company and is often seen representing the company at public events. Jain had previously worked at General Electric and TELCO, while Agarwal, an engineer by training, was the original promoter and former managing director, but resigned in the wake corruption allegations. Arora is currently the company's chief technology officer.
Micromax also hired industry veterans, including former Airtel CEO Sanjay Kapoor as its chairman, and Taneja, former India head of Samsung Mobile, as its CEO.
Since 2011, the company has been toying with the idea of raising funds from the capital markets. Then valued at $1 billion, and planning to raise Rs426 crore ($94 million, at Rs45 to dollar), Micromax had even approached India's market regulator, but unfavourable markets eventually forced it to abort the plan.
With India's stock markets currently on a bull run—the Bombay Stock Exchange's benchmark index rose by 30% in 2014—Indian companies are increasingly reconsidering shelved IPO plans.
Moreover, Micromax has strong credentials to raise some serious money from the markets, if it so wishes.
Last fiscal, its total sales more than doubled to Rs7,083 crore ($1.14 billion), compared to Rs3058 crore ( $500 million) in 2013. Net profit also increased significantly to Rs284 crore ($45.8 million) in 2014 from Rs 190 crore (30 million) the year before, according to data (pdf) with India's corporate affairs ministry.
The year ahead
On Jan. 13, Micromax launched a new phone in the Indian market under a different brand, Yu Televentures, which will only be sold online. That's similar to how Chinese smartphone maker Xiaomi operates in India, with entire stocks of its phones getting sold out within seconds during online flash sales.
"Micromax's volume growth has been exceptional," said Neil Shah, research director at Counterpoint Research. "The company's new products will drive volume sales and will also help it build a premium brand image in urban areas."
But these are also uncharted waters for the Indian company.
Last December, the company set up a research & development (R&D) facility in China to help with its software and hardware business. But it's nothing like the R&D spend of global heavyweights like Samsung, Apple or even Nokia. Instead, it chooses to rely on older and cheaper technology that helps it sell phones at more palatable prices.
"Micromax has only been a follower. It ventured into tablets, televisions and online sales because everybody does the same," explained Shah. "It has, so far, not brought out any disruptive technology and has not been innovative. To compete with international brands, you need to be disruptive."
With wearable devices on its radar, that may well change—but challenging some of the world's most innovative technology companies won't be easy, especially if Micromax wants to live up to its tagline: Nothing like anything.