India knows how to sell good news. Year after year, delegates representing India make case for its economic strength at the World Economic Forum, the annual retreat of global A-listers in Davos, to help lure foreign investors into the country.
If the growth numbers were to be looked alongside the size of India's contingent in the last one decade, there seems to be a connection between the two. If the economy and its prospects seem upbeat, more faces show up at the talk-fest. If not, better luck next year.
This year was no different as a 125-member Indian delegation made way to the Swiss ski resort. Their chant: "Make in India."
Back in 2006, when India's GDP number was hovering near the 10% mark, as many as 150 delegates from the country turned up at Davos. That year, India also made a huge deal about the country becoming the world's next economic rockstar—it launched "India Everywhere," a public relations campaign to sell everything Indian.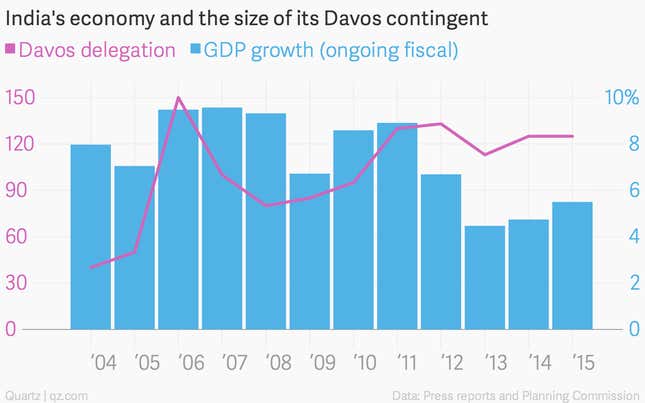 Since the World Economic Form is held in January, a few months before India's provisional GDP numbers for the financial year are released, the previous year's growth seems to have an impact on the size of the contingent.
For instance, in 2012, the size of Indian delegation at 133 was one of the biggest, despite the slowdown reflected in that year's GDP growth, which stood at 6.69%, according to India's erstwhile Planning Commission (pdf). But the year before, in 2011, economic expansion stood at 8.91%. And the year after, in 2013, both GDP growth and the Davos delegation's size both slid simultaneously.
Looks like India knows not only when to show off—but also when to not turn up.