Narendra Modi's deft ascent from Gandhinagar to New Delhi was only the prelude.
The true demonstration of his proficiency with the medium and the message began with his inauguration as India's 15th prime minister in May 2014—and his mastery over symbolism has continued to be on display as he's engaged with one world leader after another.
His handling of US president Barack Obama's latest visit to India is a case in point—and it's only been half-a-day since POTUS (President of the United States) landed in New Delhi.
Modi's charm offensive began almost as soon as Air Force One touched down, with the Indian prime minister breaking protocol and turning up at the airport to personally receive Obama and the first lady.
By the time Obama arrived at the Rashtrapati Bhavan to meet president Pranab Mukherjee and receive the Guard of Honour, Modi had swiftly given up on the traditional Indian garb and switched into a more formal pinstripe bandhgala.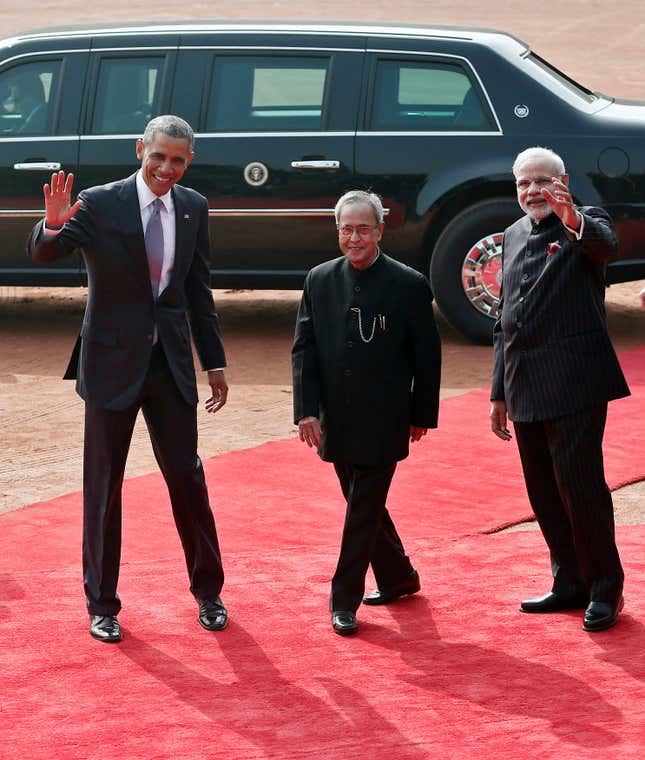 But the sartorial statement was overshadowed by a more significant masterstroke: The inter-services Guard of Honour at the forecourt of India's presidential palace was led by the Indian Airforce's Wing Commander Pooja Thakur.
At a time when India is constantly—and rightfully—criticised by the west for unending crimes against women, to have a lady officer leading an important military ceremony for one of the most important men in the world sends a powerful message.
Even as Indians were digesting Modi's morning memo on women power, the two leaders headed to Delhi's storied Hyderabad House for nourishment and negotiations. The menu, as expected, was expansive but with a distinctive Gujarati twist. And for the benefit of the gastronomically inclined, the foreign ministry's spokesperson made both the vegetarian and the non-vegetarian variants public.
Lunch complete, Obama and Modi headed for a walkabout in Hyderabad House's quaint garden around 3pm. The stroll began with both leaders engaged in deep in conversation with near constant gesticulation, with an occasional laugh and even a pat on the shoulder.
Television cameras followed them throughout, framing Obama and Modi perfectly as they stood and chatted by a pool of water. The ensuing poetry was unavoidable.
But the moment most redolent with symbolism was tea, an object (and activity) that has become central to the myth of Narendra Modi.
And as the Indian prime minister—once a teaseller in a mofussil Indian town, as Obama himself recalled this week—poured a cup for the US president (but didn't add enough sugar), his American counterpart was sold on Modi's patented "Chai Pe Charcha."
"We need more of those at the White House," Obama later said.
For a nation that is easily swayed by spectacle and drama, the Indian prime minister has ensured there is more than enough for his people to chew on. And there's much more lined up for tomorrow, as Obama goes to the Republic Day parade.
Of course, it'll help greatly if there's enough substance to back the copious symbolism.
Also read: