On her first tour to India, she met Mumbai's street children, played hopscotch with them, and danced to a Bollywood number. This time around, she has (so far) mostly chosen to stay out of the limelight.
India wants to know: where has Michelle Obama been all day?
After arriving in New Delhi early on Jan. 25, Michelle Obama walked down the stairs from Air Force One alongside her husband, US president Barack Obama, engaged in some pleasantries, got into the presidential ride and then entirely disappeared from view.
Till this evening.
On the other hand, the US president has had a rather busy day. After a quick trip to Mahatma Gandhi's resting place, he met India's president Pranab Mukherjee at the Rashtrapati Bhavan and received the Guard of Honour. That was followed by lunch and diplomatic parlays, and finally a significant press conference with prime minister Narendra Modi.
In between all that, POTUS (President of the United States) and Modi even made some time for tea surrounded by pools of lotus.
But FLOTUS—yes, the First Lady of the United States—uncharacteristically was no where to be seen.
This is unusual for the Harvard-trained lawyer who has made important international trips by herself to project American soft power. Perhaps the most significant of these was her 2014 visit to China, where she spoke about "minority rights, Internet access and religious freedom" while also partaking in some skipping rope and Chinese martial arts.
Even on her 2010 trip in India, the first lady made her presence felt—and the Indian press was fascinated. Headlines included "Dancing queen Michelle rocks India."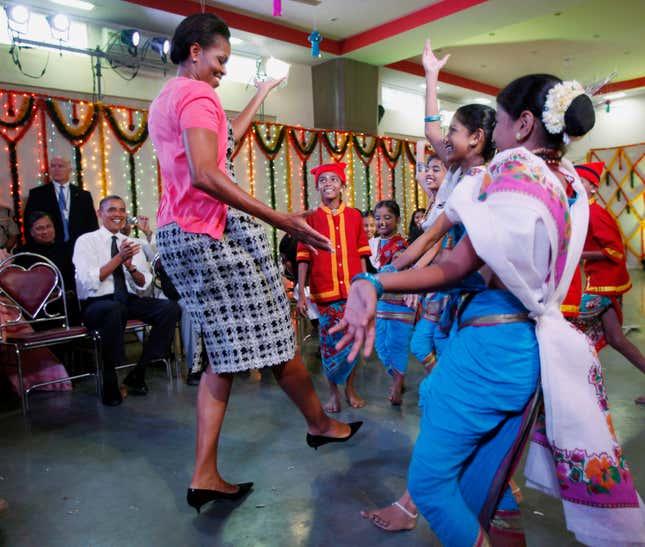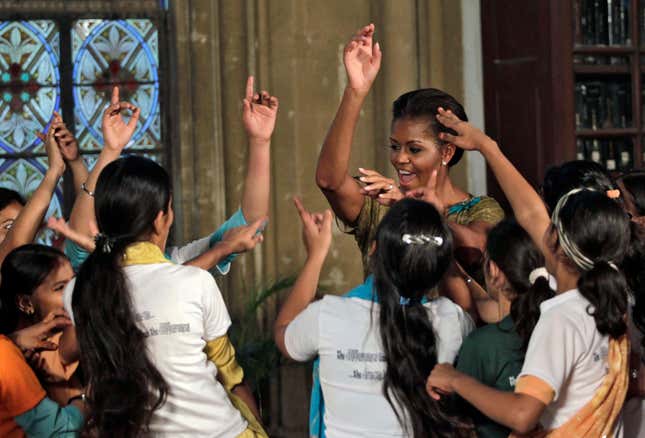 But unlike the last visit, the US first lady doesn't really have an Indian counterpart. Although married, prime minister Modi had never acknowledged his wife publicly until he filed election nomination papers ahead of the general elections last year. And till date, she has not played any role in his public life.
Still, FLOTUS has time to make up for her disappearing act—although initial reactions to her dress at the ceremonial dinner at India's presidential palace have been less than flattering.
Also read