The alumni from the Indian Institute of Management (IIM), Ahmedabad, earn higher salaries than the graduates from the Kellogg School of Management at Northwestern University or even the Yale School of Management, three years after leaving B-school.
According to the Financial Times international business school rankings, India's leading business school ranked fifth in global rankings of 100 schools on the basis of alumni salaries. The FT calculates this number as the average alumnus salary three years after graduation, $ PPP (purchasing power parity) equivalent, with adjustments for variations between sectors.
Harvard leads the pack, both in terms for alumni salary and overall rankings (shown below next to the name of the school).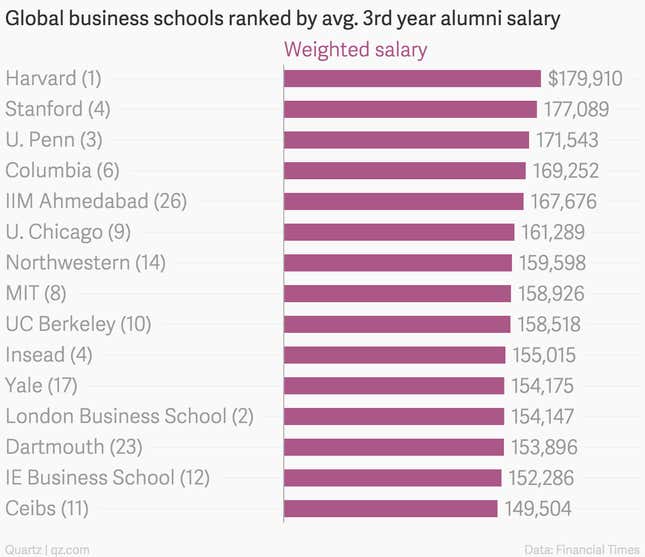 Only three Indian business schools made it to the coveted top 100 list: IIM-Ahmedabad, IIM-Bangalore and Indian School of Business (ISB) in Hyderabad. The overall rankings for the year for the three schools were 26, 82 and 33, respectively. 
But the biggest jump in salaries after attending B-school were led by three Chinese institutions, with ISB not too far behind.
The FT calculates half of the average salary increase according to the absolute salary increase, with the other half tracking the percentage increase relative to pre-MBA salary.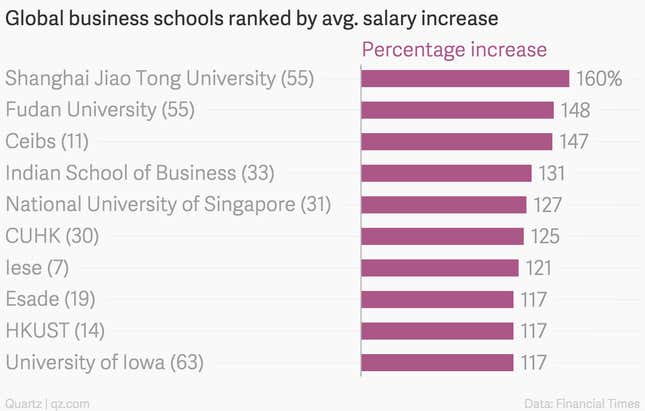 Higher number of non-US schools on the list of salary increase could be an indication of students in programs outside the US starting out with low salaries.
Still, a graduate from IIM-Ahmedabad—already ranked quite high up for average salaries—saw a 88% jump in salary after attending B-school, while an alumnus from IIM-Bangalore got a 75% spike.