Apple just announced its best ever quarter, making a record $74.6 billion in revenues and shipping 74.5 million iPhones. And, in India, which has been a tricky market for the company to crack, it is finally getting some traction.
Between Oct. 2013 and Sept. 2014, Apple was able to sell a million handsets for the first time in India, one of the fastest growing smartphone markets in the world.
Growth has been so robust that it managed to sell 500,000 units of iPhone 6 and iPhone 6 Plus by Dec. 2014, just three months after they were launched in India. This mirrors strong worldwide demand for Apple's new phones.
Now, Apple is planning a major retail push in the country. It has tied up with Brightstar, a US-based distributor of mobile phones, to open 500 stores nationwide, The Times of India reported. This includes smaller cities such as Amritsar, Nasik and Kochi.
That's a marked change in Apple's strategy which, till 2012, stayed away from partnering with distributors, since it eats into its profitability, and sold mainly through telecom providers. It only managed to sell 100,000 handsets during the first six months of 2012.
Its Korean rival, Samsung, hasn't been shy of partnering with distributors from the start. With a mix of cheap and premium smartphones plied on a strong distribution network, it has quickly become the dominant player in India, and currently holds the biggest share of the smartphone market.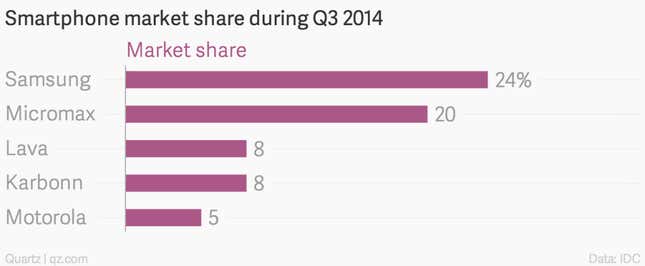 Apple still has a tiny 2% share in the country mainly because a vast majority of the population cannot afford an iPhone.
That said, Apple controls "almost half of the high profit premium segment, taking share away from Samsung," according to a report by Counter Point Research, a technology consultancy.   
Moreover, it may now directly fund marketing and advertising activities in India—something that has been controlled by distributors so far—even as the company steadily reduces the time lag between the US and India launches of its iPhones. Between 2010 and 2014, the average wait time came down by over 90%.
With Apple's renewed focus on India, the third largest smartphone market in the world just got more exciting.