In 1978, the Rs1,000 note swiftly disappeared from the wallets of Indians, only to make a return at the turn of the century—and it's been a steady revival since 2000, with the Reserve Bank of India (RBI) printing  Rs4,29,900 crore of the denomination in 2013.
Meanwhile, the Rs100 note, for long a staple denomination in Indian households, has retained its place, even as a more valuable upstart—the Rs500 note—has begun to mount an ambitious assault.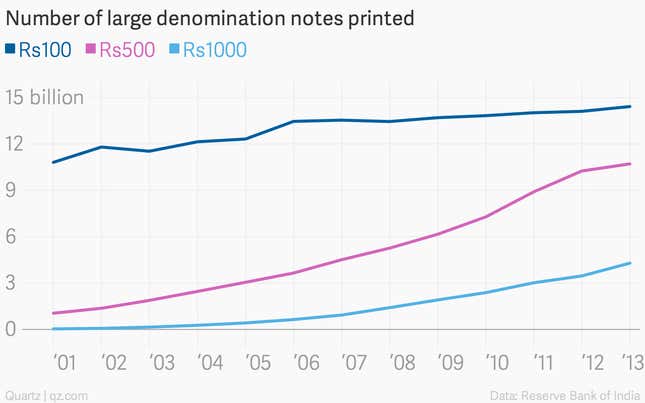 But the most dramatic denomination in recent years, according to data on all coins and notes issued by the RBI between 2001 and 2013, has been the humble Rs10 note.
After a decline in the middle of the last decade, it staged a strong comeback to become the most issued note in the country.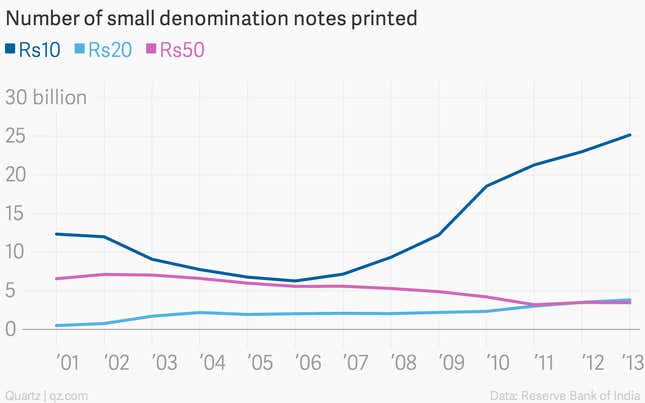 And the even humbler Re1 is still the king of coins, though the Rs2 denomination has registered a rise since 2007 to cross the 20 million mark.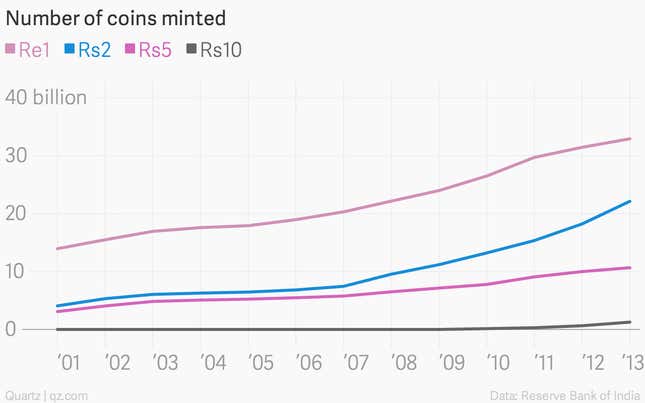 (The charts above don't account for denominations smaller than the Re1 coin, and Re1, Rs2 and Rs5 notes)
Although coins were issued in British-administered India from a mint in erstwhile Calcutta from the 1700s onwards, currency notes were shipped in from the UK till 1928, when a press was established in Nashik, Maharashtra.
In 2006, the Security Printing and Minting Corporation of India was formed by merging four mints, four presses and one paper mill that were previously under the purview of the finance ministry. There's also the Bharatiya Reserve Bank Note Mudran, established by the RBI in 1995, that operates two presses for producing bank notes.
Although most things to do with India's currency—starting from design to denominations—are shared between the government and the RBI, the former is largely responsible for the design and minting of coins with the central bank overseeing their distribution.
Bank notes, on the other hand, are designed by the RBI in consultation with the government and the two together decide on the volume of notes to be printed based on factors including economic growth, requirement to replace soiled bank notes and reserve stock requirements.
But big denominations, like the Rs1,000 note, are in demand, especially as banks look to stock their growing ATM networks with more cash—and more Indians seek to carry more money without weighing down their wallets.