After a spectacular collapse in 2012 and a slow recovery, India's foreign direct investment (FDI) inflows are finally back on track.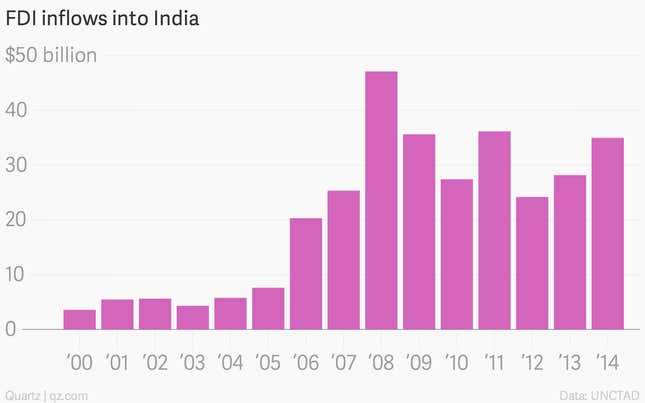 "Despite macroeconomic uncertainties and financial risks," India's FDI inflows grew 26% in 2014 reaching $35 billion, according to an UNCTAD report (pdf). That's much faster than the rest of developing Asia, which saw a growth of about 15% across 40 economies.
And while that's significantly better than India's performance since 2012, FDI inflows remain much lower than the economy's best ever performance in 2008, when over $47 billion of overseas investment came in the country.
Between April 2014 and Nov. 2014, according to data from India's commerce ministry, here's where the FDI equity inflows came from—and where they went.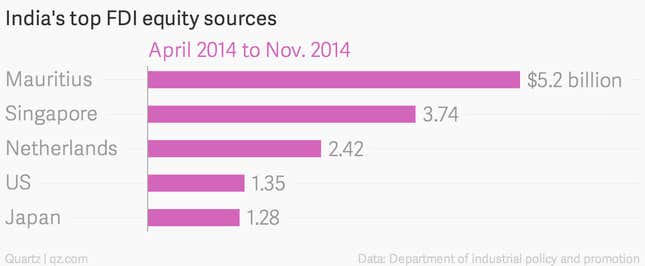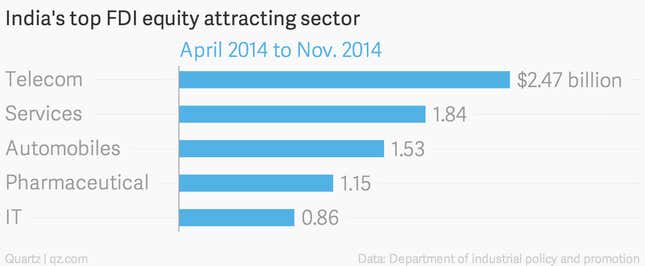 Meanwhile, global FDI flows fell by 8% last year on the back of "economic uncertainty and geopolitical risks including
regional conflicts," the UNCTAD said.
China emerged as the world's top investment destination with $128 billion of FDI inflows in 2014, even as the $130 billion share buyback between Vodafone and Verizon—the third largest deal in corporate history—sharply reduced the US's standing.
Here's what the global FDI ranking looks like: