This post has been corrected.
By the standards of India's political parties—opaque, personality-driven, top-heavy organizations—little of what former environment minister and Congress Party leader Jayanthi Natarajan's letter and subsequent press conference revealed on Jan. 30  was particularly surprising.
What was, however, unsettling was the timing of Chennai-based politician's outburst—and the potential impact it could have on India's Grand Old Party, as it recovers after 2014's electoral drubbing.
Gandhi governs
After years of ineptitude while in power, few doubted that the previous Congress-led United Progressive Alliance government was effectively run by party president Sonia Gandhi, and not prime minister Manmohan Singh.
And whatever little ambiguity remained had been dispelled last year when Sanjaya Baru, Singh's one-time media advisor, quoted the former prime minister in his book, The Accidental Prime Minister:
There cannot be two centres of power. That creates confusion. I have to accept that the party president is the centre of power. The government is answerable to the party.
Natarajan, while resigning from the Congress party, simply reconfirmed that power structure and said that Gandhi—and particularly her son, Congress party vice president, Rahul Gandhi—had sent "specific input" on certain industrial projects as they were being evaluated by the environment ministry.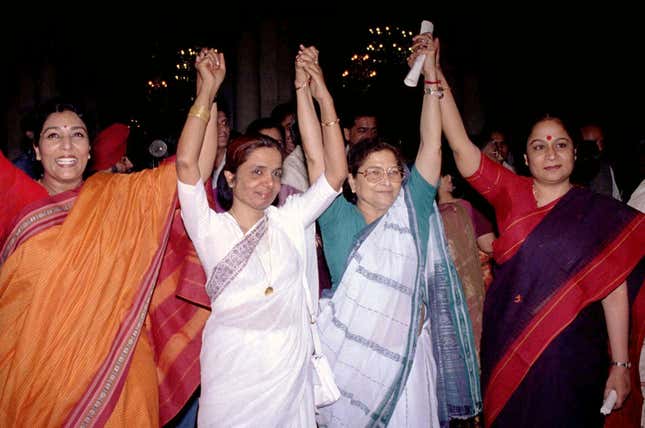 More damagingly, Natarajan also explained her discomfort at the party ordering her to "fiercely attack" incumbent prime minister Narendra Modi when she was a Congress spokesperson. The orders, she was told, came from the "highest levels."
Despite all this, Natarajan was asked to quit as environment minister without specific reasons, she said in her letter, while "persons from the office of Shri Rahul Gandhi were calling the media and planting stories that my resignation was NOT for party work."
"I myself have served the Congress party from 1984, have been a four time MP, and a former Minister of State, without a single blemish on my reputation, in terms of integrity in public life, and my loyalty to my party and my country," Natarajan added. "Thirty years later, for no fault of mine, I find that my own small work, and the glorious legacy of my family stand ruined."
The Congress party's defence simply was that Natarajan's statements are inaccurate. "It is saddening and regrettable that someone who got four terms as MP (member of Parliament) without fighting a single election has chosen to unleash a diatribe which is untrue and opportunistic", Congress spokesperson Abhishek Manu Singhvi said.
Defectors galore
Of course, Natarajan isn't the first senior leader to leave the Congress after Modi's Bharatiya Janata Party (BJP) crushed the party in last summer's general elections.
In Nov. 2014, former shipping minister GK Vasan quit the Congress to form his own party in Tamil Nadu. Then, in January this year, Krishna Tirath—also a former cabinet minister—defected to the BJP, just days ahead of Arvinder Singh Lovely, son of Congress leader Buta Singh, switching sides.
Other defectors include Rao Inderjit Singh, D Purandeswari and Jagdambika Pal, who moved over to the BJP before the 2014 polls.
Dirty laundry
But none have aired the Congress party's dirty laundry quite like Natarajan—and with such deft timing.
The former environment minister's revelations come just days before the Delhi elections, where the Congress isn't likely to make much of a mark anyway. The party's campaign is being led by Ajay Maken, formerly India's sports minister.
Moreover, the Congress seems to have completely lost the political plot after Modi's anointment as prime minister. In election after elections—Maharashtra, Haryana, Jharkhand and Jammu and Kashmir—it has been decisively beaten by the BJP. And it's performance as an opposition party in Parliament has often made the Modi government look good.
Its strategy of continually disrupting Parliament even provoked a rebuke from president Pranab Mukherjee, himself a former Congress stalwart.
"The cardinal principle of Parliamentary democracy is that the majority has the mandate to rule while opposition has the right to oppose, expose, and if the numbers permit, to depose," Mukherjee said earlier this month, "A noisy minority cannot be allowed to gag a patient majority."
And Rahul Gandhi, the party's heir apparent, has not only failed to make a dent in the public discourse in the face of Modi's relentless domestic and foreign policy announcements—but his own party workers are apparently unimpressed by his leadership.
Amidst all this, Natarajan's timely revolt has starkly exposed that the Congress can't even resolve—or suppress—its own problems, let alone those of the nation that it helped birth.
Correction: A previous version of this post incorrectly stated that Ajay Maken was the sports minister in-charge of the Commonwealth Games.