This story has been updated. 
NEW YORK—Hemant Mathur has been the force behind pretty much every hot, trendy Indian restaurant in New York City.
Now he's taken over six of them.
It's a challenge like no other in his 30-year career, which has gained him rave reviews, multiple Michelin stars, and, most recently, a nod by GQ magazine as one of the top five Indian chefs in America. So far, most of his accolades stem from high-end Indian restaurants, white-tablecloth places like Tulsi and Devi, Tamarind and Diwan Grill.
But this time around, the restaurants he's taken over are much more casual, and situated in neighborhoods with a lot of competition from Indian restaurants. There is Chola on the East Side, with North and South Indian dishes; followed by four restaurants along Curry Hill on Lexington Avenue—Chote Nawab, offering Hyderabadi and Awadhi cuisine; Dhaba, a popular Punjabi restaurant; Kokum, a non-vegetarian South Indian eatery, with Kerala coastal food; and Haldi that serves Kolkata Jewish and Marwari dishes. Mathur has also bought Malai Marke, a newer, hipper restaurant in the Little Bangladesh block of East 6th Street between First and Second avenues. (Editor's note: An earlier version said Kokum is the only non-veg South Indian restaurant in Manhattan; it is not.)
This focus on regional cuisine is what Mathur, 48 years old, thinks will be the great differentiator. He bought the restaurants for an undisclosed sum, backed by investors, from Shiva Natarajan. (Natarajan plans to launch a line of Indian sauces.)
Regional Indian cuisine is certainly taking off globally. But the challenge for Mathur is to win over New Yorkers used to eating chicken tikka masala, beef or lamb vindaloo and masala dosa. His message might be a tough one to, um, digest: There's actually no such thing as Indian food.
Thankfully for Mathur, he is known as one of the nicest guys in one of the toughest businesses. He's a stark fixture in his white chef's outfit, saffron and green stripes on his collar, red tilak on forehead, indicating he's prayed before heading to work in the morning. He walks by tables, stopping to welcome new customers, giving them tastes of his latest, inviting them back into the kitchen, always smiling, treating every diner as if they are regulars.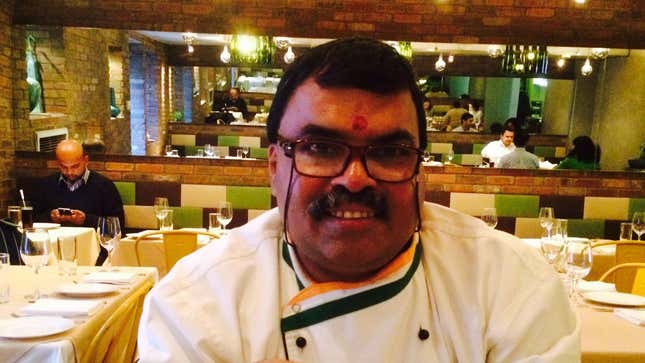 That was the warm human touch of chef Mathur at Devi, the high-end Indian restaurant he started in Manhattan's Union Square area in 2004 with his friend and co-chef Suvir Saran—and then later at his solo operation, Tulsi, which opened in 2011 near the United Nations.
Mathur has a history of earning Michelin stars and is a critics' darling. But he's going to have to educate the same critics, food writers, and ultimately restaurant-goers that a South Indian eatery can also serve meats and seafood. It's not all uphill: Kokum and Malai Marke are currently recommended by the Michelin Guide.
In his recent three-star review of Kokum, Robert Sietsema wrote: "Though the menu often reads like some extended joke that we can't quite understand, the food is often spectacular…No matter how many times you visit Kokum, you're likely to stumble on something you'll fall in love with before you reach the bottom of the serving bowl."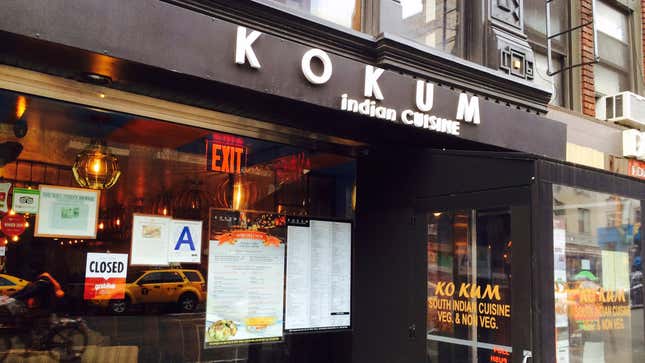 Each property that Mathur now manages as executive chef can seat 65 customers. Mathur describes the restaurants as "casual, small models." They are priced cheaper than Tulsi and Devi.
Mathur's oversight of six eateries in New York essentially makes him the Indian Danny Meyer—the restaurant mogul who runs Union Square Café, Gramercy Tavern, The Modern and the Shake Shack empire. Meyer's experiment with serving Indian cuisine at the large 280-seat Tabla did not succeed. Tabla closed in 2010 after losing money for much of its 13 years of existence. (Chef Floyd Cardoz, who started Tabla, is also among the top Indian chefs in the US.)
Mathur modestly shrugs off the comparison with Meyer. Instead he suggests he was looking for a new challenge. "Tulsi was one restaurant and it was limited," he says.
Says Natarajan: "There is a lot of talent in this industry, but there are few genuine human beings."
Saran is similarly effusive: "Hemant has sound taste buds and a hunger to please, making him one of the most hospitable people one could wish for. His food is always tasty and made with love and pride."
"Like India, he is a sponge," Saran adds. "He can take from the other and run with it. A quick study, he is able to bring into production what he has learned moments before."
Mathur met Saran in early 2000. At that time Saran was catering at people's homes and for celebrity parties in New York City. They opened Devi a few months after they briefly ran the small restaurant, Amma, on the Upper East Side.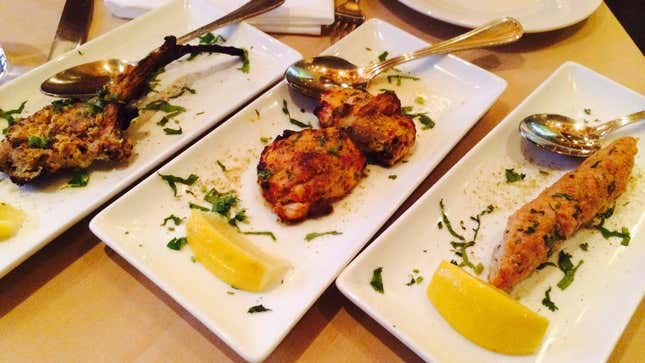 In 2007, with Mathur and Saran's guidance, Devi became the first Indian restaurant in the US to be awarded a Michelin star. The French guidebook started its first US edition in 2005. Tulsi has won a Michelin star for three years in a row.
Tulsi was where Mathur perfected his now renowned Tandoor-Grilled Lamb Chops. "No one in New York makes lamb chops like Mr. Mathur," Sam Sifton of The New York Times wrote in his March 2011, one-star review of Tulsi. Sifton described the lamb chops as "heavy ugly things caked in yogurt but tasting of gamy perfection."
Gael Greene the former food critic of the New York Magazine called them "an astonishment of lamb flavor served with savory potatoes, South Indian-style, and pear chutney." (Mathur says he still plans to serve lamb chops at Chote Nawab and Chola.)
Saran and Mathur parted after the two left Devi. Now Saran spends time operating an organic farm in upstate New York and is set to open a new restaurant in May—American Masala in San Francisco.
These days Mathur's mornings start with visiting Chola—the closest restaurant to his home in Jackson Heights, Queens. He then spends a substantial part of the day on Lexington Avenue between 27th and 28th streets, reviewing work at Chote Nawab, Kokum, Dhaba and Haldi. And later in the afternoon he heads down to the East Village to spend time at Malai Marke.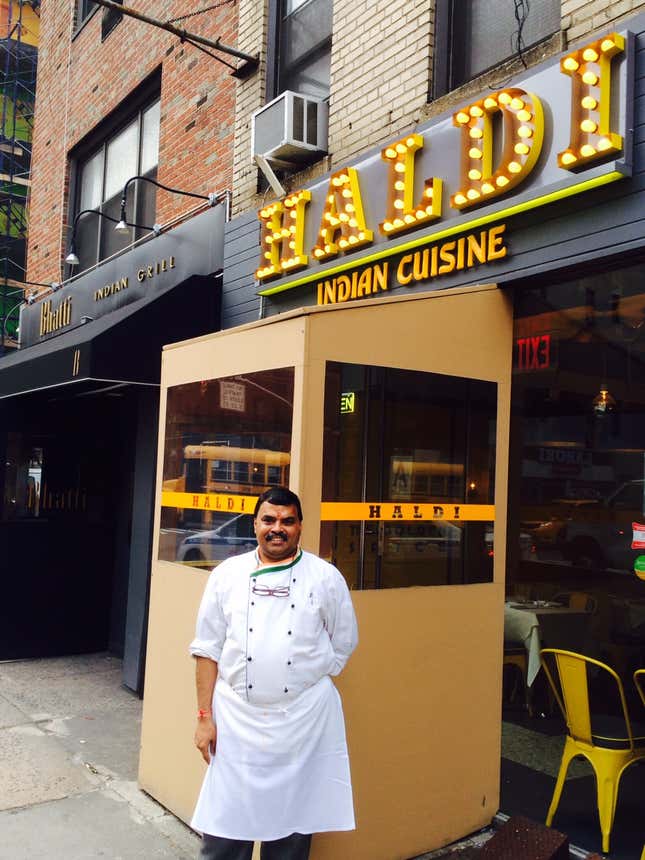 Mathur promises to add his touch to the restaurants, focusing on "quality and consistency." There is no urgency to dramatically change the six eateries, although Mathur plans to streamline and trim the menus, especially at Chola.
A big change already happened at Haldi just before Mathur stepped in. In its previous incarnation Haldi was a vegetarian Gujarati restaurant called Bhojan. Late last year it changed its menu with the Kolkata cuisine.
The restaurant now offers eclectic dishes such as tandoori bhindi, chicken makmura, potato beet cutlet, okra with lamb and a Baghdadi Jewish dish called lamb bamia koota. Natarajan started the switch since he grew up in Kolkata and Mathur's last job in India was at the Taj Bengal where he oversaw Sonargaon restaurant.
Mathur points out that while Haldi is serving Kolkata Jewish food, it will not be referred to as a Kosher restaurant. That certification requires the entire kitchen to be Kosher.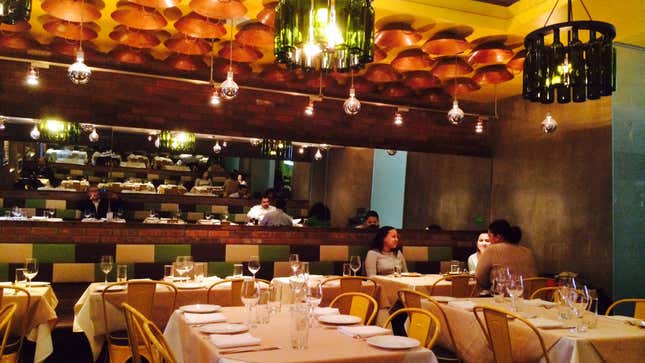 Jaipur-born Mathur started his food career in 1984 at the age of 17, by apprenticing at the Taj Rambagh Palace Hotel. He then worked at the bakery at the Taj Mahal Hotel on Mansingh Road in Delhi. But his real food training started at the Taj Jai Mahal Palace Hotel in Jaipur and later at Pakwan in Le Meridian Hotel in Delhi. And he has also worked at the renowned Bukhara at Delhi's Maurya Sheraton Hotel where he says he got his "basic tandoor training."
While at Bukhara he got a call from a senior chef at the Taj who asked him to take three months off for a special assignment. Mathur was sent to Mexico to work as a chef at the private resort of Sir James Goldsmith—ex-father-in-law of Imran Khan, the former Pakistani cricket player, turned politician.
"It was my first trip abroad," he says, adding that on his way he stopped over in New York and bought Indian spices from here. "Sir Goldsmith's third wife (technically they were not married) loved Indian food. So I would cook Indian food twice a week."
Back in India, he was working at Taj Bengal when he was offered a job to run an Indian restaurant in Berlin.
A couple of years later, in 1994, he arrived in New York. He has since worked in many kitchens in the city including the now-closed Tamarind in the Flatiron district. His wife and pastry chef, Surabhi Sahini (the two were introduced by Saran) later ran Tamarind Tea Room, a small casual eatery located next door.
Mathur was also the chef for Diwan Grill in mid-town Manhattan. In his 2002 two-star review of Diwan Grill, Eric Asimov of The New York Times noted that Mathur's name was printed on the restaurant's menu.
"It's the rare Indian restaurant that acknowledges the existence of its chef, unless it's a star consultant like Madhur Jaffrey (who gave her name to Dawat on the Upper East Side)," Asimov wrote. "But for Mr. Mathur, who has toiled anonymously in many Indian kitchens, it's an honor that has been a long time coming."
Indeed, those days of toiling anonymously are over. And so can be said for "Indian food."
In 2010 when Meyer announced the closure of Tabla, Crains New York Business quoted restaurant consultant Michael Whiteman as saying: "Indian food is still a trend waiting to happen. It is complex and not well-understood, other than several cliché dishes."
With his new six acquisitions, Mathur is well on his way to disprove that.