By the beginning of the 1990s, the world's oldest motorcycle still in production had almost run out of steam.
So, when Eicher Motors acquired control of the storied Royal Enfield's only remaining operations in India in 1993, the near-bankrupt maker of the iconic Bullet motorcycle was in need of some serious help.
Fast forward 20 years, and Royal Enfield's revival has been so swift that it just thumped past Harley-Davidson in total motorcycle sales last year.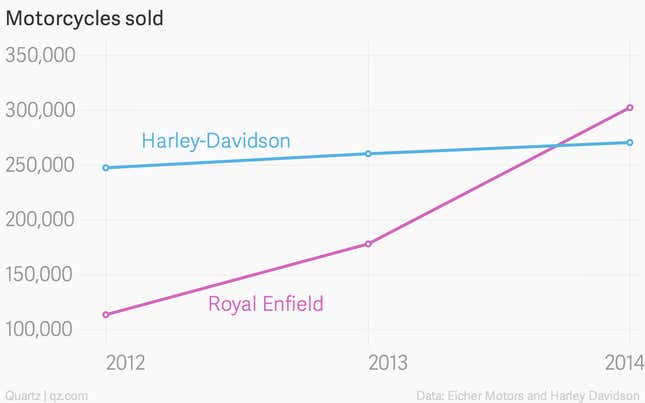 With motorcycles priced between Rs93,000 ($1,500) and Rs1,55,000 ($2,500) in India, compared to Harley-Davidson's bikes that cost between Rs4,10,000 ($6,500) and Rs28,00,000 ($45,000), the Indian motorcycle with British roots has a rather different clientele than its American counterpart—but it's been a stunning comeback nonetheless.
And it might get even better for Royal Enfield as more Harley customers lean towards smaller and cheaper motorcycles, precisely the mid-sized segment of the US market that the Indian bike-maker wants to control. Last year, Eicher even hired a former executive from Harley-Davidson's global customer sales and service team to help its expansion into the US and Canada.
"It is certainly a big milestone," Eicher Motors CEO Siddhartha Lal told The Times of India. "But we have a long way to go, and this is just the start of a long journey."