Ram Chandra Shehrawat, a farmer, walked into a square-shaped tent inside the Delhi headquarters of the Bharatiya Janata Party (BJP) and made his way to an iPhone mounted on a tripod.
He wanted to take a picture with India's prime minister, Narendra Modi.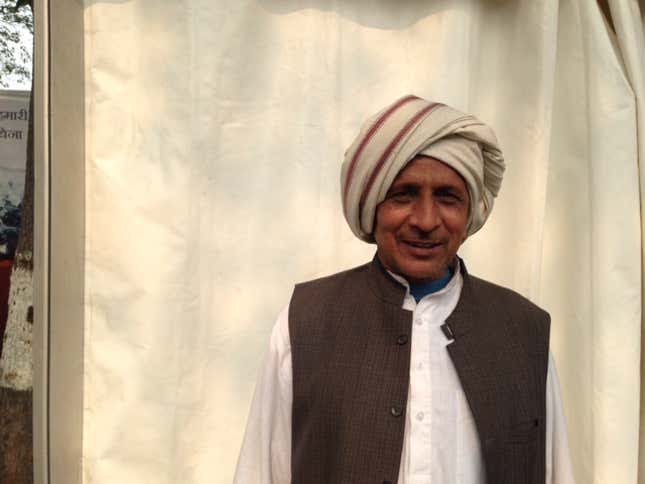 "He is a patriot. I can see Subhas Chandra Bose in him. That's why I want my picture taken with him," said the 59-year-old, who claims his father and grandfather were freedom fighters.
"People have a fascination to take photos with Modiji," said 18-year-old Suyash Aggarwal, a volunteer at the BJP headquarters as he took Shehrawat's photo with the iPhone.
Aggarwal mans the photo booth at Ashoka Road—among the 2,500 planned by the BJP in the run-up to the Delhi assembly elections on Feb. 7—for eight hours every day. He takes pictures of visitors, termed "Selfie with Modi," which he then delivers to them via email or SMS within 24 hours.
But Modi isn't actually himself present in any of these so-called "selflies."
Instead, the photo is taken with a mobile application, which shows Indian prime minister's smiling face in the frame, next to the person whose picture is being taken. Every booth has a smartphone, mounted on a tripod and connected to a TV where the selfies can be seen.

https://twitter.com/rohitneema3/status/562830654526992385
The #SelfieWithModi campaign was launched by the BJP on Jan. 24 with an aim to persuade tech-savvy young people in Delhi to vote for the party in the upcoming elections. Around 1,500 photo booths have already been set up across the national capital in public places such as shopping malls and markets.
The campaign also has a website that is continuously updated with the photos, which are not technically "selfies" since they are mostly taken by volunteers.
All the photos on the website are segregated by the localities where the BJP has established these booths. A cursory glance at the pictures suggests that men easily outnumber women, but age is no bar.
Hologram to selfie
This isn't the first time that the BJP and Modi are using unusual technology during an election campaign. Ahead of the national elections in 2014, Modi used 3D hologram technology to address public rallies, which cost the party more than Rs60 crore ($9.73 million). In 2012, he created a Guinness world record when his 3D holographic speech was concurrently broadcast in 53 locations during election campaigns in Gujarat.
This time, the BJP claims to have taken more than 70,000 selfies in just 10 days since the launch of the campaign, and says it has become so popular that they may not dismantle the booths after the elections.
Around 150-200 people get their selfies clicked every day at the BJP's Delhi headquarters, said Rajeev Verma, who is overseeing the selfie booth at the party office. "They are coming from all over the country… Kashmir, Rajasthan…lots of places."
Some visitors, however, weren't particularly thrilled.
"I took a selfie just like that but these are just promotional techniques," said Rajesh Tripathi, a doctor and a member of the right-wing Rashtriya Swayamsevak Sangh from Madhya Pradesh. "The country's problems won't get fixed by doing these. Modi should focus on doing some work."
And the overall numbers at at least two of these booths—when Quartz visited on Feb. 3— didn't quite reflect the selfie movement's apparent popularity.
"Today, there are only a few people," said a person manning the booth at the party office, who didn't want to be named. "There are no ministers here today, maybe that's why."
"Yesterday, there were many ministers here and lots of people were here for pictures."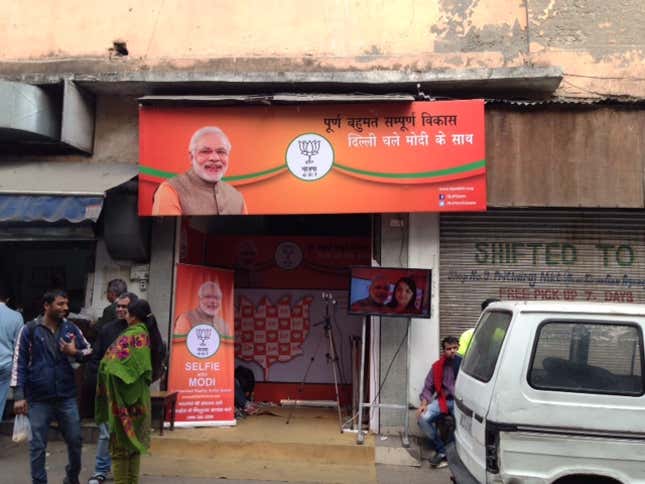 It wasn't much different at Khan Market, where BJP party president Amit Shah inaugurated the campaign. A tiny selfie booth has been set up in the upscale market next to a small restaurant. Visitors were few, with volunteers trying to persuade passersby to take pictures.
Some of them obliged, like Mohammad Aquil, a 60-year-old car mechanic. He has an old Nokia cellphone and no access to the internet. "I don't know how I will get the photo. May be they will show it on TV," he said.
"Fewer people are visiting now. Maybe they think it is just promotion and fake," said Akash Kumar Gupta, a volunteer at the booth.
Perhaps, if Modi and his party could show the same enthusiasm in building toilets—a subject that the prime minister has repeatedly mentioned in his speeches—followers would be less skeptical.
We welcome your comments at ideas.india@qz.com.