This post has been updated.
Samsung's domination of the Indian smartphone market is no more.
Plagued by falling market share and low-cost competition, the South Korean phone maker has just been upstaged by Micromax, an Indian company that only began selling mobile phones in 2008.
During the fourth quarter of 2014, Micromax outsold Samsung to become the number one smartphone company in India, the world's third largest market, according to a new report by technology consultancy Canalys. As things stand now, Micromax holds 22% share of the market, with Samsung trailing at 20%.
In its note, Canalys explained:
This incredible performance is partly due to Micromax's continuing appeal to mobile phone users upgrading to smart phones. Its flagship line of products has also very effectively targeted the US$150 to US$200 (INR9,000 to INR12,000) segment, with products such as the Canvas Nitro and Canvas Hue.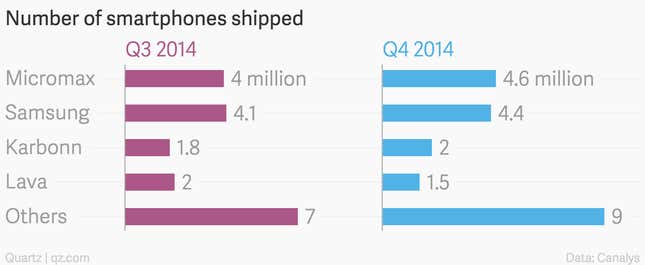 "Micromax has been quicker than its competitors to improve the appeal of devices, for example, by including a wide variety of local languages on its Unite phones," said Rushabh Doshi, an analyst at Canalys.
A lot is going on at Micromax, which demolished Nokia's dominance on India's mobile phone market by introducing its inexpensive handsets priced as low as Rs900 ($15). This year, the company is looking to enter into the wearables market and rumors of an initial public offering are making the rounds.
It has been increasingly difficult for Samsung to maintain its dominance over the market. As more Indians buy smartphones, Chinese competitors such as Xiaomi and OnePlus are attempting to expand in India. Xiaomi, for instance, started selling its handsets in India in 2014, and the response has been encouraging so far.
On the whole, the Indian smartphone market grew by by 90% last year, with 21.6 million smartphone shipped last quarter—and there's still room for more growth.
Update: Samsung has disputed the findings of Canalys and said that it remains the largest smartphone company in India, citing data tracking actual sales as opposed to shipments. 

In a statement, the company said: "Our volume market share in the smartphone market in the year was 35.7%, which is more than double than that of the next player, while our value share was 40.2%, which is more than four times the next player."
Canalys explained that it tracks the shipments from vendors into the sales channel. "The advantage is that this covers the whole market, including very small independent to large physical and online retailers as well as resellers, or even those shipments that are direct from a vendor to businesses or consumers," said Doshi.