A large number of wealthy, educated parents in India's most cosmopolitan city seem to believe in the old-fashioned mantra: Spare the rod and spoil the child.
In Mumbai, almost 62% parents surveyed by Born Smart, a parenting website, admitted that they beat their children, aged between two and eight years.
Out of 1,750 parents who took part in the survey, 1,075 hold undergraduate degrees. The rest are either undergraduates or post-graduates, and 2% have completed their PhDs. Most of them belong to upper middle-class families—and live in upmarket localities such as Worli or suburban Navi Mumbai.
In a classic case of violence breeding violence, those parents who spanked their children were beaten by their parents when they were young. However, a small group of parents—22%—were those who were beaten up, but consciously decided to not repeat the violence on their children.
Most parents beat their children while helping them do their school homework or during meal time. Some parents resorted to spanking when their children embarrassed them in public places.
"They (parents) are stressed out with their personal issues and they take out their frustration by hitting their children," Swati Popat Vats, an educationist at Born Smart, told Quartz.
Eventually, the child gets immune to the violence and becomes stubborn. "Then one slap doesn't help," she added.
Mothers vs fathers
Mothers tend to beat their children more often than fathers do. The survey found that 29% fathers and 61% mothers accepted hitting their children. Out of the number of fathers who spanked their children, 37% were business owners and 27% had corporate jobs.
Among mothers who spanked their kids, only 9% were full-time homemakers—making the case for working women perhaps being more violent towards their children.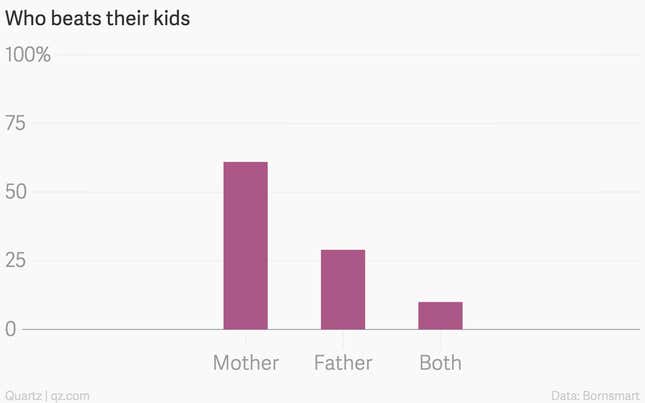 Almost 60% of parents who beat their children said they could not control them otherwise.

Apparently, spanking can be harsh on parents, too. Sixty one percent parents admitted to feeling guilty after beating their children.

The making up involves shedding a tear or two—apart from saying sorry.

Childhood abuse can have some serious ramifications, said Vats. Children subjected to violence may not be able to develop logical thinking abilities and they become reckless decision-makers as adults.