In 2000, some seven years after Eicher Motors took control of Royal Enfield, India's most iconic motorcycle maker was considering shutting shop.
It took some convincing by Siddhartha Lal, a member of the Lal family that controls the company (and a diehard Royal Enfield fan, pictured above), before Eicher's board agreed to give the motorcycle manufacturer one last chance.
"It was not because of its confidence in me," Lal said in a 2011 interview, "but because the business was doing so badly it could hardly get any worse."
Fifteen years later, Royal Enfield is selling more motorcycles than America's Harley Davidson, despite waiting periods that can stretch for months—and it looks unstoppable.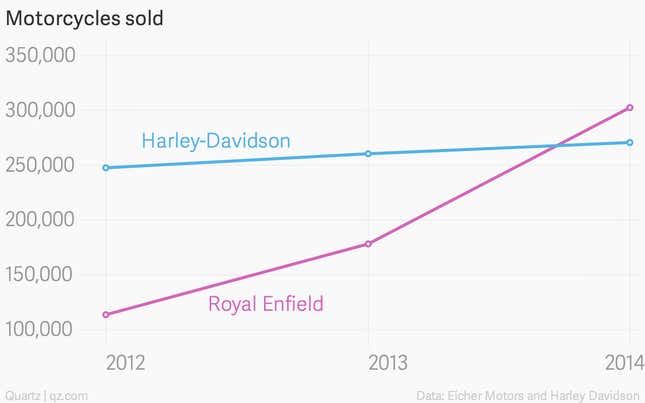 Here's what changed.
Dependability and demographics
The secret to Royal Enfield's comeback was removing unreliable iron cast engines that powered its motorcycles, and replacing them with more refined unit construction engines (UCE).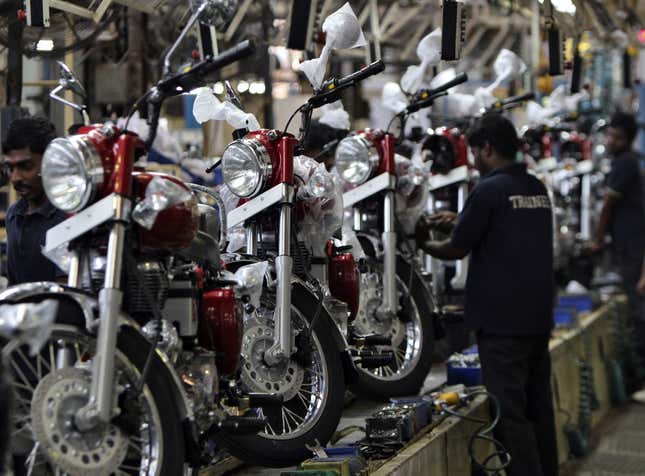 "Prior to 2010, while RE (Royal Enfield) bikes enjoyed customer loyalty due to its cult brand status, the old cast iron engine (used prior to UCE) was not fuel efficient, required more frequent servicing and had reliability issues given problems related to oil leaks, seized engines, etc," Nomura analysts Kapil Singh and Nishit Jalan wrote in a recent report.
That improvement in reliability helped Royal Enfield attract a younger, well-heeled clientele, in addition to retaining its cult following.
In 2009, the average age of a Royal Enfield buyer was around 45 years, which has now come down to about 26 years, Nomura estimates.
"As per our dealer checks and discussions with the company, employed professionals with three to four years' work experience and young self-employed individuals (owners of small businesses) currently account for the bulk of RE volumes," the report explained.
"In our view, the increase in young buyers and greater use of RE bikes for commuting (regularly commuting to and from the office) have been the key reasons for strong volume growth of the brand over the past three to four years," it added.
Last year, the demand surged by 88% compared to 2013.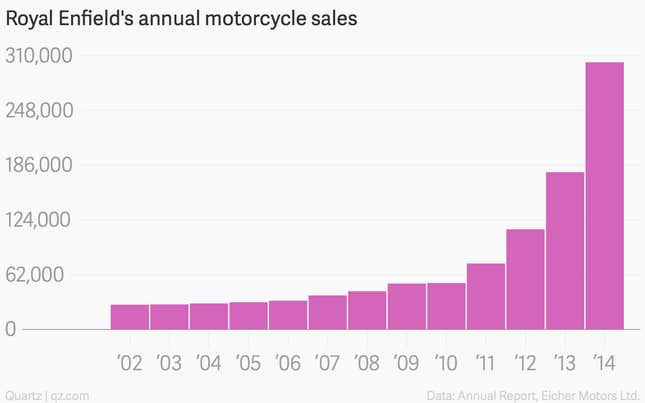 No stopping
"With a view to become the leader in the global mid-sized motorcycling, Royal Enfield will build two new technology centres," Lal, CEO of Royal Enfield, said on Feb. 17. "Royal Enfield will be investing Rs500 crore in 2015 towards product development, capex and other development areas."
Last year, Enfield had ramped up production at its facility in Chennai by as much as 70%, but it continues to face order backlogs of five months.
"Higher waiting periods would have put off some buyers, otherwise demand may have been higher," Nomura's report said. "We believe that once the product is readily available there could be a decent pick-up in demand."
Price, of course, matters, especially as India's leisure biking market picks up steam. Royal Enfield's bikes are priced between Rs93,000 ($1,500) and Rs1,55,000 ($2,500) in India, while Harley-Davidson's cost between Rs4,10,000 ($6,500) and Rs28,00,000 ($45,000). 
That price difference should work in its favour as Royal Enfield, which sells about 50% of its bikes in India's largest cities, pushes into new markets.
"Increasingly, growth is moving towards Tier 2 and Tier 3 cities for the company with newer cities like Patna, Indore, etc. producing volumes of ~400-500 units/month, as per management demand was negligible five to seven years ago," Nomura explained.
And while exports remain small—it only sold 5,800 motorcycles abroad last year—it could become a "big growth opportunity", by Nomura's reckoning, if Royal Enfield is able to make inroads into emerging markets in Latin America and Southeast Asia.
All together, Nomura expects Royal Enfield's annual sales to more than double from current numbers—and cross 700,000 units by 2018.
And if all that wasn't enough, Royal Enfield's bikes also caught the eye of one of the most influential men on earth.
"I saw the Republic Day daredevils on Royal Enfield motorcycle," US president Barack Obama said after watching the Border Security Force's motorcycle acrobats this January.
Too bad the secret service doesn't let him ride motorcycles, Royal Enfields included.