Gender discrimination, it seems, starts at home and ends with further disparity—and violence—in schools.
A report by the International Centre for Research on Women (ICRW) and child rights non-profit Plan International has found that seven out of ten adolescent girls and boys in elementary schools in Asia are victims of gender-based violence, including rape, unwanted sexual touching, corporal punishment, bullying and verbal harassment. And, shockingly, a majority of these children do not consider gender equality important.
The data for the report (pdf)—titled Are Schools Safe and Equal Places for Girls and Boys in Asia?—was collected from October 2013 to November 2014. Nearly 9,000 students, including some teachers and parents, from five countries—Nepal, Indonesia, Pakistan, Vietnam and Cambodia—agreed to participate in the study. The students were aged between 12 and 17, and studied in grades six to eight.
Forms of violence
The report suggests that school children are the most vulnerable to emotional violence, followed by physical violence. In all the five countries, more number of boys reported facing physical violence than girls. The perpetrators were mostly teachers, non-teaching staff and peers.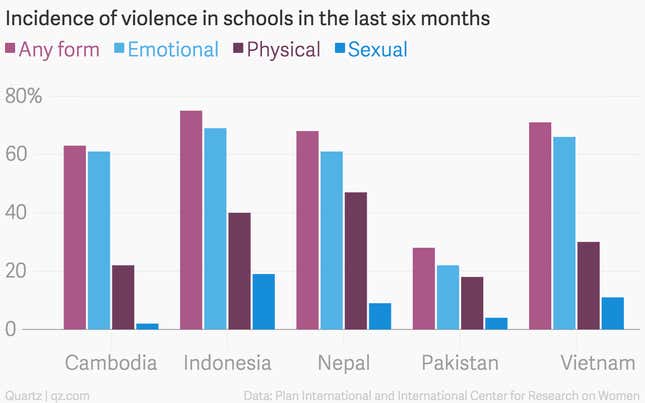 Gender equality? Who cares!
Unfortunately, a large proportion of students in Asia don't think gender equality is important. Violence is mostly aggravated by gender stereotypes that is beaten in to children's minds at an early stage—girls as shy and obedient as opposed to boys who are typecast as aggressive and superior.
"In many cases, violence is so commonplace that it becomes normalised for children. They don't report the behaviour, don't regard it as unusual or wrong, and often become perpetrators themselves," said Plan International's Mark Pierce on the report's findings. "This cycle needs to stop."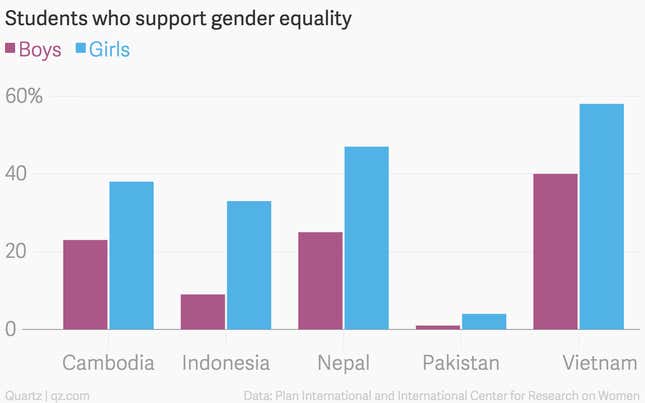 Say or do nothing
Shockingly, 43% of children say or do nothing when they see or find out about violence against a child. That is a lesson in how little children trust parents and teachers when it comes to taking action against it.
"Adults in their lives are dismissive of their experiences; or are perpetrators of violence themselves," said Nandita Bhatla, a senior technical specialist at the ICRW.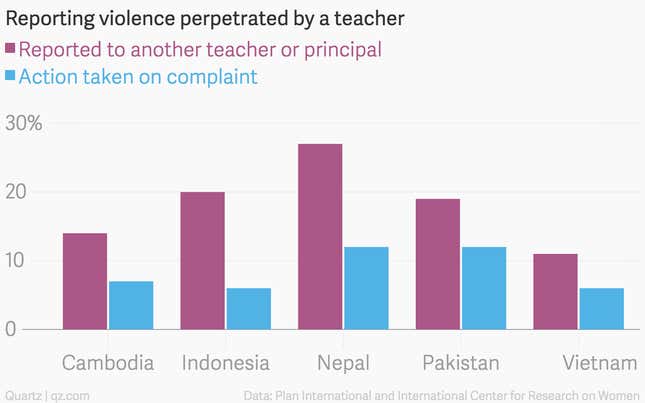 Alarmingly, some children find it hard to trust even their parents. A girl in Pakistan, who was interviewed for the study, explained her friend's reason for not complaining: "She fears that teachers will not take her complaint… She does not tell her parents as she feels that they might stop her from going to school."