A protest against sexism in Germany has travelled half way around the world to India's universities.
This past week, a young female artist in Karlsruhe, Germany, went around her city placing messages against sexism on sanitary napkins. The trigger for artist Elone Kastratia's project was a tweet that she saw in September last year:
Kastratia unveiled her street art on International Women's Day this year, on March 8, using the hashtag: #PadsAgainstSexism.
Now, Indian students in at least two prominent universities in New Delhi—University of Delhi and Jamia Millia Islamia—have also taken to writing against gender inequality on sanitary napkins. These pads are then displayed on notice boards, canteens and even trees around the campuses. Students in Delhi are using the same hashtag Kastratia created to spread awareness about feminism and periods.
In India, menstruation is still taboo. Menstruating women are considered impure and often separated from the rest of their family members during periods. The disgust around this natural body function in the country is so strong that even university officials are unhappy about the campaign unfolding on the campuses right now. 
Pads against sexism
In Delhi's Jamia Millia Islamia, a group of student-activists—who want to remain anonymous—started out by putting sanitary napkins all over their university area.
These students then went out of their campus and campaigned in posh south Delhi neighbourhoods, like Hauz Khas Village, and asked bystanders to pose for pictures holding pads.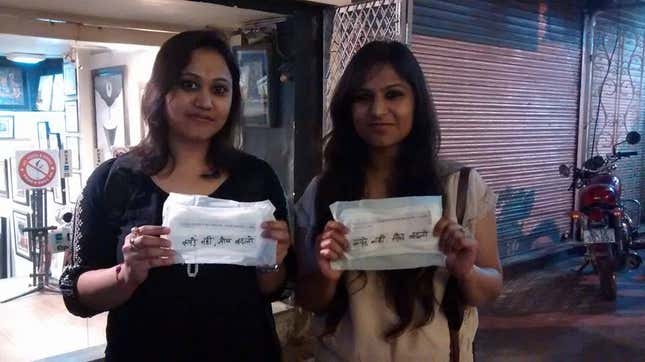 "We are trying to help people realise that the natural phenomena such as a period should not have a stigma attached to it while rape and other instances of violence against women go seemingly unchecked," a campaigner from Delhi's Jamia Millia Islamia told the university's news website, Jamia Journal.
The Delhi University campaign was on a much smaller scale. Students wanted to show solidarity with their counterparts at Jamia Millia Islamia—and of course, Kastratia.
"We simply want people to understand that menstruation is not a crime and a girl should not be victimised for something so natural," Rafiul Alom Rahman, who brought the campaign to the university, said.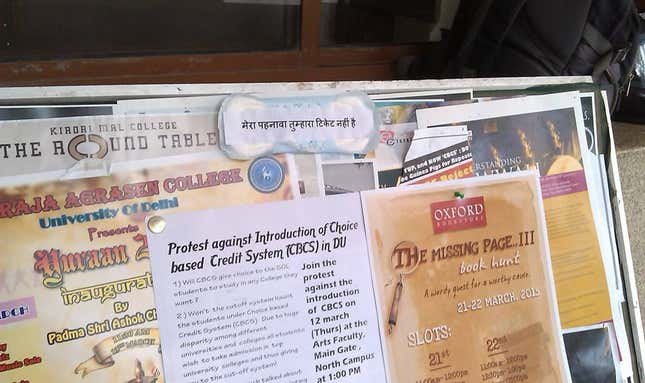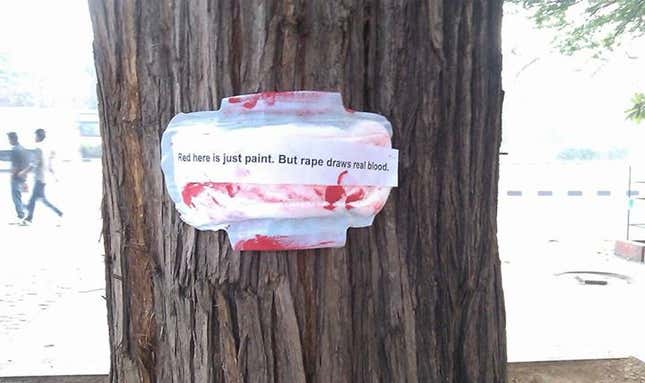 Backlash
The response across Delhi has been mixed. In Jamia, officials reacted by taking down the sanitary napkins from wherever they were displayed. Activists put them back, but they were removed by the authorities again.
"We expected people to at least be curious and read it, but instead they shunned it and avoided it and were even disgusted by it," another campaigner, who did not want to be named, told Jamia Journal.
In Delhi University, the pads were torn or simply pulled down. "A security guard pulled a pad out of his pocket and asked me to put it somewhere else," Rahman said. "We are not going to be cowed down. We are thinking of ways to make this campaign even bigger and involve other universities and students."
And news of student-led protest in New Delhi has travelled back all the way to Germany.