In 1985, a 28-year-old man from Uttar Pradesh quit his government job, left his family and arrived in the dead of the night at a small village in Rajasthan's Alwar district.
Rajendra Singh, along with four companions from the Tarun Bharat Sangh, a non-profit that traces its origins to the University of Rajasthan, wanted to work in the hinterland. The initial idea was to establish clinics.
"Maybe it was some social chromosomes that fired my imagination to do something useful," Singh said in an interview. "I was a government servant in Jaipur, fed up with just sending statistics to officials."
It look him a few months before finding his life's mission—and it took an ancient innovation, a fast disappearing traditional technology, to help him transform the lives of thousands of villagers in one of India's most arid regions.
On March 20, Singh was awarded the 2015 Stockholm Water Prize, sometimes described as the Nobel prize for water.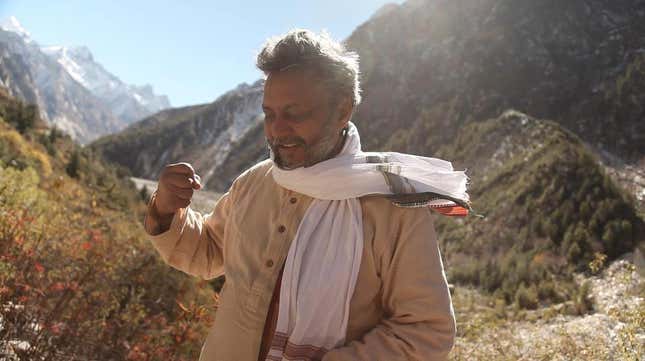 "Rajendra Singh did not insist with the clinics," the Stockholm International Water Institute, which awards the prize, said in a statement. "Instead, and with the help of the villagers, he set out to build johads, or traditional earthen dams."
"Two decades after Rajendra Singh arrived in Rajasthan, 8,600 johads and other structures to collect water had been built," it observed. "Water had been brought back to a 1,000 villages across the state."
Discovering the johad
But India's "water man" knew little about johads—or water conservation, for that matter—when he arrived in Alwar. With degrees in ayurvedic medicine and Hindi, the son of a wealthy landowner from Uttar Pradesh's Bagpat district had spent time as a student activist, before working for an adult education project.
After spending weeks roaming this corner of the Aravalli hills, Singh met Mangu Meena and Nathi Bhalai (pdf), who introduced him to the johad, a large crescent-shaped dam made of earth and rocks.
These ancient structures—evidence of reservoirs to collect rainwater date back to 1500 BC—were designed not only to hold runoff from monsoon rains, but also help this water percolate into the ground and help improve the water table. But these large earthen structures require substantial manpower and are typically community projects.
Yet, after Singh's first success in Gopalpura, nearby villages needed little encouragement. "The idea spread like fire in the parched villages," Singh wrote in 2009. "Village people started approaching me for helping them to do the same in their areas."
Between 1985 and 2007, he recorded, some 8,600 such structures in over 1,068 villages across 6,500 square kilometres had been built by local communities working with the Tarun Bharat Sangh.
The impact of these johads was spectacular. The water table—the depth underground from where water may be extracted—rose from about 100 metres to between about 13 metres and 3 metres. The area under single cropping increased from 11% to 70%, and the area under double cropping went from 3% to 50%. Forest cover expanded from 7% to 40%.
In 2001, when Singh was awarded the Ramon Magsaysay Award, the citation mentioned:
Now, 4,500 working johads dot Alwar and ten adjacent districts. Fed by a protected watershed and the revitalising impact of the village reservoirs, five once-dormant rivers now flow year round. Land under cultivation has grown by five times and farm incomes are rising. For work, men no longer need to leave home. And for water, these days women need walk no farther than the village well.
Then, as now, the ancient johad has been at the heart of Singh's conservation work. And, with India's groundwater level dropping precipitously and an increase in pollution levels, perhaps this humble, earthen dam can help stem the tide.