Tuberculosis (TB) has killed more than a billion people in the last 200 years. That's more than any other infectious disease in that period. And, what's worse is that, according to the World Health Organisation (WHO), less than half the cases worldwide are ever diagnosed.
India suffers the most. It has the highest burden of TB in the world: More than 2 million suffer from the disease, and this is despite years of work to control the disease.
TB was declared a global health emergency by the WHO in 1993. Then, in 2001, the first global "Stop TB Plan" came into effect, with an international network of donors and private and public sector organisations tackling TB-related issues around the world together.
The disease is prevalent among both rich and poor countries, but has more disastrous consequences in the latter because of limited access to healthcare, poor sanitation and undernutrition. The matter is worsened because of co-morbidity, where those with weakened immune systems—having suffered from diabetes or AIDS—fall prey to TB and die.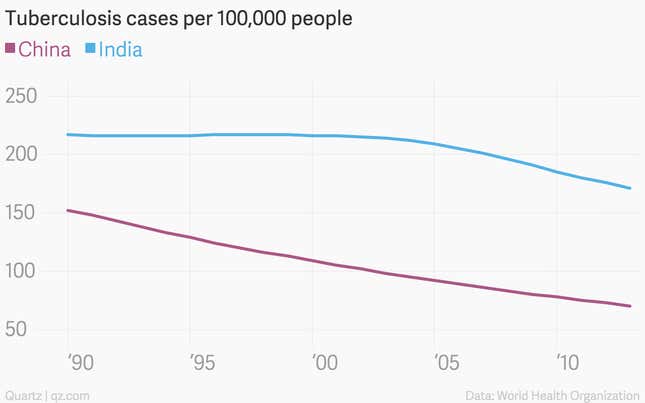 And even between developing economies, there is significant variation in treatment levels because of difficulties in identifying new infections. In 2012, while China and India together accounted for 40% of the world's burden of TB, the prevalence among 100,000 people was at least 167 in India and less than half that in China (about 68).
Technology can help
In an article in the journal PLOS Medicine, Puneet Dewan from the Bill & Melinda Gates Foundation and Madhukar Pai of McGill University have called for global efforts to identify, treat and cure the 3 million "missed" TB infections every year.
"Reaching all these individuals and ensuring accountable, effective TB treatment will require TB control programs to adopt innovative tools and modernise programme service delivery," they write.
In January 2015, the WHO representative to India, Nata Menabde, said the decline of TB incidence in the country was occurring at 2% per year, instead of the desired 19-20%. She added that it could be pulled up to 10% per year by 2025 if the country was ready to leverage better the available technology.
This is also what Dewan and Pai are calling for. The tech interventions could be in the form of e-health services, the use of mobile phones by doctors to notify centres of new cases, and disbursing e-vouchers for subsidised treatment.
And their demands are not unreasonable, given India's progress so far. First, India has met one of the United Nations' ambitious Millennium Development Goals by cutting TB prevalence to half in 2015 compared to prevalence in 1990. Second, according to Menabde, India is also on track to halve TB mortality by the end of this year compared to that in 1990. The accomplishment testifies to commitment from public and private sector initiatives and places the country in a good position from which to springboard toward stiffer targets. Continued support can sustain the momentum.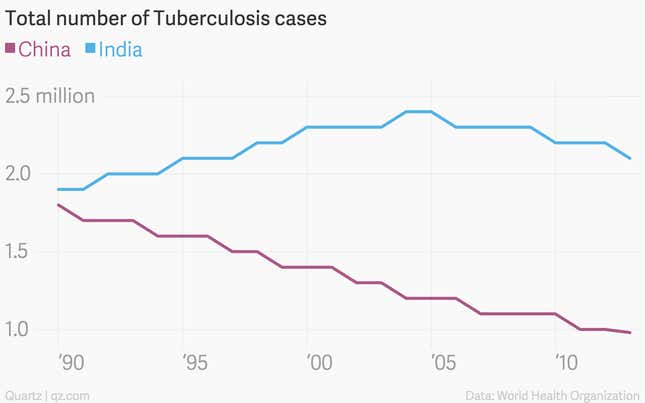 In 2012, the previous government made TB a notifiable disease—mandating medical practitioners to report every TB case detected—going some way in reducing the number of "missing" cases. It also banned blood tests to diagnose TB for the lack of a clinical basis. While the delay in implementing these measures contributed to the rise of multidrug-resistant strains of the disease, they also revitalised efforts to meet targets set by the WHO at an important time. Then bad news struck.
Causing self-harm
India's health budget for 2015-16 has not even managed to keep up with inflation. It is a mere 2% more than the previous year. For TB, this budgetary belt-tightening has meant taking a few steps back in the pace of developing cures against multi-drug resistant strains and in efforts to improve the quality of treatment at frontline private-sector agencies, which already provide more than 60% of patient care.
Dewan and Pai think TV programmes, such as Aamir Khan's Satyamev Jayate, and Amitabh Bachchan's admission that he is a TB survivor will promote enough awareness to force changes in healthcare spending—but this seems far too beamish an outlook when the funding cuts and regulatory failures are factored in.
A new draft of the National Health Policy (NHP) was published in December. Besides providing a lopsided insight into the government's thoughts on public healthcare, it made evident that ministers' apathetic attitude, and not a paucity of public support, was to blame for poor policies.
Nidhi Khurana, a health systems researcher at the Johns Hopkins Bloomberg School of Public Health, summed up the NHP deftly in The Hindu:
The NHP refutes itself while describing the main reason for the National Rural Health Mission's failure to achieve stronger health systems: "Strengthening health systems for providing comprehensive care required higher levels of investment and human resources than were made available. The budget received and the expenditure thereunder was only about 40 per cent of what was envisaged for a full revitalisation in the NRHM framework." If this is not the case against diminished public funding for health, what is?
This is an edited version of an article first published on Is Nerd. We welcome your comments at ideas.india@qz.com.