Large swathes of the world may be swiftly transitioning from newspapers and television to the internet, but not India.
As things stand currently, print controls 43% of all advertising revenue, with television trailing at 37%. Digital has only 10.5% of the pie.
There is, however, a contest for advertising revenues brewing between these two traditional media—with an inflection point likely anytime between 2017 and 2018.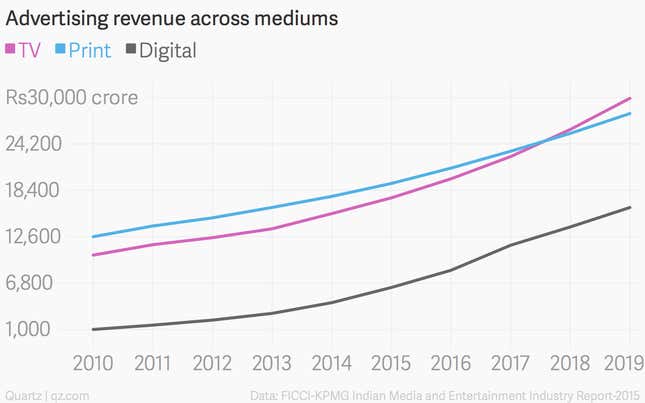 In terms of advertising revenue, print media drew some Rs17,600 crore last year and will expand at a compound annual growth rate (CAGR) of 9.7% till 2019, a report by consultancy firm KPMG and the Federation of Indian Chambers of Commerce and Industry has estimated.
That slow expansion means that television advertising revenue, which stood at Rs15,490 crore last year, will outstrip print by the end of the decade, with a CAGR of 14.1%.
In particular, during the first half of 2014, television advertising was boosted by India's general elections, the most expensive polls in the history of the country. And an improving economy will only help.
"TV advertising is bound to benefit from a stable government at the centre, positive investor sentiment and a low-inflation environment (leading to higher disposable incomes in the hands of the consumer)," said Viacom18 Media CEO Sudhanshu Vats in the report.
Meanwhile, Indian e-commerce startups are spending heavily on print and television advertisements, with some Rs1,000 crore worth of promotions in 2014. In Indian newspapers advertising last years, only political parties spent more than e-commerce companies.
Enter digital
Despite the steady growth in print and television, the sharpest growth was in India's online advertising spending in 2014—at 44.5% year-on-year. Still, digital platforms—at Rs4,350 crore in 2014—draw much lower ad revenues compared to print and television.
But as more Indians access content on smartphones, digital advertising could potentially grow 274% over just five years to reach Rs16,250 crore. That's a CAGR of 30.2%.
With India already housing the world's second largest population of internet users after China, traditional media houses are being slowly driven to explore digital. "Several print players are already investing heavily in digital media, making services such as news delivery possible via mobile applications and web portals," the report noted.
Nonetheless, there is still time for digital to grow beyond India's urban markets.
"Given India's demographics and socioeconomic parameters, there is a huge amount of runway left for the print industry in general, Hindi in particular, to grow in terms of volume and revenue," said Piyush Gupta, chief financial officer at HT Media, in the report.
The big fight in India's media industry, therefore, will continue to be between print and television.